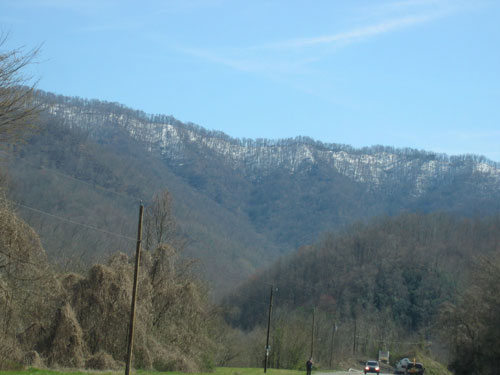 Snowy scene along a rural road in Harlan Co., KY.
(*photo credit)
December 1, 2019   When Do We Wait and When Not Wait? 
     These will hammer their swords into ploughshares, their spears into sickles.   (Isaiah 2:4)

      We attempt to wait patiently in many places -- a doctor's office, an airport, a food line, a bureaucrat's office, or at home waiting for a young soldier's return from a war zone.  Waiting for what is promised has a certain spiritual value as is evidenced in the many words of Scriptures.  If you are like me and impatient, waiting is a terrible experience.  In fact, as I wait I mull over the ambivalence in the act itself: are there times when waiting is best and we can do little else?  Are there times when we wait and enhance a status quo that should be actively abandoned?  Do we await a New Heaven and a New Earth -- and ought we to hasten it?

      Waiting could be interpreted as being dutifully contented in the present state of world affairs, or it could mean far more -- a holy discontent with these affairs and our own inaction.  Yes, it takes patience to tolerate the imperfections of our own unsuccessful efforts.  Patience involves realizing that we must improve our upcoming performances in a more orderly fashion.  Patience is not sitting, but acting with deliberation and openness to improve.  "If the prize is big enough, it is worth waiting for" becomes "...it is worth fighting for."  Waiting becomes a preparation for the coming of the one expected, putting in order and not messing up the place.  We hasten the coming of the Lord, and do so through godly conduct (I Thessalonians 3:123-4:2).
      You must wake up now; our salvation is ever nearer than when we were converted (Romans 13:11).  Being watchful and waiting require keener observers.  The truth is, watchful waiting involves a little of all -- not expecting specific things as rewards, not being so overly taken up with activity that we fail to reflect, and being busy but not too busy at this time.  Jesus calls us to be vigilant at all times and to discover opportunities to help build a New Heaven and New Earth.  The time is short and the urgency due to a threatening climate change condition hangs over us.  We learn from geology that our Earth is four billion years old, and that in geological time the human race has appeared in the last few seconds of time.  The grand act of human salvation has occurred in the final second of the Earth's existence -- truly the end of time.
     Be vigilant at all times.  The gospel writer (Matt. 24:37-44) tells us to be always alert.  We do not know the day or hour, and so vigilance is also before the Christian.  We need to be alert, and to encourage others to this state of readiness.  Jesus is our salvation; he leads the way, and he invites us to be not mere bystanders but active participants in making a New Heaven and New Earth.  Our weariness makes us prone to fall asleep, but with God's grace, we can stay on guard and be greeters of the coming age.
          Prayer: Lord, keep us alert and with prayerful expectancy, and allow us to foster patience in our vigilance.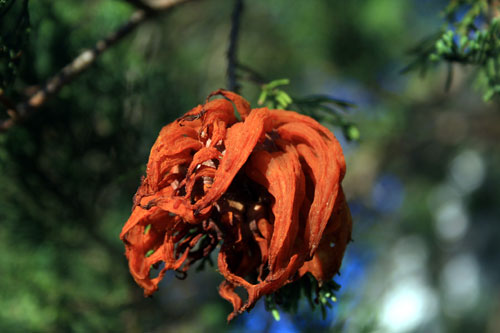 Cedar apple-rust, Gymnosporangium juniperi-virginianae.
(*photo credit)
December 2, 2019   Sustainability: An Ambiguous Concept   
        I rarely use the word "sustainability," because it has a variety of meanings depending on one's individual political and theological stances.  Some of us mean a world that will sustain itself over a period of time into the future; for others, this may mean the present unchallenged politico-economic system that is sustainable or that is enduring into a foreseeable future.
        Repeating what I say in Reclaiming the Commons, I note that those who regard "sustainability" in a current condition either mean sustaining a status quo or tweaking a dysfunctional system so that an adjusted status quo will flourish.  However, instead of trying to modify non-sustainable systems, we must initiate a new and socially just sustainable approach.  To paraphrase Abraham Lincoln, we cannot continue to have a world of haves and have-nots.  If such continues, it is a direct road to moral decay and financial bankruptcy.  The socio-economic system must be changed to something more sustainable -- meaning life-giving.  Authentic Prophets say, "What happens, unless," not "what will surely happen."
        True sustainability will demand that multi-trillion-dollar- fortunes now sequestered in banks and tax havens be made public and taxed.  The vast wealth that belongs to ALL the people must be freed for employing countless hordes of the under- and unemployed for the construction of adequate housing, primary schools, health clinics and rural roads, for furnishing fertilizers for food crops, for establishing agricultural marketing infrastructure in poor countries, and for returning health workers to their native lands.  Some of the collected taxes from people making ungodly salaries must be redistributed for decent wages for literacy trainers, domestic caregivers, construction workers, and others doing meaningful work.  Banking institutions too big to fail are a threat, and must be downsized and allowed to fail.  The corporate "person" must be seen as a figment of the imagination.  And misbehaving corporations must in some cases be sentenced to die.

      Sustainability for this threatened planet means effecting the Paris Climate Change Agreement and involving our entire nation in to the struggle.  Without profound change the act of sustaining is merely wishful thinking.  It takes away from valuable time needed to truly reclaim the Commons for the benefit of ALL.  Retaining the present mode of thinking will prove disastrous and that is why this is a fruitful subject for political activism in the upcoming year with its major elections.  It must be the road to genuine security that is not being met by the 1.5-trillion-dollar world defense system, half the costs of which are crippling the United States and sending us still deeper into a debt that will soon be virtually impossible to repay.  We are called to champion an authentic sustainability that means to improve and maintain a higher quality of live over the long run. 
          Prayer: Lord, teach us that true sustainability and freedom from moral and financial bankruptcy must go hand-in-hand.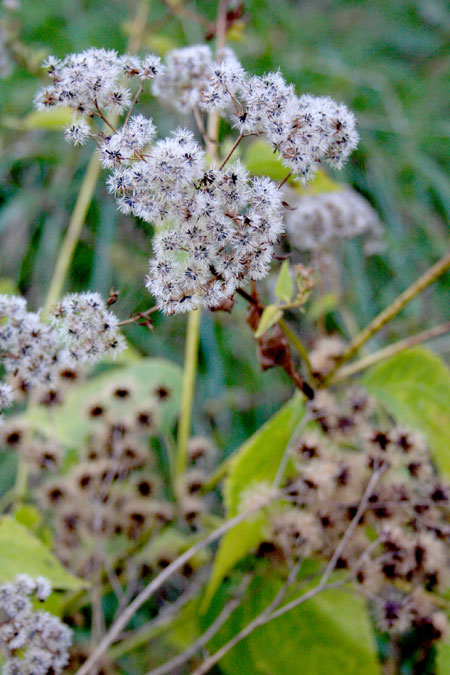 Remnants of white snakeroot, Ageratina altissima.
(*photo credit)
December 3, 2019  Communications: The Overlooked Commons  
        This is the day we recall that St. Francis Xavier, the great missionary, looked out from a lonely isle off the coast of China and, in contemplating the vastness of the field before him, passed on to eternal life -- a relatively young man though already burnt out with zeal and desire to continue to serve the Lord.
        Sharing comes through communicating with others, whether that act includes friends, neighbors, shut-ins, prisoners, and the totally neglected.  Sharing through a predominant language should be encouraged on all levels within social media, provided we do not inflict hardships on anyone such as slow learners.  Often migrants are literate, but do not know the predominant language.  The ideal is to retain native language skills while becoming fluent in the predominant language -- a challenge for those with limited skills. 
        Many people seek to hide their limited reading and writing abilities.  Literacy campaigns in which we may choose to participate, often require extensive tutorial resources that can include the services of schools, churches and civic organizations as well as retirees willing to work at one-on-one tutorial levels.  Literacy frees the reader to venture into vast information areas and thus to become a resource to the entire community.  Literacy programs using educational films and tools could promote general knowledge pertaining to national expectations, cultural habits, neighborly relations, and ordinary business operations.  Internet is a special manifestation of the Communications Commons, now so well facilitated through cell phones and more mobile computing electronic devices. 
        Good effects.  This very Internet and the social media must remain free and open for use by all people -- for the freedom to publish and spread the word has revolutionized the way we act as a global neighborhood.  However, personal data must be secured through governmental regulation and not private control.  The ability of a world to connect socially with others breaks the curse of isolation; the social media access allows lower-cost exchange at almost an instant with people in other parts of the world.  Where net neutrality exists small business can thrive and markets can become more accessible.  Information is far more easily accessible. 
          Bad effects.  Efforts are constantly being made both by governments and greedy profiteers seeking to use and profit from personal data obtained on the social media. Such social contact also opens the risk of national oppression and propaganda for autocratic purposes.  Uncontrolled social media use can result in excessive interacting, when other practices are demanded such as ordinary interpersonal face-to-face contact.  Pornography can be disseminated in an unprotected world; the good names of individuals can be harmed by defamation of character; ransomware can emerge.          
          Prayer: Lord, help us to pray meaningfully and to speak in a similar fashion to all through the social media.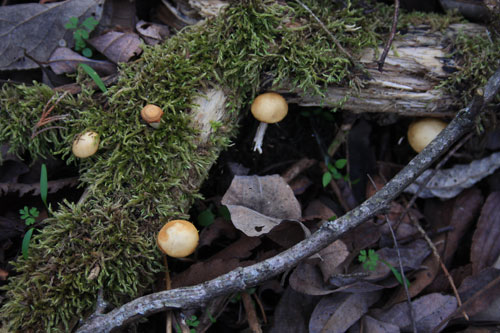 Mushroom patch appears after December rains.
(*photo credit)
December 4, 2019    Artificial vs. Natural Christmas Decorations
        A general rule is that live vegetation is more liked than artificial greenery.  However, a second rule is that some decoration of whatever variety is generally better than little or no decoration at all.  Tell it through flowers means freshly-cut bouquets that are more scented and aesthetically pleasing than artificial ones.  The contrast between a European cemetery where live beds of flowers are prominent and a graveyard with artificial bunches of flowers is telling -- but the latter has far greater beauty than the forsaken burial sites that can occur in our countryside.  Artificial flowers for patients and celebrants of anniversaries have a value and longer lasting potential -- but the real flowers with scents mean so very much.  Need we say more? 

      Holiday decorations are those personal choices that crop up every year.  Real holly and mistletoe are expensive and hard to acquire in some places.  In the era of the Great Depression our family devoted one annual Sunday afternoon to the selection of a "cedar" sapling for the holidays (see start of month "Ode to Juniper,") and to this day the smell of cedar brings back a warm feeling of Christmas cheer in a loving familial way.  Nevertheless, elders certainly may choose artificial decorations that they can pull out each year without buying or gathering fresh greenery. 
        Live trees are certainly holiday treats that can be more deeply appreciated; all family members learn to respect natural plants when live trees and greenery is abundant within the living space.  Furthermore, the business of growing these can be green application of ecological consumer practice and cultivation.  Live trees are pleasing to behold and to smell and truly enliven interior space.  Utilizing life plants involves selecting, purchasing, and decorating -- all are part of a ritual that gives meaning to the event celebrated.  Greenness can be enhanced, if the tree is rooted, and then planted in greenspace in the yard or field.  A modified green practice is to recycle trees by chipping them into wood- wastes for use around shrubs and in cultivated or walk areas, or to be left as abounding wildlife protection. 
        Having said this, we note that artificial decorations can be safer as well as less costly if recycled.  A dried-out tree or vegetation can be a fire hazard but, by keeping the plants moist, care can be taken to ensure that nothing tragic happens.  The safety of artificial lights contrasts with the lit candles of yesteryear, whether these were implanted in holly wreathes or Christmas evergreens or heavens forbid in a young maiden's hair (on December 13th, St. Lucy's Day).  Statistics do not exist for the damages done in those less safety-conscious times, but enough fires were reported in history to surmise that fire prevention was never perfectly practiced.  Artificial lighting should be tastefully moderate in number and involve use of energy-efficient bulbs.
          Prayer: Lord, help us to choose the things needed to enhance celebration but with safety, beauty and cost in mind.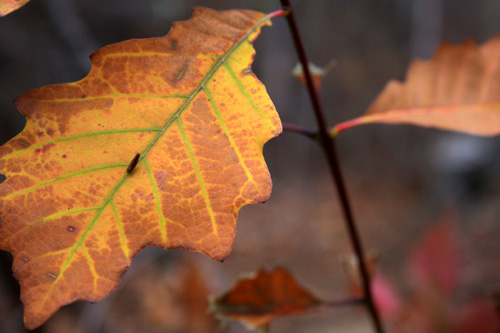 Leaves of young oak, late Autumn color.
(*photo credit)
December 5, 2019         Return Christ to "Xmas"
        Therefore, I will praise you among the Gentiles and sing praise to your name.   (Romans 15:9)
      "The reason for the season" is heard and seen in Christian literature.  Some dislike the use of an "X" with reference to Christ or Christmas even though this is the symbol of the 22nd letter of the Greek alphabet named "chi;" this is the first letter of Christus -- and has been used symbolically for Christ for centuries.  However, unknowing Christians today may regard the use as an attempt to remove Christ from Christmas.  In my own shorthand I have long used "Xt" for Christ and "Xmas" for Christmas.
        The battle often features materialistic commercial interests against the attempts by religious adherents of the Christmas event.  Few recall that one-hundred and sixty years ago in Puritan New England, Catholics who wanted to observe Christmas were not permitted to take the day off -- shades of modern 24-7 stores and their overworked and never-free salespeople; these do not want to jeopardize their work by seeking to attend Sunday services.
        Why is this battle over "Christ" so important?  It is not to be a triumphal attack on other religions or even on the more celebrating and the less celebrating portions of the Christian community.  Rather this shows the secularizing condition in modern America that many believers find difficult to recognize and acknowledge.  However, one can still answer "Happy Holiday" with "Merry Christmas."  Note that the commercial folks still enjoy having Christmas celebrated by a sizeable portion of the population.  For believers, Christ comes with Good News; the saving power of God extends to all people in the world. 
        If we see this event in its fullness, believers affirm that it is God's free hand that enters into human history in a very special way and prepares us for a life of holiness and responsibility for our communal welfare.  Our personal good and the Common Good are so deeply intertwined; true happiness is to share here on Earth in a community.  This is even before an eternal heavenly bliss is to be established as a Kingdom of peace, love and happiness.  In part this kingdom is anticipated as established each of our hearts.
        A worshipping community with peace and good will can establish the Kingdom of God in a surrounding world of hostility and oppression.  Furthermore, this growing sense of communal spiritual empowerment, this kingdom of love and peace, can extend through true evangelism to a wider world.  With efforts albeit limited and imperfect we can begin to address the injustices that exist among various people on this Earth -- the inequality of wealth, the lack of food, housing and other resources.  We can confront the global climate change problem with courage.
          Prayer: Lord, give us the energy to make this a meaningful season wherein Christ's coming is deeply appreciated by all.
---
Recommended Writings for Friends
         For many of us this is a busy season, and any suggested gifts may prove helpful.  We prefer to showcase examples of gifts that are not purchased, but hand-crafted or anticipated services to be rendered to or for the recipient.  However, when those who are to receive our gifts are readers, it is noteworthy to recommend a few good books to both read and pass on as gifts to others.
          Social justice: Barracoon: The Story of the Last "Black Cargo," by Zora Neale Hurston (HarperCollins, 2018) was written and completed about nine decades ago, but left unpublished until recently.  It is a gripping eye-opener, and made me realize that the last vestiges of latent racism can be purged upon reading about Hurston's oral history of Kossula Oluale.  He was a captured West African who was brought to this country illegally immediately before the Civil War on a dare by some mercenary Southern plantation owners.  Kossula was the last living slave ship "cargo" in the 1920s; he was willing to tell his ventures in life with a vivid story-telling gift.  This very rare episode cannot help but grip readers, for no other such account by the 12 million New World-bound slave victims is recorded using their own words.

         Kossula's simple story touches the heart because he is direct and honest, and yet never descends to paralyzing anger; his positive efforts at making the best of bad situations (capture, sea voyage, slave labor and emancipation problems along with family losses) are deeply impressive.  He admits over and over to being a lonely man, who missed his African home and later departed children who were lost through tragic situations.  He is so easy to identify with, and that makes him a close brother to every reader.  I strongly suggest sharing this experience with others.  Let the gates of Barracoon (a stockade for lodging the enslaved) open up for each of us and help erase any trace of residual racism.

         Political action:On Tyranny: Twenty Lessons from the Twentieth Century, by Timothy Snyder (Tim Duggan Books, 2017) is a valuable tool for evaluating the upcoming presidential election.  I found the book extremely down-to-earth, mercifully short (126 pp.), and yet full of good examples from the 20th century.  I concur with The New York Times that said "Mr. Snyder is a rising public intellectual unafraid to make bold connections between past and present."  Many of us prefer to take our democratic way of life for granted; we are somewhat shocked to find that we do not differ in America today from the opinions and political stances of many Germans in the pre-Hitler era.
          Some of the twenty suggestions seem to be obvious, "Investigate," some startling but true, "Be wary of paramilitaries," some seemingly unnecessary at first glance, "Make eye contact and small talk," and some deserving of deeper thought, "Take responsibility for the face of the world."  I believe this tiny book is deserving of a slow read with meaningful pauses to let the lessons sink in; then let's ask ourselves whether this possibility of tyranny could apply to our country today.  Perhaps even a second reading would be helpful for our confused voters in the upcoming 2020 presidential election. 
          Art and Architecture: Stonehenge Complete, 4th Edition by Christopher Chippindale (Thames & Hudson, 2012) takes up the total historical reactions to that mystifying southern English monument: how did a primitive people raise those 60-ton, 25-foot long blocks of tough stone columns and then place equally heavy lintels on top of them?  I was and am at a loss about its construction.  The book's 286 illustrations (with 13 in spectacular color) add to the enjoyment of this ancient marvel: Stonehenge and its surrounding landscape.
          It was interesting to use just how much the nature and expressions of curiosity about Stonehenge by visitors differed down through the ages.  For centuries many were convinced that ignorant ancient Britons were incapable of such design and construction.  The only disturbing portion of the entire narrative was how calloused the early tourists were to their supposed scientific interests and chipping away to acquire souvenirs.  Would I have been one of them when no one was looking?  Again, I recommend this rather non-recent but well assembled and produced book, for we need artistic balance and variety in order to stay sane today.
          A simple recent poetic creation:
                         Salvador 
        Mercury speels, sunbeams glare, fried air within,
dare one who says "our ways have done us in."
Human power spoiling for profit greed
Change that only wealth can plead and breed,
Simmering heat and ever deeper freeze,
Sight of a swelling tide and rising seas;
Coral's own fading brilliance cries in need.

         The planet's finest creatures linger still:
Tuffed-earred lynx, hounded wolf pack,
blue-winged teal;
Each challenged by unseasonal days and ways,
not fathoming escape amid a crazed daze
of rangling clinging relentless attack.
        What do we say?  How do we deny what's done?
Misdeed confound, but grace the more abound,
Yes, we bleed and take no further heed
confused, disjointed, avoiding every lead,
In incredible speed global degrees arise
into a stark real catastrophic size.
                                                      - AF 2019
---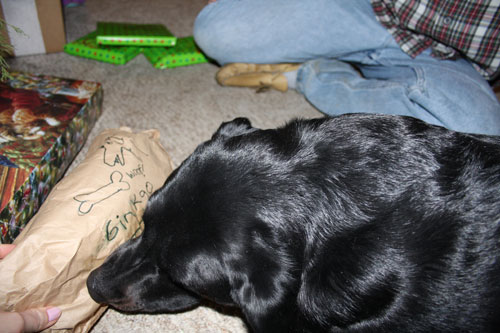 Pets receiving a small gift at Christmas.
(*photo credit)
December 6, 2019         Gift-Giving and St. Nicholas
        Much like St. Valentine, St. Nicholas, a generous fourth century A.D. bishop of Myra in Lydia, is popular in our culture and yet his real life is hardly known.  In some parts of Europe, this day is an opportunity to give children gifts.  This is rarely practiced in this country, for Christmas Eve or Day is the gift-giving time.  Still it is time to consider a few gift-giving hints, some of which are repeated from year to year.
        * Spend some time going over old records or memories for those who are eligible for some gift during the upcoming season.
        * Give from the heart in such a way that the heart is felt in both the act of giving and the gift content.  When it takes an extra effort, others appreciate it all the more.  However, part of "heart" is that we do not expect thanks and a gift in return.
        * Give some gifts to people who cannot possibly return more than a look of recognition or even less -- especially to the severely mentally challenged.  Quite often the normal caregivers are weighed down with work and overlook the extra attention that the outside gift-giver can bring. 
        * When recipients are in full use of their faculties, a pure gratuity could be asked by us.  This would be in the form of a spiritual effort such as a prayer.  It is important that the receiving person has the opportunity to communicate in a meaningful manner.  If this is not asked, recipients can take gifts for granted -- and thus a false sense of expected charity is fostered.
        *  Delivery ways can be important whether in the form of a face-to-face visit and presentation or a personal note that accompanies the gift.  Often the manner of presentation means as much to the one receiving the gift as the gift itself.
        *  Give something that the giver regards as precious.  It removes our own sense of possessiveness when God gives so much to us.  Persuading a budding materialist to part with a favorite toy or keepsake is a great victory.  The recipient will possibly appreciate that this means so much to be shared by the giver.
        *  Encourage others to give also during this season of peace and love.  A major gift that some will not immediately understand is reconciling divided parties with each other at this time.
        * Just breaking into the loneliness of others is important as well.  Think seriously about appropriate gifts.  If someone suffers from overweight, do not burden that person with sugary delights that would better fit a super-active youngster who burns up calories quite rapidly; perhaps a non-edible is more proper.
          Prayer: Lord, teach us to give and not to count the cost in time and effort.  Help us see that spiritual gifts are appreciated.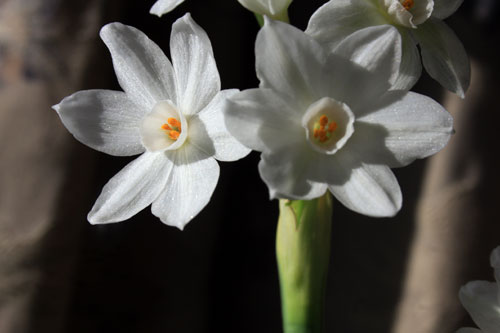 Potted paperwhites emerge for holiday delight.
(*photo credit)
December 7, 2019    Energy Efficiency as the New Frontier
     Once I was asked the question at an energy ethics consultation -- if solar energy is so easy to obtain, are we not able to use as much as we want?  The "want" implies a rather scary overuse mentality.  We tend to forget that supplying wants requires other resources for fabricating and maintaining the less environmentally costly solar devices.  However, if left unasked, such questions go unanswered.  One of the weaknesses of a consumer culture is that it devalues the effects of using less -- for more is always regarded as better.  Thus to conserve rather than to use is hard to fathom, even though any serious reflection in this energy-conscious age would say otherwise.  This was the theme of my The Contrasumers: A Citizens Guide to Resource Conservation 47 years ago.
        A new generation of compact fluorescent lights (CFLs) use about one-third or less the energy used by traditional incandescent bulbs; this has now given way to an even more energy efficient generations of LEDs, more costly to install but saving far more energy in the longer-life fixture.  The U.S. Department of Energy reports that over the next two decades $120 billion in energy costs could be saved by adopting LEDs (light-emitting diodes).  LEDs are on track to capture a major portion of commercial lighting market.
        Energy efficiency at all levels is a win-win situation and well worth championing at this critical time for many reasons:
* Fewer powerplants need to be built and the investments can be diverted to adequate housing, public infrastructure enhancement, and food crop production;
* Human health can be improved through less pollution such as ozone and particulates resulting from fossil fuel utilization. Since the beginning of the industrial revolutions tens of thousands of lives have been shortened by increased burning of fossil fuels;
* Climate change curbs and removal of polluting fossil fuels are critical global practices, and yet most likely not easily doable; this is especially true given the growing consumer demands throughout the world for air conditioners, private automobiles, electronic devices and larger dwelling space;

* Consumer economics is a practical factor that is all too often overlooked by those seeking to have conveniences like those of one's neighbors; less fuel of every sort means lower costs;    
 * An entirely new philosophy of life that replaces an economy based on consumption of goods should be championed.  A conservation-based economy would then attend to deeper issues of community-sharing and building up a world's commons where there is not the privileged few wealthy and the multitudes of destitute.
          Prayer: Lord teach us to value the power of being efficient in what we do in energy-related and other lifestyle areas.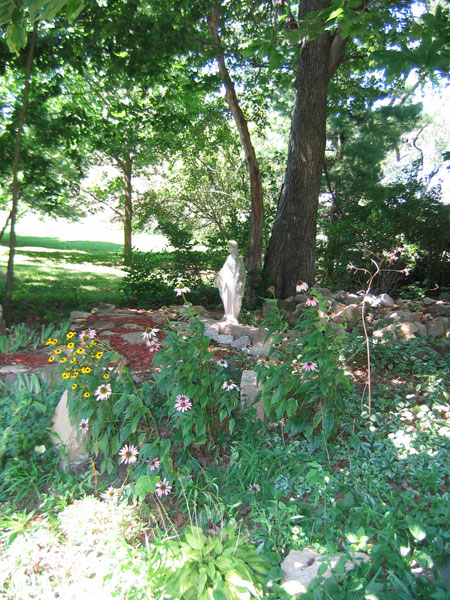 Mary in the garden. Historic Cane Ridge Meeting House. Paris, KY.
(*photo credit)
December 8, 2019      Mary: Pure Transparency
              May it be done to me according to your word.  (Luke 1:37)
        To proclaim a monumental and Earth-shaking "yes" demands a special person and, when this voicing is done in a simple setting, it is all the more telling when pure transparency is present.  Any fault will mar the effectiveness of the proclamation, for it was in the recesses of a distant past that our ancestors uttered a "no" that resonate down through future generations. 
        We were all prepared in the minds of God for our calling -- and each has a unique calling to serve the Divine Majesty.  As St. Paul says, we were chosen from before the foundation of the world (Ephesians 1:3-6, 11-12)) to be holy and without blemish before God.  For it was in God that we were all chosen, destined in accord with the purpose of the One who accomplishes all things according to the intention of the divine will.  So all of us exist for the praise of the divine glory, we who first hoped in Christ.
       Mary was certainly called to be the first to hope in and with Jesus Christ, and such an "in and with" demanded a transparency, for a blemish of any sort would distort the utter hope.  For many of us, the "yes" of our choices contains the taints of a long-past uttered "no" in which the very genes of dissent still reside.  Like all of us, Mary's calling was from all eternity; but hers was the unique calling.  Mary's transparency in addressing this call had to be perfect, otherwise the calling would have been tarnished by this imperfect world.  The uniqueness of the word called and deed performed demanded a unique recipient of the call.  Transparent word/deed means capable of being seen through and heard distinctly.  Mary was the bearer of the Light of the World and thus a spiritual transparency was in order.  Any bit of opacity would have dulled that light; God's intentions were that the Messiah was to be seen and heard clearly.  Mary was first to bear the light/Word, and John was prepared to present Christ to an awaiting community.  For each the call was truly unique, but can we say the same about ours?

My birthplace, Mason County, Kentucky, is known the world over for "transparent puddings," put in the plural because there is a surprising variety of recipes listed with plenty of eggs, sugar, butter, Karo syrup, a little flour, and a dash of vanilla in some cases.   My mother made her unique plum pudding based on a modified recipe -- something that added flavor, not blemish.  Mary
advanced in her calling with maturation and thus added to the uniqueness of her total call.  She heard the Word in the most profound way and lived it throughout her life.  However, the transparency of the first call gave it the world renown that was intended -- and that we celebrate today.  Each of us is called to be transparent in receiving God's word and then to add the "plum flavor" of our personal calling.  Mary is our guide.
          Prayer: Hail Mary, full of grace, the Lord is with you, blessed are you among women, and blessed is the fruit of your womb.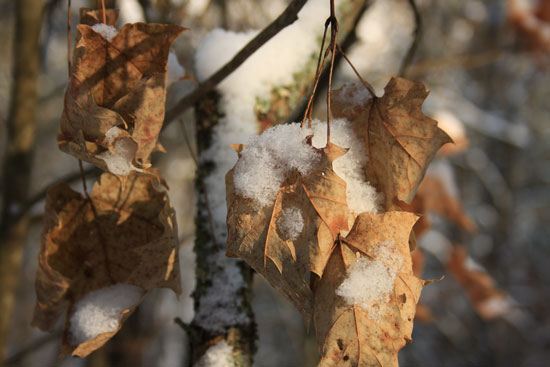 First snow on December leaves.
(*photo credit)
December 9, 2019     Caroling and Christmas Songs
        Among more remote preparations for Christmas ought to be the gift-giving of ourselves.  Many do this with gifts of music and song.  We may not appreciate how much songs mean to others to set the tone of the holidays.  The average church-going Christian has a greater repertoire of Christmas hymns than of any other song series, even patriotic or school or drinking or children's songs.  Thus this is a treasure worth releasing during this holiday season to brighten the season for others who tend to experience loneliness in such times when they remember better seasons in the past. 
        Some of us have cultural traditions of coming together in families or communities and singing during the holidays proper, and for some this is the twelve days of Christmas (December 25 to January 6).  There are few Advent hymns as such, and so people hardly ever congregate to sing such hymns during days leading up to Christmas.  We are sometimes slow at seeing profound changes in our culture and our need to adjust to them.  Many times the elderly who are institutionalized or those living alone are saddened by their anticipation of a lonely Christmas.  A Christmas caroling program in the weeks leading up to Christmas is the best way to serve them.
          Caroling had traditionally occurred during the twelve days of Christmas (December 25th to January 6th), but our anticipatory culture shifts the "Holiday" into a commercial season between Thanksgiving and Christmas day.  Thus, in essence, the weeks leading up to Christmas form the season, and the traditional twelve days includes a toning down and even a removal of the trees and decorations quite early -- often on the 26th of December.  Thus a conflict of cultural celebrations can confuse isolated some elders of more traditional experience if they keep track of the days.  For them it hurts that Christmas songs end abruptly, and popular attention turns to preparations for football playoffs and bowl games, to New Year's parties and to anticipating January 2020 activities.   We must be sensitive to these changes.

          Church-singing periods are also important for preparing the congregation for the true spirit of the season.  Originally, I wanted to place songs for the first time on the 24th (Christmas Eve) itself, as though this is the first of the Christmas events.  It is good and well to prepare for those afternoon children's or evening adult liturgical events, and to do so after adequate scheduling and plans.  However, these need not be the first time the songs are sung for this year; also use them during late advent.

          Celebrate the Twelve Days of Christmas in some fashion.  Encouraging the local media and parties to include Christmas songs after the 25th of December would be a great contribution to the spirit of the religious season.  Thus for believers Christmas parties that include songs could be held during a wider season.
          Prayer: Lord, teach us the value of singing and how this fits into celebrating the extended season of Christmas.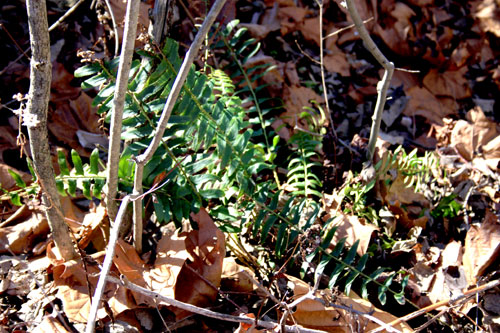 Christmas fern, Polystichum acrostichoides.
(*photo credit)
December 10, 2019  Rethink Lawns in the Climate Change Era
        Few subjects trouble environmentally-minded citizens as much as vast expanses of manicured lawns.  On one side was the maintenance director of a Midwestern college who confided that lawn care was greatly reduced because the administration had turned half the greenspace into parking -- even though the additional spaces were needed for only a few extraordinary events each year.  With an expanse of blacktop there were no more weekly or biweekly clippings, fertilizing, spraying and weed eradication.  I weakly objected with the statement -- "I guess you noted how much more heated the campus was in the middle of summer."  The response was, "Well the buildings are all air-conditioned."  
        In those brief comments is the heart of the issue.  Greenspace even in lawns, which take so much care, has advantages beyond obvious aesthetics.  Tradeoffs are present!   Greenspace whether in trees or grass is certainly cooler than blacktop and even somewhat more than gravel or rock surfaces, though institutions would not find the latter too customer-friendly.  These ever-hotter summers should make people strive to conserve on air-conditioning expenditures -- and trees certainly are one way to do this.  All the same, the grass of lawns is worrisome, for to care for this takes time and effort; note that lawn-mowing with gasoline-powered mowers causes air pollution.
        Green-conscious lawn-lovers can offer several suggestions as modifications to the uniform bluegrass monocultures that take extra care to water and fertilize.  Greenspace need not be in total monocultural grass, but can be edible (human or wildlife) landscaping, even if this is over the initial objections of neighbors.   Turn lawns into gardens, orchards or wildscape.  A green modification is to mow existing lawn with human muscle, a truly physical exercise for those seeking fresh air and exercise.  In fact, it is better than sitting on a gasoline-powered mower with its fumes and noise disturbing the neighborhood.  
        Lawn care is a place to consider one's personal environmental choices.  Some argue that neighborhood associations should set rules, and each member must faithfully follow, i.e., clip monocultural lawns to certain height in order to maintain the community's economic value.  One California resident bravely countered neighbors' objections and installed a xeriscape (using native semidesert plants) in her lawn space that never needed lawn care or watering.  Over neighbor, fire personnel (hazards), and police (hideaways) objections, she fought and won.  In a few years the entire block was following suit with far fewer lawn maintenance costs.  Sloped lawns could definitely be put into ground cover; swamp areas should not be mowed in the first place and could be planted with water-loving vegetation (no exotic invasives please) after consultation with local garden experts.   
          Prayer: Help us, Lord, to see that resource choices are personal and community decisions worthy of discernment.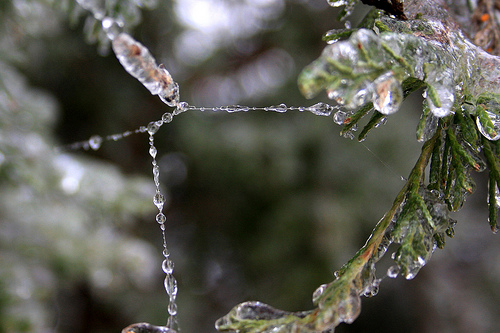 Delicate interwoven strands of ice.
(*photo credit)
December 11, 2019     Weighing Marijuana Legalization
        Whether we like it or not, legal marijuana is coming with a vengeance and a profit to those who get there first. Today, marijuana is legally dispensed in Canada and nearly a dozen states with that number rising each year.  The three major American-produced abusive substances are treated differently.  Many regard this as confusing and unfair.  Certainly regulations could be expected: as to access to minors, to promotion and advertising, on taxes of all "sin products," and on general commerce.  But why not legalize something the criminalizing of which fills jails with people who are not violent.  One federal prisoner told me he was "just trying to make an honest living for his family."  I do not advocate the use of marijuana and in fact hate the smell of the stuff -- but let's challenge the current federal policy with respect to marijuana.  Tobacco is legal though it is the number one killer; alcohol is prohibited in this and the majority of counties in our Kentucky Commonwealth.  Please weigh these factors:  
Positive Legal Points
*  Marijuana causes far less physical injury and death than either alcohol or tobacco, even when not properly regulated; it should be even less through proper regulations when legal.
* Legal marijuana is a form of sin-tax that is quite lucrative for cash-strapped local and state governments.
* Marijuana has medical benefits for some sufferers that has been proven and has resulted in legalization in a majority of states as to medical use.
* Marijuana conviction leads to expensive incarceration of many non-violent offenders.  This has proved highly costly.
Negative Legal Points
* Marijuana is a gateway to more serious drug intake and contributes to overdose deaths.
* Marijuana legalization leads to lack of prudence in everything from driving to home economics.
* Marijuana is fundamentally anti-social and leads to the separation of people who are indulging from those who despise the smell and effects.
* Marijuana-intake can lead to impairment in driving.  State laws should be spelled out where allowed.
* Marijuana-smoking is profoundly annoying to others, but like tobacco, it could be forbidden in public places for those who do not want to breathe the second-hand smoke.
          Prayer: Lord, teach us to discern properly in our lives.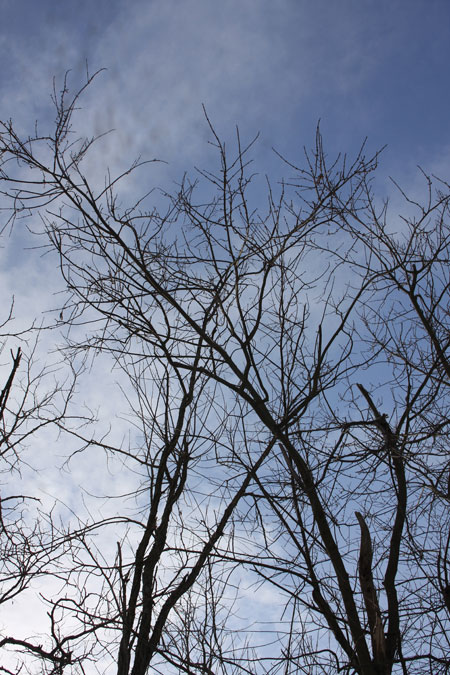 Firmly rooted, reaching upward.
(*photo credit)
December 12, 2019    Basic Elements within a Social Discernment
        In an urgent situation when decisions have to be made, a formal social discernment is needed.  Our planet has reached this level of urgency as halting climate change becomes all the more challenging with each passing year.  A call to "discernment" means weighing all the elements involved in a decision -- something that St. Ignatius of Loyola focused upon in The Spiritual Exercises.  The first consideration was on getting individuals to accept their proper calling in life and to pay attention to the movements of good and bad spirits.  Such a process must be done prayerfully and, hopefully, with the able assistance of others who have been engaged in spiritual direction.  What about a social discernment on a communal calling to a way of life?

       1.  Will to change.  Part of the problem today is that there does not exist a will to change; however, the urgency of our day demands that we change habits that are damaging our world.  The privileged want to retain all profits at all costs; the dreamer pictures becoming rich like the few; and the spineless remain quiet so as not to disturb the wealthy and the aspirants.  The spirit of complacency is troubling and must be identified as such.  The imagined comfort of accruing profits at others' expense is to be exposed and avoided.
       2. Openness to listen.  A "discernment," where the result is already known, is not a discernment but a fruitless exercise in self-gratification.  An openness demands an atmosphere of prayer, and yet some never venture to pray and is often is conditioned. One can hardly expect all to come to prayerfulness, but we can expect that those seeing the value of prayer will see that their contribution is of utter importance even when needing improvement.  All should pray; some MUST pray; all ought to pray more perfectly.
       3. Participation by all.  The intellectual or economic elite do not have all the answers.  The poor and voiceless, the anawim of the world, must have equal voice with others.  Proper discernment involves listening to all and affirming and voicing what they have to say.  The Internet offers a forum for such an ongoing dialog.  
        4. Practical steps.  Declaring Earth's sickness is a precondition to discerning the healing process.  To say that nothing can be done is despair.  To presume that automatic healing will occur is also bad.  A listening global community could learn much from the poor who know how to avoid wastefulness and make a living in simple ways.  Champion appropriate technology!

       5. Realistic goal.  The ultimate goal is to save our planet and to take practical steps to reach that goal.  Discernment champions goals as much as awareness of the condition and practical steps to be taken to solve the global problems confronting us.
      Prayer: Thank you, Lord, that you have given us the opportunity to assist in saving our threatened planet.  
---
Degrees of Ecological Greenness

The late autumn landscape is spotted with evergreens, but it does not bear the depth of summer greenness.  Green can come in tints and shades -- and is perhaps found in a greater variety of ways than any other color.  Yes, greenness can refer to good qualities as well as to envy or decomposition, or to inexperience or immaturity.  Greenness can include beautification with foliage and freshness in a drought-stricken landscape.  In very recent time, "green" refers to how we see, speak and act in relation to our environment.  Just as there are hues to the color green, so with our environmental awareness, and ever deepening consciousness about the world in which we are immersed. 
          The first level of environmental awareness is more reminiscent of the perceived planet five decades ago during that First Earth Day celebration in 1970.  People were becoming aware that air was fouled, rivers were catching fire, deforestation was occurring at an ever quickening pace, and the bald eagle egg shells were so thin they would break before the hatchling came to full term.  The bad effects of pollution were being exposed; if steps were not taken with deliberate speed our life on Earth would be imperiled.  It was an emergency; thus nations and sub-groups such as our own federal government enacted specific laws to curb air and water pollution and to control the use of dangerous pesticides that threatened plant and animal species.  Yes, this basic level of greenness was accepted as urgent and bi-partisan by the vast majority of citizens, for no one wants dirty air and polluted water.
          A second level of greenness soon began to emerge; this involves us as individuals who realize that a deeper level of greenness consists in looking beyond distant culprits, whether profit-driven industries or negligent governmental agencies.  We are amazed to discover that individuals are all partly to blame; we consume a host of consumer products that are made, operate and are disposed by use of resources and accompanying pollution; this consumption accounts for almost two-thirds of the American economy.  Such extensive consumption patterns first by advanced industrial nations and now by much of the developing world result in a heavy demand for non-renewable energy-based electricity and transportation; these heavy demands for fossil fuels have continued to increase with a developing world and its acceptance of planned obsolescence.
          Under these circumstances, greenness goes beyond recognizing dirty air and water; it involves consumer choices that demand conservation of resources; being green means recycling, turning off unused lights or equipment, installing LEDs, driving less and using more energy efficient vehicles, growing our own and locally grown food, eating less meat, and a host of simple living techniques and consumer practices that are also becoming popular today.
          However, attending to simple lifestyle practices, though requiring much attention and effort, is not the deepest green level.  We need a certain solidarity with our fragile Earth, a treating of this beautiful planet as our mother -- for thus it is.  Ecologically greener folks are able to express this compassionate relationship in song, poetry, prayer, dance or other artistic and spiritual ways.  In fact, this deeper level may not be primarily a natural sequel to the first two levels, but rather a major ingredient in the relationship of primitive and modern nature-lovers to their Earth.  Eco-spirituality is expressed in many ways by down-to-earth and sensitive individuals.  The problem in our modern world is that eco-spiritual expression of one culture may not speak directly to individuals living in a different environment; however, compassion for a wounded Earth can be shared.  Our local encounters with flora and fauna will color our unique experiences of environment according to our own time (including seasons and times of day and night) and place (rivers, lakes, plains, mountains, deserts, seashores, etc.).  But we can share a sense of solidarity with nature.
          However deep the feelings at this third level, more still has to be considered, for we live in a peopled world that has harmed the environment.  For better or worse, as members of this community we share responsibility for the harm done by our consumer culture.  It is not enough to experience the depths of solidarity with Earth and to avoid modern harmful practices.  We do not live in isolation; we engage in social intercourse with colleagues and significant friends.  To shut ourselves off in ever-shrinking natural wilderness areas is not a deep greeness, but a selfishness where authentic eco-green fades quickly. 
          Our insensitive practices or denial of environmental problems becomes a matter of urgent review when knowing that consumption of energy is not being reduced; rather, resource consumption is increasing as advancing and developing nations such as China and India are acquiring an appetite for more consumer goods.  Today, the Earth, threatened by climate changes with serious ramifications for the world's poor, cries out for help.  True solidarity hears the cry of the poor -- yes, poor people and poor Earth.   At this deepest level of environmental involvement, the emphasis is on global social justice.  Can an alternative way of acting involve attention to proper diet, housing, education and health benefits for all, not just for the privileged few?  This goes beyond a critique of corporations and individuals and questions the economic and political system itself -- and such a reflection is daunting with revolutionary ramifications.
          In this deepest level of greenness we see more plainly the horizons of our sacred journey as experienced by fellow travelers on this fragile Earth.  Here and now, we reassert that our common resources belong to all, not just to the privileged few.  Moving to this deepest level of greenness requires prayerful reflection, along with practical action; it requires a belief in a future, for we need courage to look beyond the horizon.  It is wise to delve further into this deepest level of green.  
---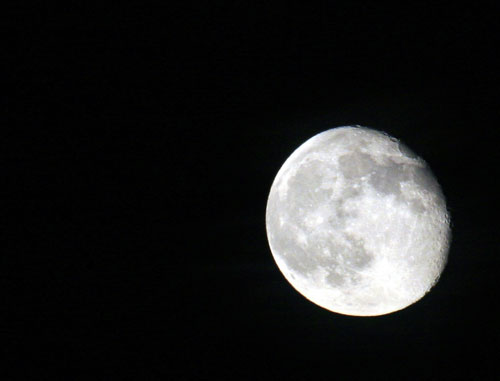 December moon on cold Kentucky night, lighting the path ahead.
(*photo credit)
December 13, 2019  Advent: Alertness in Looking Back and Ahead
        Alertness ought to include all of our activities from walking to cooking, from information-gathering to awareness of another's cry for help or companionship.  Our driving demands that we constantly look in all directions -- a feat that is impossible to do simultaneously.  We know it can only be approximated using full alertness.  In this final month of the year and as we approach the Christmas holidays, we need both to review the eleven months times that have just occurred and anticipate events to come. 
        What happened in 2019?  What will 2020 the leap year and elections bring?  Both questions taken together help define our present moment.  We live in that suspended instant when the past flees from us and the future is ready to spring upon us just beyond the horizon.  Both past and future form the mystery of focused life; the past yearns for an explanation of how we emerged on the scene for a brief moment; the future contains the mystery of an eternity, which is yet unseen and awaited in hope within Advent's yearnings.  Faith for believers includes a trust in what we have inherited from the past and anticipation for what is to come.

We are alert in our journey of faith because the present's boundaries seem to change with an ever-advancing past and an ever- yearning future.  We need the balance of those with simultaneous push and pull, pushed from where we were and pulled to where we must go.  What comprises our faithfulness?  Our faith includes gratitude in the past even though the road had potholes; it includes a willing spirit with enthusiasm that will hopefully tide us through to the finish line with its eternity beyond.  Past forgiven deed blends with future promise in the present moment. 
        Advent is that season when we refuse to be forgetful of God's fidelity even when our individual happenings fade.  We likewise refuse to forget that past history stands in realistic contrast to promises in which we are invited to help create our future.  The fates have no control if we keep enthusiasm -- the God within.    As the end of the year approaches, we realize the ever-approaching end of our mortal span, always closer and closer to reality.  This is why a balanced and awake adulthood contains a growing wisdom that realizes life's shortness (Psalm 90). 
        We need to see alertness as a community and not merely an individual exercise.  We as a community have our journey of faith includes the many neighborly companions in faith.  We can broaden our neighborhood through concerns for the welfare of others, some who urgently need our assistance.  Our vision embraces people of a variety of faith traditions, all struggling to obtain meaning in lives traveling to an ever-approaching eternal horizon.
          Prayer: Lord, help us to be alert to the current situation around us.  We are told over and over in this season to stay awake, but that is easier said than done.  We journey more carefully, but willing to make it a companion's travel with others in need.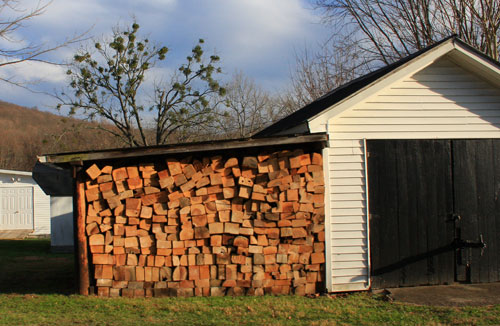 Neatly-stacked wood. Rockcastle Co., KY.
(*photo credit)
December 14, 2019    Celebrating the Bill of Rights
        On tomorrow's date, December 15, 1791, the Virginia legislature ratified the first ten amendments or "Bill of Rights" (passed by Congress in 1789), and thus brought to the required three-fourths the states granting approval.  This allowed the amendments to be incorporated in the United States Constitution.
I.  Freedom of Speech, Press, Religion and Petition -- Congress shall make no law respecting an establishment of religion, or prohibiting the free exercise thereof; or abridging the freedom of speech, or of the press; or the right of the people peaceably to assemble, and to petition the Government for a redress of grievances.
II.  Right to keep and bear arms -- A well-regulated militia, being necessary to the security of a free State, the right of the people to keep and bear arms, shall not be infringed.
III.  Conditions for quarters of soldiers -- No soldier shall, in time of peace be quartered in any house, without the consent of the owner, nor in time of war, but in a manner to be prescribed by law.
IV.  Right of search and seizure regulated -- The right of the people to be secure in their persons, houses, papers, and effects against unreasonable searches and seizures, shall not be violated, and no warrants shall be issued, but upon probable cause, supported by oath or affirmation, and particularly describing the place to be searched, and the persons or things to be seized.
V.  Provisions concerning prosecution
(see Monday)
VI.  Right to a speedy trial, witnesses, etc. -- In all criminal prosecutions, the right to a speedy and public trial, by an impartial jury of the State and district wherein the crime shall have been committed, which district shall have been previously ascertained by law, and to be informed of the nature and cause of the accusation; to be confronted with the witnesses against him; to have compulsory process for obtaining witnesses in his favor, and to have the assistance of counsel for his defense.
VII.  Right to a trial by jury -- In suits at common law, where the value in controversy shall exceed twenty dollars, the right of trial by jury shall be preserved, and no fact tried by a jury shall be otherwise reexamined in any court of the United States, than according to the rules of the common law.
VIII.  Excessive bail, cruel punishment -- Excessive bail shall not be required, nor excessive fines imposed, nor cruel and unusual punishments inflicted.
IX.  Rule of construction of Constitution -- The enumeration in the Constitution, of certain rights, shall not be construed to deny or disparage others retained by the people.
X.  Rights of the States under Constitution -- The powers not delegated to the United States by the Constitution, nor prohibited by it to the States, are reserved to the States respectively, or to the people.   
          Prayer: Lord, help us respect these rights for all people.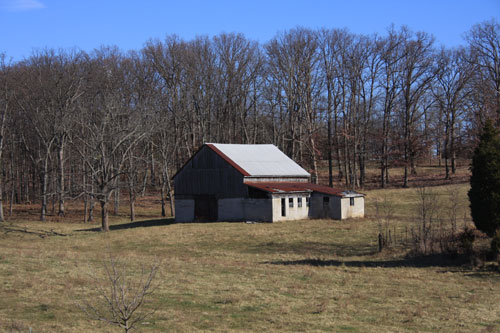 Farm in rural Anderson Co., KY.
(*photo credit)
December 15, 2019     Focus on the Lord in Hard Times
        We are going through very hard times as this holiday season approaches.  The climate changing problem is not near being solved.  However, people of faith are drawn to turn to the Lord in times of troubles.  Still, even the act of turning to God can be troubling for many of us.  This is because we have to abandon our self-sufficiency and our deep desire to be in control of situations.
       John the Baptist, imprisoned, had little control over his life.  He was the prophet straddling the Old and New Covenant, and he was unsure with such questions, "Are you the one who is to come or are we to look for another?"  Yes, we as people on our journey of faith answer this question in the certitude of faith; yet at times we may act as though we are looking about for a sure leader to assist us in times of troubles.  It is this turning attention to the Lord that should be our focus as this Christmas approaches.
        The focus ought to be a faith in the power of the spiritual to overcome the material elements of this world.  We are all distracted by the allurements of this world, by wealth, by fame and by power of various sorts.  Rather, by putting on Christ as our guide in hard times we are to focus on the suffering Servant and accept that our spiritual option includes rejection of what is so tempting in this world -- material success. 
        The focus ought to be on love of our neighbor and not on some form of violence or thrashing out at others.  We have seen this temptation to terrorism especially since the 9-11 event and the emerging of those tempted to burn the Koran, or to advocate militant atheism, or other distortions of conduct and effort.
        The focus ought to be on hope that we can make things better, not on withdrawing into a cocoon and attempting to become an asocial privatized "faithful remnant."  We are to speak openly on public issues and not to be tempted to remain silent, forgetting that silence itself is a partisan political stance.  As citizens, we are to seek a collective transformation to a better world. 
        The focus ought to be on a prevailing sense of joy -- for this is Gaudete Sunday, or the mid-portion of Advent that reminds us of the joy of Christmas to come.  Our times of troubles are short, and thus we are to preserve an atmosphere of faith in the future.  When we have confidence that good will ultimately triumph, we can have a peace of soul, and this will permeate our being in hard times. 
        The focus on faith, hope, love, and joy will not be perfect; we are called to be patient amid our distractions.  Our effort is to keep attention on a proper picture and not to be overly concerned about material gains, a temptation to violence, a loss of hope in the big picture, and an angst that comes with troubles. 
          Prayer: Lord, help us hear St. Paul calling for patience because our activism is well-meaning but imperfect.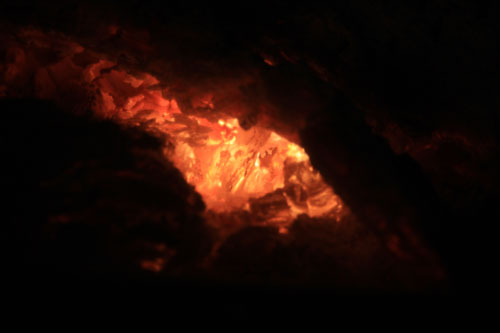 Glowing embers from fireplace.
(*photo credit)
December 16, 2019  Distinguishing Primary and Secondary Rights
       V. Provisions concerning prosecution -- No person shall be held to answer for a capital, or otherwise infamous crime, unless on a presentation or indictment by a Grand Jury, except in cases arising in the land or naval forces, in the militia, when in actual service in time of war or public danger; nor shall any person be subject for the same offense to be twice put in jeopardy of life or limb, nor shall be compelled in any criminal case to be witness against himself, nor be deprived of life, liberty, or property, without due process of law, nor shall private property be taken for public use without just compensation.

Conflicts over rights have existed from the start of the Republic.  Certainly when private property is involved (and this is held in vast amounts today), the power of the private holder can be so great as to include special access to political influence.  This threatens our very democracy.  A threat to our very life or liberty raises questions about primary rights where human life and dignity are involved and secondary rights when excess property is a matter of consideration. The corporations ran our elections before the decision (Citizens United vs. Federal Election Commission) and will do so now -- just with a fig leaf of "legality."  Howard Zinn

The right to life includes questions of abortion, death sentencing, and assisted suicides.  Right to liberty includes distinctions about infringing on free speech, or whether snake handling is free exercise of worship.  However, pursuit of happiness is a complex issue, for some possessions constituting "happiness" for millionaires could infringe on the rights of others to food, shelter or life itself when global resources are limited. During the Great Recession we saw Wall Street bankers plunge this nation and the world into the worst financial crisis since the Great Depression.  Do you think the principal actors in this horrifying act were punished?  Not a single one sent a single day in jail.  The excuse of being "too large to fail" (as though their actions weren't failures) allowed the banks' privileged few to be rewarded with $700 billion of our tax dollars and plunge our nation on the road to unsustainable financial existence and ultimate insolvency. 
        The "right to property" has been so infringed upon that it is ludicrous to those who try to live fiscally sound personal lives.  The un- and underemployed see their basic right to life and livelihood infringed upon.  The secondary "right" to property is now currently being ensured by tax breaks with the often vain hope that wealthy investors will create jobs.  In Citizens United vows. FEC, the U.S. Supreme Court in a 5-to-4 decision extended to corporations the right to bribe political candidates.  However, this "right to corporate personhood" is being challenged by progressive groups in citizen actions. 
          Prayer: Lord, teach us to defend the basic rights of all people and the democratic system needed to preserve these rights.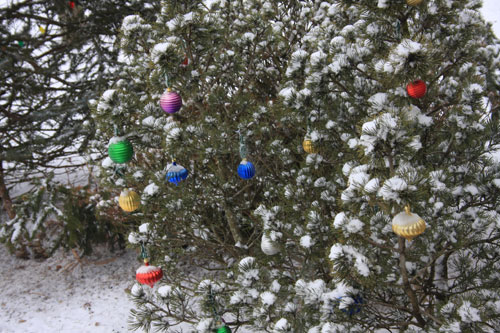 Christmas decorations in snow.
(*photo credit)
December 17, 2019  Promoting Utility-Scale Geothermal Power
        Efforts to reduce climate change by reducing use of fossil fuels takes us to a variety of sources, some with great promise but needing further commercial development.  One of these is geothermal power that has been used by utilities for almost sixty years.  Members of the Geothermal Energy Association (GEA) started in 1960 the construction on "The Geysers," a single small powerplant north of San Francisco.  Since then, this site has become the location for the world's largest group of geothermal powerplants.  Today, the U.S. produces 28% of the 13.2 gigawatts of geothermal power utilized by 24 countries; geothermal has a potential to expand rapidly in the coming years especially by the 70 nations that currently make use of geothermal heat in some manner.
        Geothermal, along with wind and solar, is a renewable energy source that comes at a rapidly declining cost per unit generated.  The source is relatively widespread on this planet and has massive potential.  Experts estimate that when fully utilized, geothermal could furnish 50,000 times the energy needed at this time throughout the world, with small environmental costs and manageable economic ones.   One must realize that geothermal efficiency is lower than that of conventional high temperatures from boilers and is only around 10-23%.  However, geothermal is more reliable than solar and wind, our primary variable renewable energy sources.  

Unlike far-more-polluting accessible coal, oil, and even natural gas, this resource has great potential for further development, although there are some environmental concerns as with all forms of energy generation systems.  Tapping fluids from deep underground geothermal operations does allow some carbon dioxide, methane, hydrogen sulfide, and ammonia to be released, but nowhere near the carbon dioxide levels from fossil fuel facilities.  The hydrogen sulfide and ammonia can be captured easily by standard emission-control systems.  Some toxic materials are released in the surface geothermal fluids, but these fluids can be reinjected to enhance further geothermal production and to reduce any possible environmental pollutants that affect groundwater and surface water.   
        Economically, the major cost of geothermal energy is the drilling of the initial wells -- about one-fifth of the total cost of the operation.  Without government incentives this will remain a small contributor to the total energy source mix.  Although a few wells fail, generally geologists can predict good returns from deep drilling operations.  Plants stay operating over long periods of time without major maintenance costs.  The power is generated at the wellhead and does not incur fuel transportation costs as occurs with most coal and petroleum-based powerplants; security and disposal programs are far less than for nuclear powerplants; and resulting greenhouse gases carbon dioxide and methane far less than for even natural gas.  Experts regard geothermal as one of the bright energy promises of the mid-twenty-first century.
          Prayer: Lord, help us enhance our renewable energy economy.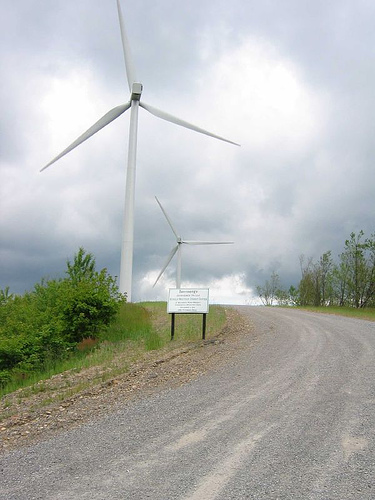 Buffalo Mountain Wind Farm, near Oak Ridge, TN.
(*photo credit)
December 18, 2019   Will Renewable Energy Come Fast Enough?   
        The climate change reduction mandate haunts us for predictions as to whether what is doable is achievable.  Shadows and bright spots form a patchwork on the renewable energy picture of our country and world.  Certainly coal is in decline; it is still a significant but reduced factor as energy demand continues to mount throughout the world.  Renewables are coming though experts say not fast enough to avoid the increase in world temperature beyond the 1.5 degrees since the start of the industrial revolution.   

The U.S. Energy Information Administration reports that currently the U.S. renewable energy market is nearing the 20% in electricity generating capacity; what is holding back a still faster growth is the cheap cost of available fracked natural gas -- with its own greenhouse gas emissions.  Certainly, sizeable increases have been reported in both solar energy (including large number of domestic rooftop solar installations) and wind; the latter is soon to undergo sizeable increases in electricity generating capacity as offshore wind farms come into operation along the populated and energy hungry Atlantic coast.  Solar and wind are rapidly becoming competitive with other non-renewable energy sources but, as is often pointed out, both solar and wind are variable as to weather conditions and require steady source backups.  These can be met today by natural gas powerplants, but ideally it is hoped that combined hydro, geothermal and tidal will do this along with large-scale, low-priced battery systems.
        One cannot accept the bright future of renewables without a realistic picture of total energy demand, which will continue to rise as BRIC (Brazil, Russia, India and China) become more important players in the world economic situation.  People like air conditioning, electronic devices, expanding lodging and individual automobiles -- but these take energy before surplus renewables are available.  Efforts must continue to focus on energy efficiency as outlined in the reflection on December 7th.  In the long term, this efficiency is the greenest way to curb climate change. 
        Certainly renewable energy sources are available, but need governmental support and incentives to be brought into the commercial arena more fully.  Even at this late date fossil fuels and nuclear energy with all its safety problems receive more U.S. federal dollars than do the budding renewable energy sources.  Yes, geothermal energy also has a bright future.  In the long term, tidal and more hydropower could contribute to an ever-enlarging renewable energy mix.  However, renewables are currently not advancing fast enough to meet increasing energy demands, and this is why the climate change picture has some very dark spots.  A renewable future awaits a concerted effort on the part of our nation and world.  The question is "will it get here in time?"
          Prayer: Lord, help us to be realistic about Earth-healing possibilities and see that we must redouble our conservation and renewable energy programs to avert a catastrophe.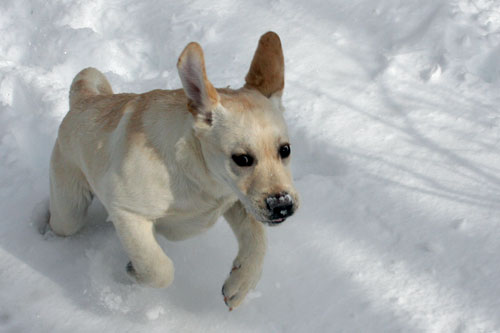 Enjoying December snow.
(*photo credit)
December 19, 2019   Tearing Down the Old Homestead
        When this December series was first composed I received word that my old homeplace in Mason County near Old Washington was being torn down.  Some things come with a twang of pain but this was like a death announcement.  The pleasant little house was where I was born and sent the early years of life until leaving home for college.  The thought of its final passing just brought back a flood of memories.  Certainly it was not being destroyed because of poor construction; rather its location has been now zoned commercial and the location is now at a congested intersection that made it quite dangerous to enter or leave the old homestead safely. 
        The house was built by my dad with help of his brother Pete in 1930 during the depths of the depression in anticipation of his marriage in February of the next year to my mother who lived two miles away.  It was built on a tobacco patch and it was not a good growing year for we crawled once underneath the non-basement portion and removed spindly stubs of that arid year's crop.  Yet among the challenges Daddy gave good judgment to excellent choice of brick for the fireplace and from porch half-pillars; he prided himself with finding some beautiful hardwood for baseboard and interior framing, which he anticipated could be varnished to show the grain; Mama thought otherwise as chief of the home and painted them white -- a point of internal contention. 
       In that trying year 1930 it took great skill and love to complete the basic four-room downstairs with unfinished upstairs.  Latter additions would include a basement/cellar, a bathroom and an extra bedroom downstairs with finished upstairs rooms as well.  Outside of the back porch was a well-built 8,000 gallon cistern that was fed from rainwater with cutoff traps to allow only the best cuts rainwater for drinking.  It was later supplemented by a larger cistern using the large barn as watershed.  Beginnings were humble enough and expanded space kept apace of a growing family of six children.  The house served my widowed Mother until 1999 -- and continued in use by renters with less tender loving care. 
       I guess I hope the deconsructors will appreciate all the good materials and love that went into building and maintaining the house through those decades.  It served as a family "home" and orientation as we departed with vivid memories of hailstorms and a 1950 Thanksgiving snowstorm that had drifts coming to the second floor windows.  However, the quietness of being fronted by a rural Macadamized road was lost with time as blacktop and congestion accompanied the city of Maysville advancing three miles to its door.  Transitions from rural to urban and from farming to commercial was too much; abandoned homes hurt me more than to see one torn down with a spark of life left in it.  But it hurts me all the while, for I recall the love of parents who made it "home."
          Prayer: Lord, with each passing memory we are more vividly reminded that our true home is beyond this life, and up ahead the expended love of homemaking can be brought to eternal glory.
---
Principles for a Green Economic System  

In reviewing our year, we summarize nine principles for a new economic social order, though parts may be challenged by readers:
          1. Principle of Right to Life.  Every person has the right to life in its entirety.  Justice for each individual starts with our being created in the image of God and meant to enjoy a full quality of life during our mortal span.  Violence to the human person (terrorism, abortion, treats to life, mercy killing, capital punishment, etc.) must be confronted by proper legitimate means; non-violent actions to overcome such threats are encouraged, for human life and freedom are fragile and require positive defense. 
          2. Principle of Interior Ecology.  Maximizing individual freedom is a worthwhile goal, especially when people mature and take charge of their lives; each gains a sense of responsibility that includes earning one's living, caring for one's family and dependents, contributing to community common concerns, and speaking and worshiping freely.  The psychological balance within one's life includes a sense of internal peace and harmony that is enhanced through available mental health facilities for all as well as adequate physical exercise, and religious freedom.
          3. Principle of Environmental Quality. For better quality of life all need clean air, water and adequate land space; also Earth's plant and animal species must be protected and controlled where necessary for the fullness of environmental quality.  To save our threatened Earth from human-caused pollution it is imperative that fossil fuel production be substituted by renewable energy sources.  Broader governmental agencies are needed to regulate air and water sources as well a public transportation systems.  Individual citizens must refrain from wasting resources and should join the movement to extend protection to living plants and animal habitats and migration routes.
          4. Principle of Subsidiarity.  Levels of control or governance exist, and each functions in its own proper order.  Champion the granting to the lower aggregates of society those areas of responsibility that are best handled at lower level governance; further, we acknowledge the necessity for broader areas (state or national governments); these may usurp operations of the lower, for tyrants if not confronted can overwhelm normal democratic process and attempt to control our lives.  Monitored governance at regional and higher levels is a citizen's and community's responsibility.
          5. Principle of Basic Security.  All have a right to essential food, potable water and health care together with security for rearing one's family.  Insecurity stalks millions if not billions.  To reclaim the commons, wealthier societies must share resources radically with those in destitution.  A basic global insecurity can be remedied when military budgets are reduced and the excesses are used to enhance global food assistance, potable water and health care facilities.  Reapportionment of resources to those in greater need is a priority.  Essential needs must be met over luxuries and superfluous wants by affluent people.  Redistribution of resources requires properly monitored governmental agencies at all levels.
          6. Principle of Gainful Employment.  All have a right to a livelihood, which involves a living wage (in a money-oriented society) that supports them and their immediate dependents; to this end government is the employer of last resort.  Freedom associated with employment conditions condemns slavery, indentured captivity, serfdom or long-term indebtedness.  Furthermore, livelihood includes fair unemployment compensation for those not working.  All people fulfill their sense of dignity by doing meaningful labor for self and society improvement.  Creative work opportunities exist for rebuilding and upkeep of infrastructure, teaching and health services, and preserving environment and research advancement.

          7. Principle of Participative Democracy.  Ideally, local communities should be self-governed and all citizens have a right to vote and participate in government.  Ideally, resources that are more bulky (fuel, building materials, food, and water) take more resources to bring from distances and ideally are obtained at the local level.  Outside investments do not always respect local decision-making, and outside owners of facilities have taken the liberty to move elsewhere as escape industries to the mortal detriment of local communities.  All need to participate to the degree possible in electing responsible governmental agents.
          8. Principle of Sustainable Development.  All should meet the needs of the present world without compromising the ability of future generations to meet their own essential needs.  Resources are to be used to the extent that these are needed and not wasted.  To achieve sustainable development, limits as to individual holdings are imperative in order to preserve democracy (akin to Ben Franklin's concerns).  Self-sufficiency, understood as ability to provide for one's basic needs, is an ideal goal; however, total local self-sufficiency is impractical, for few communities produce all essentials.  Fair trade of surplus resources is necessary for the Common Good; however, when one party has greater power and wealth, the temptation is to oppress a weaker party.  Fair trade practices demand global regulation for the sake of justice.
          9. Principle of a Global Level of Governance.  Extreme nationalism resists efforts to move to a global federation, an emerging goal due to problems facing the community of nations.  We must collaborate in order to save our Earth from human-caused climate change, and to eradicate poverty and promote world peace and security.  A just world order requires partial surrender of self-governance for the Common Good: judicial systems to treat crimes against humanity, regulation of Internet communications, world health problems, space exploration, ocean resources, global financial transactions and tax havens, Antarctic and Arctic Commons, and major migration and refugee issues.  Federation awaits fulfillment.  
---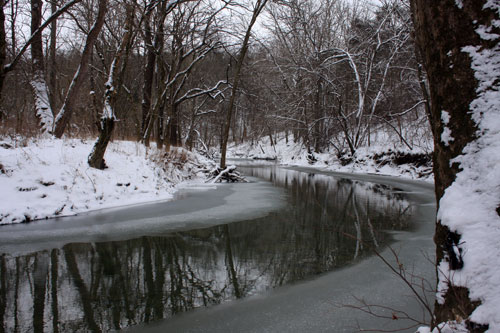 A frozen Kentucky stream.
(*photo credit)
December 20, 2019
                         Winter's Gift
              As you struggle through
                the branches and brambles,
                the dogeared duties of daily life;
              There looms beyond
                the grand and lofty principles
                the faith that keeps you going.
              When the leaves come out,
                the vision may be blocked.
              You must struggle along
                on a memory and a hope,
              Knowing that with winter
                comes a dying back
                that lets you again draw near
                to the strength of your being.
               Katherine Atwood Fritsch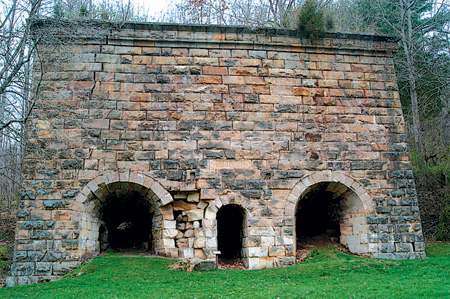 Fitchburg Furnace, near Stanton, KY.
(Photo: Jeff Kerr)
See the Earthhealing Youtube "Historic Ironworks in the Kentucky Hills"
December 21, 2019  Local Attractions: The Fitchburg Furnace
        Virtually all parts of this and other nations have local attractions that can draw others for scenic, cultural, historic or mixed reasons -- and thus we can say with confidence that all places are unique in some way.  As expected, our resident Estill County has more claims to fame than just being downwind from the Bluegrass Army Depot with it store of dangerous chemical weapons.  One tourist draw is the massive sandstone Fitchburg Furnace, the world's largest iron furnace when constructed right after the Civil War.  In many ways it is also one of the most beautiful, and some regard its unique stonework as a work of art. 
        This furnace (really a set of two) was built by Frank and Fred Fitch as the very latest in 19th century industrial technology.  However, the bulk materials (iron ore, limestone, and fuelwood) were not accompanied by easy transportation either nearby waterways for barges or operating railroads -- and thus all hauling was done by animal power and some human effort.  The furnace really proved to be a good idea in the wrong time and place, for the operation was hit almost immediately by a financial crisis.
        A decade ago, a federal stimulus package of over a quarter million dollars made possible for the acquisition of replacement sandstones from the quarry that furnished the original blocks.  The furnace had been overgrown by trees and the restoring task was to attempt to reclaim what has been lost to nature.  Part of the restoration includes removing vegetation and putting a roof over the furnace to keep out rainwater that could further damage the structure.  Fencing, parking, educational displays and draining areas were added to show the industrial plant (which only operated for four years before closing during the economic Panic of 1873).  This closing brought an abrupt end to the first American iron production region (southeast Ohio and northeast Kentucky).
       Enormous amounts of charcoal were demanded to make a ton of this pig iron for furnaces that had to run continuously day and night at very high temperatures.  The production of that charcoal required all the trees for miles around, and the entire section of the county was denuded of forests during this brief period of time.  Coal regions proved to be far more economical.
        Retention of historic sites is a value in itself, for it shows a respect for our cultural and industrial past.  Such practices as restoration foster respect for native surroundings and lead to a desire to participate in global site preserving, to enhance local civic pride, to furnish tourist attractions in areas needing different forms of business, and to make citizens aware of the need to acquire local respect and pride and preserve cultural and historical resources of a particular region. 
          Prayer: Lord, give us appreciation for all creation and lead us to enjoy the gifts you have given our local community.  Inspire us to spread the good word among our often dispirited native residents so they can gain respect for local gifts.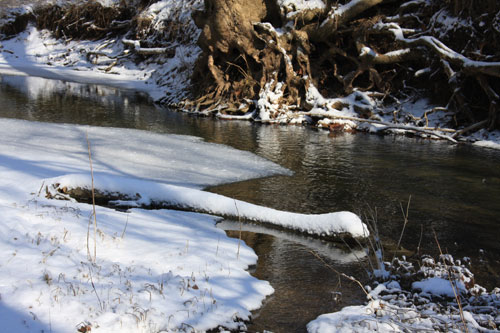 Warming rays of sunlight strike icy waters.
(*photo credit)
December 22, 2019  Practice Patience in Troubled Times
              Be patient brothers and sisters until the coming of the Lord.
                                                                                           (James 5:7)
       Little kids are often impatient awaiting the upcoming holiday event.  However, some of us still need the admonition of St. James: "be patient."  Several astute observers let me know that I lack this virtue in a telling way.  Patience is still difficult as we age and find that there is less and less time available to do what we hope to achieve.  This is true for those who are aging, living on the fast track, eating (even home-prepared) fast foods, driving often near or above the speed limit, and using fast-track forms of communications.  In short, my patience is tried even while mobility wanes.  We expect much, from cooperative traffic lights to instant checkouts, from banking service to electricity delivery.  Yes, speedy delivery is hard on the impatient.  
        A holy impatience must persist in one area.  If we see someone beating up another, we would be insane to approach the victim and say, "Brother have patience for the Day of the Lord is coming and all will be perfect."  Rather we show our responsiveness and attempt to halt the assault either through our powers of persuasion or by calling 911 for police protection.  Thus when the troubles involve another, we struggle to assist them, for their patience should not encourage our standoffishness.  Activity for the sake of another should not be restrained by our desire to be patient even when we cannot be totally effective.  This involves political issues as well.  However, what about climate change?
        Patience enters into our awaiting the Lord's coming.  We help prepare the world for the coming, but realize that our efforts will lack immediate success.  That should not make us more impatient, but rather willing to accept our limitations and the challenge to grow in patience.  Furthermore, others, upon seeing us not lose heart in our imperfect efforts, may admire us.  We do the best we can -- improvement will surely come.  What more can we say?
        Accepting a combination of holy impatience when confronting social injustice to our brothers and sisters along with holy patience with our own shortcomings has potential witness value.  We can stand honestly before the Lord and before our fellow human beings.  When we admit limitations, others identify with us, for they often see their own lack of success, and in many cases are better able to live with themselves.  Certainly, they can give us better advice on how to show patience, to occupy down time, to be prepared for and make room for delays, and to admit freely all human beings are imperfect.  Success is sometimes observed and we thank God when this occurs, and work harder at other times.
          Prayer: Lord, help us to see ourselves as people in need of your mercy, and still show a sense of willingness to await your coming with equanimity and continued joy and good humor.  Help us establish an atmosphere where others can act in the same way.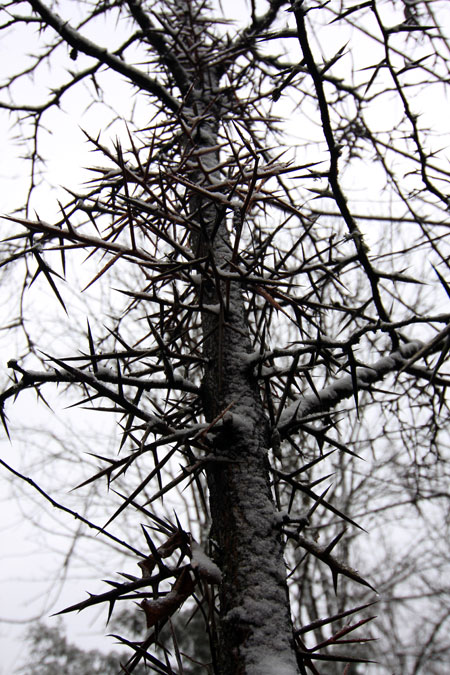 Thorns of the honeylocust tree.
(*photo credit)
December 23, 2019      Counting Our December Blessings
        December can be bleak after the leaves fall and before the crystal white snow covers the landscape. Still this is a good time to draw ourselves indoors and come closer to loved ones as the festive season grows in intensity.  What we seldom do is enumerate all the winter blessings even when the cold weather sets in and the need for warmer clothes is ever present to us.  But there are individual blessings which when appreciated make us willing to go out and help others.  Think about these things:
        * Warm adequate housing and furnishings in which to live with a certain degree of comfort;
        * Warm clothes that feel so good when out in the harsh weather, and sound shoes to protect delicate feet from the cold;
        * Paper or electronic books to read and eyesight to do so;
        * Friends to greet and to give gifts to during this season;
        * Nourishing food to fulfill our hunger needs, and especially the festive foods of this holy season;
        * The insight to see that what we have as adequate in winter is not shared and ought to be in the best way we can provide;
        * The fauna of winter companions such as squirrels, small mammals, deer, turkeys, and such winter birds as cardinals;
        * The freedom from biting insects such as mosquitoes, yellowjackets, wasps, hornets, deer flies, ticks and horse flies;
        * Cool weather in contrast to the heat and humidity of summer and the glare of summer's penetrating sun;
        * The cleanness, silence and beauty of a new snowfall;
        * The long night time to slow down from summer activities and to conserve physical energy in a variety of ways;
        * The smell and lazy curl of wood smoke;

       * The taste of newly cracked walnuts or hickory nuts;
        * The aroma of a festive meal;
        * The feeling of community police security and fire protection; and
        * Once more for emphasis, the togetherness of the season.      
          Prayer: Lord, we discover monthly, abundant blessings -- those we give and we receive; give us the insight to see both types as a double blessing benefitting an ever-broader circle of friends.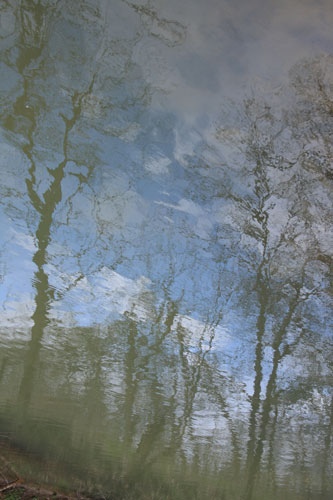 Nature's reflections.
(*photo credit)
December 24, 2019   The Art of Preparing for a Great Event
        There are two basic extremes in preparation for an event: get all the minutiae in perfect order; or letting things happen as they will.  In my compulsion for orderliness, I stand in the former position, although I know perfectly well that memorable events have occurred without the Martha-like detail and concerns.  Having said this, we all need to take a balanced position of making sure events occur in good order, and yet do so without overly exerting ourselves to such a point that we miss out on the significance of the event itself.  That balanced approach includes:
        * Schedule plenty of time for each portion of the preparation.  If you are to have a gift exchange tomorrow, do not wait until today to get all the presents assembled;
        * Get others involved.  Establish a program with as many as possible involved in the preparation and in the actual event.  Make sure that all who ought to feel invited are properly informed.  Afterwards, the lasting memory includes that personal involvement.
        * List details in writing so that one has a clear understanding as to who gets the room in order and who selects the music.  Compiling fine details too far in advance verges on the minutiae folks' approach, but pinpointing general details allows informal people to see that some things ought to be done early -- and this keeps fretters allayed.  Parties take some preparation.
        * Accept the two types of people as involved in this event, whether a formal religious occasion or a social party, and be willing to live with and satisfy to some degree both types -- minutia detailed folks who are micromanagers and relaxed folks who don't mind omitting a few fine details;
        * Expect the unexpected and even plan for it, for storms arise and accidents occur.  Meet every adversity with equanimity;
        * Reflect on the significance of the event.  Give some time the day before to consider the spiritual significance of Christmas or any such event at hand.  Thank God for the opportunity to be present and to assist in making this a memorable occasion for others.  Our serving others as best we can is itself part of the ingredients that ought to be celebrated.        
        * Thank God afterwards.  Realize that the occasion may have proved different from what was anticipated.  Nothing in this world is perfect; therefore the gathering may not meet all expectations.  That is a good reason to let it come as it does.
          Prayer: Lord, tomorrow is Christmas.  Help us plan to celebrate this event, realizing that this is a happening that you planned in the fullness of time, and we are mere participants.  Give us a sense of how to celebrate in this spirit-filled feast and to assist others in doing the same.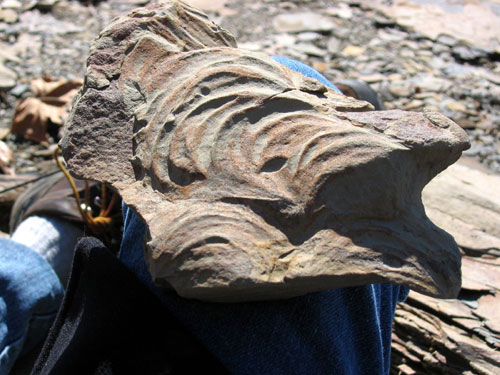 A glimpse into the past (Zoophycus trace fossil), as we think about the future.
(*photo credit)
December 25, 2019     The Ultimate Christmas Gift
      Send victory like a dew you heavens, and let the clouds rain it down.  Let the earth open for salvation to spring up. Let deliverance, too, bud forth which I, Yhwh, shall create.
(Isaiah 45:8)
       At Christmas we celebrate the coming of the Lord in a special way, a profoundly gentle way that only the mercy of God can give us.  A Christmas card says it all in the awe and wonderment in the eyes of young shepherds looking at the infant.  The artist captured by picture what fails us in words written or spoken.  Our past recedes; our future is beyond the horizon -- but the present moment consists of a gaze into the crib.  Jesus comes to us here and now, something children grasp better than adults.  Here, at Irvine where "mountains and bluegrass kiss" so all the more does Heaven and Earth.

We are grateful –
*  for having been saved by the Messiah and being invited into the saving process as a member of the divine Family;
*  for adequate health to be present and alive right now;
*  for the good food and essentials needed to live this year including gardens, fields, woods, and ample fresh water;

*  for the gratitude of the poor who seemed so much more thankful for gifts given this year than in times past;
*  for the awakening of poor nations who call for proper compensation for the wrongdoing of past and present;
*  for peacemakers who speak out in this war-torn world, even amid the horrible pressure of the military/industrial complex to pursue goals through military means;
*  for our Holy Father and his writings, talks and general leadership;
*  for all guardians of the faith who constantly call us back to examine our ways of doing things so we do not lapse;
*  for the insight to see the connection between environmental problems and our economic system -- and the need for change;
  *  for benefactors willing to support unpopular causes and for the sixteen million who visited our Earthhealing website in 2019;
*  for freedom to communicate at low costs to people in 115 countries and to have the energy to continue as long as possible; and
*  most importantly, for experiencing Christ's presence in our midst in a special way this Christmas.
        Prayer: Lord, wrap us in the warmth of gratitude.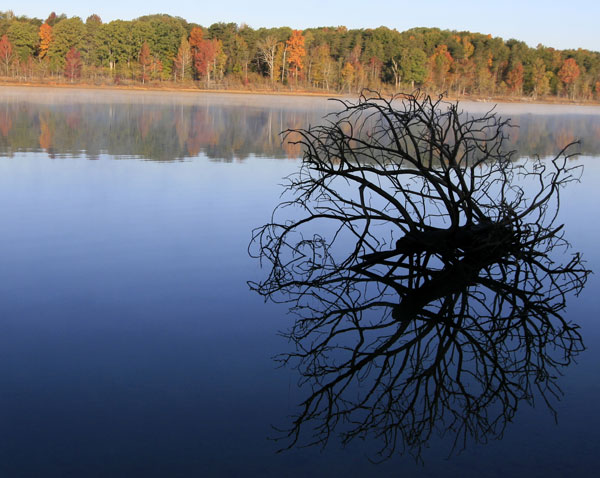 A quiet morning in December. Barren Co., KY.
(*photo credit)
December 26, 2019   Prudence and Climate Change Deniers
        Today's title has three aspects: the virtue of prudence, climate change, and people who deny human-caused situations.  Taken individually they are interesting areas of speculation; taken together these could be the ingredients of how to stop the impending climate change catastrophe.  Let's look at each in turn.
          Prudence is a cardinal virtue related to sound judgment in practical matters.  As we mature, we ought to become less reckless in behavior.  We learn to take enough provisions on a journey; we speak in a civil fashion for assistance and companionship; we drive with some degree of care and alertness; we do not overuse food, drink, or prescribed pills; we dress warmly, and on and on.  Failing to act prudently results in acting recklessly, thoughtlessness, or a misguided sense of privileged guardianship by parents, teachers, friends, government regulators, medical doctors or just about everybody.  On the other hand, people do not want to be "prudes," or those overly concerned about proper behavior or speech.  Authentic prudence is practiced with discretion.
          Climate change is something that can be observed reasonably when close at hand: hotter summers, melting ice sheets and glaciers, extended wildfires, dying off of polar bears, severe hurricanes, rising oceans and on and on.  The press and social media is filled with examples of climate change and some 99% of climate scientists see it with human causation involves.  That is especially true of continued use of fossil fuels for ever greater energy demands from private autos and electronic devices to air conditioning and larger residential dwellings.
          Denying is not a new art; in fact, one can find examples any place where human history is recorded.  Some people deny health problems.  Some deny what is evident to astute observers; however, the Big Energy denier is a merchant of doubt wanting to continue making sizeable profits to the last minute, even if it is disastrous in the world in which we are so troubled by climate change.  This plan worked with extending tobacco use without health warnings for four decades, but such would be more disastrous if applied to extended fossil fuel application.  Some deny through greed and without regard to the global future.
        Any one of the three terms just described is key to authentic action.  Combine them and confront the doubters prudently.  The call to the virtue of prudence is not necessarily going to convert all deniers (especially confirmed merchants of doubt), but it must be voiced even when the witness is regarded as a disturber of peace -- or more accurately of existing social tranquility.  Confront deniers.  Have them read James Hansen's Storms of My Grandchildren: The truth about the Coming Climate Catastrophe and Our Last Chance to Save Humanity (Bloomsbury 2009).  It is still timely.
          Prayer: Lord, teach us how to be prudent in troubled times and yet be relentless in trying to confront climate change deniers.
---
Previewing Earthhealing for 2020
          Our Earthhealing mission is to enlist concerned citizens throughout the world in addressing the needs of our wounded Earth.  God willing, we intend to continue the series of reflections that Earth Healing, Inc. has hosted since 2003; much will depend on good health and energy.  Actually our Internet work is divided into segments that are daily, weekly and monthly contributions; in this way we seek to reach different audiences.

The daily segment, Daily Reflections, is the oldest component, started in 2003; it has consisted of articles of general secular interests and religious themes on Sundays and at special feasts.  For the greater part, these 366 are already assembled and edited for 2020 and are drawn from a bank of 3,300 personal reflections updated over a nine-year cycle.  Each day finds variety that manifests the glory of God's creation; hopefully, this uplifts hearts in these troubling times.  Janet Powell arranges these Daily Reflections selections in calendar order and, since 2007, had inserted either her own or others' photos (especially those of the late Sally Ramsdell), which give a positive note to daily life.

Our weekly essays appear on Facebook; during 2020 we intend to focus on seasonal excerpts from "Eco-Spirituality for an Activist," that are updated and refined for the election year.  Certainly an "earth literacy" is demanded from involved citizens at this critical time.  This authentic eco-spirituality recognizes here (situation), now (current conditions) and we (agents of change).  We affirm that: all earthly creatures are interdependent (scientific observation); natural processes obey the Law of Conservation of Resources (including human suffering); and that variation and richness of diversity add to the health and harmony of the total eco-system (ecological understanding).  These components will be highlighted during the course of the year.

Our monthly videotapes on YouTube currently contain sixty subjects under Mark Spencer's production; a dozen more are planned for 2020.  This is a continuation of a TV series shown on WOBZ at London, Kentucky that was sponsored by the U.S. Environmental Protection Agency.  Since Eastern Kentucky is the center of eco-tourism in the Commonwealth, we seek to address major regional problems including the demise of coal mining; our response is to emphasize regional treasures (Mixed Mesophytic Forest and the exotic landscape) and promote tourism when and where possible.  Some of our over 2,000 subscribers are unfamiliar with the region and may not have an opportunity to travel here; a virtual presentation is an ecologically sound alternative procedure. 
          Again, thanks for recent comments; we hope that we can give special attention to the coming critical election year.  God willing, we will pursue these three forms of social media with added enthusiasm.  We look ahead with you to the year 2020.
               Specific Preview for 2020 Facebook Essays
    In this upcoming critical year we need to reflect upon our spirituality or the motivations that can make our activism effective.  I have drawn from reflections that have been developed for the various months of the year in An Eco-Spirituality through the Seasons, which will be posted in an extensive form for each succeeding month; hopefully these thoughts will invite an opportunity for your comments.  We will do something tailored for each month of 2020 with particular experiences geared to the season and our particular climate (e.g., January the experiences of the sacred in which we reflect on the glory of creation and recommit ourselves to develop a conservation ethic).  In winter time this is an ideal period to sharpen our prayer-life and communicate with you our concerns about our threatened planet. 
    Eco-spirituality is an ongoing effort to address climate change and other serious environmental problems facing us at this time.  We cannot afford to lose heart.  Rather, we must continue to counter desolation with a sense of gratitude to be functioning today; we are to encourage eco-activists to confront the impending disaster ahead if we do not change our personal and global ways.  Our emphasis on spirituality is because spiritless secularism is paralyzing; instead, we must proclaim a spirituality that blends basic theory with instances of practical application adjusted to our particular energy, talent and time.  Not everyone can do everything, but each of us can do something -- and we hope these individual actions are well chosen.  At times the particular essays will include examples of how we are to work with some sort of enduring balance that helps us refrain from engaging in tempting allurements.
    The actual reflections will be divided into four components for the first four weekends of each month with the sequence of monthly assumptions, associated experiences, specific reflections and suggested applications; these will be successively highlighted as four weekly contributions per month.  Four months of 2020 (February, May, August and October) have five weekends to complete the 52-week year; a general winter, spring, summer and autumn topic will be offered on the final weekends of these respective 5-weekend months.
    Our audience involves three categories of healers: the first is a broader audience of global citizens concerned with saving our threatened planet; the second are those who accept this saving task within their own religious and spiritual traditions, and commit themselves as "people of God" with a mission ahead through faith in the future; the third audience are those who profess to be Christian and who are consecrated through the oneness of Baptism with the sacred mission to help bring about a New Heaven and New Earth.  During these weekly endeavors we hope that you as readers will be motivated to consider your own similarities and differences, and to communicate your enthusiasm to neighbors who need assistance.  Our efforts must be to spread the Word -- and this now becomes a special grace.
---

Gift of home-baked pawpaw pie.
(*photo credit)
December 27, 2019     Healing Benefits of Classical Music
        As we rest a little after Christmas events, nothing is better than good music to help us relax.  My apologies for having written about three thousands reflections broadly related to healing our wounded Earth, and hardly a brief mention of classical music.  Perhaps it is because we do not conceive of something so pleasing as music in a pragmatic sense.  Or maybe it is the sacred nature of music that makes us want to keep it so personal as to be untouched and never mentioned.  No excuses really suffice. 
        The experts give good music credit for relieving human ailments and for a wide variety of benefits.  Some credit Mozart's works with increasing the intelligence of unborn babies.  Those youngsters also can have teaching enhanced with the proper soothing sounds.  By teenage years, music often plays a role, but here the detrimental nature of loud music as the onset of deafness has been cited as a music minus.  Elders are known through a variety of studies to be comforted by classical music and this includes much improvement of physical and mental health. 
        The role of music in meditation and prayer is evident to many worshippers; this has led to composition and instrumental performance for sacred settings and substantial support of music composers and performers.  Spiritual health and wellbeing are enhanced for many with sacred music.
        The value of music for pets is more documented than for other domesticated animals or wildlife.  However, some admit that experimental animals and draft animals (horses, oxen, etc.) perform better with good and soothing music.  Daily, people will attest to that.  In the inverse, loud music can affect the performance of these animals.  In my youth, we knew that loud or rumbling music disturbed our dairy cows and prevented their being properly milked.  I greatly suspect that not all animals have such discriminating tastes, for some dogs seem to thrive on all types of music.  However, soothing music is generally liked by many.
        A decade ago it was reported in The Guardian Weekly (July 2, 2010), that a German sewage plant had Mozart piped music and the director, Anton Stucki, insisted the bacteria were assisted in the efficient decomposition of the biomass; Anton thought the secret was in the musical vibrations, "which penetrate everything, including the water, the sewage and the cells.  It creates a resonance that stimulates the microbes and helps them to work better."  Another Austrian sewage plant adapted the classical music approach and the operators testified that this reduced the cost of sewage treatment.  Perhaps the classical music approach could also work for gardening though no one has yet confirmed the case.  This would be worth some future research.
          Prayer: Lord, help us to resonate with the heavenly court's music, for the work of the Trinity is experienced in the harmony with your working within all of creation.

Appreciating the December evening sky.
(*photo credit)
December 28, 2019     Facing Our Phobias, Especially Phobophobia
        We prepare to enter into another year, 2020, and we do not know what it will bring as far as climate change, global security, national welfare, family and community relations and personal health goes.  Must we expect to be fearful or strive to be fearless and rid ourselves of all fears, or is there a middling position?  
        The Greek-derived word, Phobia, refers to an irrational, excessive or persistent fear of a particular thing or situation or types of people.  Hundreds of types of fears have been unearthed ranging from ablutophobia (fear of washing or bathing) to zoophobia (fear of animals).  Some other examples include: claustrophobia (fear of being in an enclosed space); hydrophobia (fear of water); necrophobia (fear of death or dead bodies); photophobia (extreme sensitivity to light); and Pyrophobia (excessive fear of fire).  A collection of all phobias can be found by googling "Phobia Fear Release."  This source includes some surprises and some expected fears of heights, darkness, noises, or bears.  If anything, the listing can be a basic lesson in Greek or Latin vocabulary. 
        First, we each ought to know and list our own fears, some mild and some so serious that they result in avoidance mechanisms and lack of coming to terms with certain behavior.  Knowing our phobias is the first step to becoming more balanced Earthhealers.  Treating those (some say all are treatable) that hinder our mobility and ministry could be a second step.  Some fears may even prove a good thing given our situations, addictions, struggles or propensities.  For one struggling for perfection, peccaphobia or fear of sin is a good; in fact, one (fear of God) is regarded as a gift of the Holy Spirit.  Proper fears may help us and improper ones do harm.  If we must ride a vehicle to do ordinary activities then autophobia will have to be addressed.  If the phobia is another person's, we may help them ride the elevator or see the doctor.
        Phobias occur within other parts of the animal kingdom.  Some dogs are extremely afraid of thunder, perhaps triggered by the sound (more than the lightning), and they will be desperate to hide or get inside the house.  One acquaintance had two dogs; the senior male lost control in a thunder storm and the underling assumed dominance in a very dramatic fashion.  People will also show dominance by taking advantage of those with phobias to threaten, laugh at, or impose practices that would never be otherwise attempted had a phobia not expressed itself at given situations.  We become vulnerable during times when phobias express themselves, and thus many of us have fear of fears -- phobophobia.  "Don't be afraid," the Lord tells the apostles and his audiences on various occasions and maybe in our hopes of being fearless at all times we seek to suppress or hide our fears.  At times, it's best to say "I fear the speed you are traveling;" "I fear for your safety."
          Prayer: Lord, allow us to be fearless when needed, fearful at the proper time and in some challenging circumstances, and give us the wisdom to know the difference.  

The Jefferson salamander, Ambystoma jeffersonianum, native Kentucky species.
(*photo credit)
December 29, 2019    May All Families Stay United
       And who is this infant Jesus?  The early church asked this question and so do people in every age.  Parts of the Luke and Matthew infancy narratives seek to answer this.  Joseph Fitzmyer says that there is a historic nucleus to those parallel stories: the reign of Herod, the virgin Mary, Joseph being of the House of David, angelic announcements, Jesus as Son of David, the Holy Spirit, Joseph not being involved, the name "Jesus," Savior, born after Mary and Joseph came together, the birth place of Jesus in Bethlehem, and the childhood in Nazareth. 
       Flight into Egypt.  Abraham Lincoln summed up his youth's history as "I was a poor boy" and later some of his hidden life was turned into a myth with a historic nucleus.  Matthew's Gospel of the flight is the struggle of a poor refugee family, not unlike the journey of millions this year alone.  During the Christmas season we travel with the infant in the womb as we prepare ourselves to behold a new light to the world.  We travel with Joseph, Mary and with the child Jesus; their journey involves rudimentary accommodations; their destination is uncertain.  We too are itinerant people heading to a destiny we cannot fully visualize.
       Our Ancestors journey.  We are offspring of people of faith.  They believed in the future to such a degree that they bore and nurtured children; yet for 99% of us, our ancestry is only a few generations of names and dates.  We honor foreparents graves; we remember them in our celebrations; we hold their photos in revered places.  We look back occasionally, though refrain from walking backward lest we stumble.  We are meant to be going to the light -- the distant places up ahead where things will be better.  Our journey of faith started with our ancestors who nurtured us in faith and love, but continues on through graces of their sacrifices for us. 
       Our journey ahead. Similarly, we look forward to the horizon of faith to things not yet in sight but hoped for.  God is faithful and loves us as we are here and now.  To begin to achieve HERE within ourselves is a more perfect harmony; NOW we are capable of extending our love out in space and time to those in need at this moment.  We remember our past and those deceased loved ones; and we await the future in hope of a reunion with them.  No matter what we say, we are not permanently here but moving on to something greater that is soon to come.  Our present moment is built on love, and this virtue alone will last when faith and hope fade away.  Familial love enhances the present moment for all of us.  We are some way in the company of migrants, refugees, or those from broken homes.  Modern communication helps us keep in touch, but it takes an effort to hold things together.  Mary, Joseph, and Jesus were refugees from a tyranny, and so are many today.
          Prayer: Lord, help us to emphasize family-centered togetherness that includes celebrations, gatherings, and sharing of our lives with those nearer and dearer to us.  We could call on Joseph and Mary, the first Christian refugees, to show us the way.

A false morel in December.
(*photo credit)
 December 30, 2019   Get Serious: Make Realistic Resolutions
        Like most people, I'm not an expert on resolutions, for I have broken quite a number over a long lifetime.  Frankly, part of the reason is that many resolutions are unrealistic and are allowed to lapse after a few days or weeks.  Often we are too discouraged to restart them as the year moves along.  Even such meaningful resolutions as cutting food consumption, or reading more, or increasing physical exercise may seem easy on January first and onerous by the thirty-first.  Practices may take extra time, and concrete results demand a longer-term persistence.  Start with resolutions that can succeed easily. 
        In resolution-making let's get serious; life is short and we need to conserve our time and effort.  We can have a moving prayer life while involved in activities that consume our day, for we are to pray always.  If there are periods of quiet and recollection, all the better; but let's not so fix these that they hinder our daily activities. The following areas may offer some success:
        * Morning Prayer -- Begin the day with the simple thanks that we have survived the night and are prepared to make the day the best that is possible.  Some make a meditation of some definite length (I like the middle of the night); however, situations may result in a failure that compounds discouragement.  Some start with the prayer of Matins and continue with the hours with psalms and communal reflections. 
        * A Day's Offering -- The average person will live about thirty thousand days, and that is a nice array of human potential to give as an offering back to God.  Merely offering each day, even if for a single moment, for the good of others with whom we are in some sort of contact will be of immense value to them and us.  This is especially true if we have aches and ailments of which there is no foreseeable terminal point -- and yet we offer them for the good of others.  Often we can tell the person(s) for whom we make the offering.  No matter what their own degree of prayer life, most people appreciate our remembering them in a special way.
        * Individual Acts of Gratitude -- Some time during the course of the day we could attempt to just say "thanks" to another person or to the Lord for allowing us to breathe and live.  It only takes a moment to say "thanks," and it gives our ministry of gratitude a boost; it permits our healing powers to expand through inspired enthusiasm, which colors our day in a spiritual way.
        * Evening Examen -- Complete the day with a review just before falling asleep; this is the day's most important prayer according to St. Ignatius.  I have found that a thankful survey of what has been accomplished is at the heart of the review -- not a feeling of guilt as to how things could have been done better. 
          Prayer: Lord, help us to focus our resolutions for the coming year on the improvement of our informal conversation with you.

Early December splash of color, following extended warm weather period.
Marbled orb-weaver, Araneus marmoreus.
(*photo credit)
December 31, 2019         ALL Can Be Earth Healers
        Once an academically-inclined friend asked me why I expected all kinds of people to be like me (an Earthhealer) and thus forsake their own personal calling.  The misinterpretation deserves a response, for each and every individual inhabitant of this planet can be an Earth Healer -- and none of them have to be like me.  One can be a healer without doing public environmental advocacy.
        * Gardeners and farmers have a challenge to make their plots a mini-example of what the rest of the world could become;
        * Poets and authors, especially novelists, could draw others through their works to the urgency of current action;
        * Parents and homemakers must realize that their dwelling is to be a starting place for all to see that Earth can be healed and made more whole again;
        * Religious leaders could insert in homilies and sermons some mention of the need to take healing as a ministry of all people;
        * Youth and athletic leaders could encourage youth and others to live simply and to donate time to help others;
        * Health caregivers can donate time and skills to the poor in various parts of the community or world;
        * Students can plan for careers that are for assisting others and can give encouragement to their peers;
        * The sick, aged and retirees who have extra time to pray ought to offer their sufferings in a sense of gratitude to God and thus discover and communicate the power of their offerings for the entire global healing enterprise;
        * The technically-inclined and engineers must be willing to explore and advocate for more appropriate technologies;
        * Academics and teachers must break the hold of peer pressure and speak out as witnesses and encourage others to do likewise, and thus break the culture of silence;
        * The military must see that the discipline that they use could be applied for the good of all people in times of grave need;
        * Elected officials must face the reality that profound change in the economic and political system is necessary in order to save our wounded Earth; and
* The wealthy and business people should voluntarily give up any surpluses for the sake of the poor of the world.
          Prayer: Help us, Lord, to convince all to be Earth Healers.
---
         Green Chimes at New Year's
      Sound out, green chimes, to all our Earth,
The windy breeze, the solar light,
A decade dies within the night,
Now comes one with renewing birth.
      Pound out the old, ground in the new,
Send happy chimes across the snow,
A decade passes, let it go,
Fly from the waste, bring on the true.
      Sound out the wealth, which saps the soul,
Hiding behind the screen of worth,
Exploiting goods of Mother Earth --
Vast profits of oil, gas and coal.                                   
Expose the slowly dying cause,
Reveal the well-laid merchant doubts
That laughed at better-placed routes,
Ensuring tools will never pause.
      Root out the want, the plots, the sin,
Faithless approaches of troubled times,
Sound out the clever ad-filled rhymes,
But bring us healthy fuel again.
      Sound out false stats from firm and blood,
The civic slander and the spite, 
Rather, sound in what can sustain
A solid thread of common good.
      Sound out polluted air we breathe,
In-placed by narrow lust for gold;
Sound in new fuels, tested and bold,
Bringing a climate change reprieve.
      Sound in the green folks now strumming,
Kind and gentle, hopeful and right,
Cast off darkness, bring on the light,
Sound round, listen, Christ is coming.

     A modern version of Alfred Lord Tennyson's
        1850 "Ring out, wild bells."
---