Western Nebraska windmill.
(*photo credit)
September 1, 2012  Tony Mazzocchi, Labor Warrior and Friend
     This Labor Day weekend is proper for reflecting on and highlighting the rare champions of worker health and safety.  One such labor leader was Tony Mazzocchi (1926-2002), whose roots were in New York and who went on to be the Legislative Director and then Vice President of the Oil, Chemical, and Atomic Workers Union (now part of the United Steelworkers).  Earlier this year the Labor Department honored Tony for his tireless commitment to the safety, health and welfare of America's workers.  On June 5th, Tony's extraordinary efforts and leadership won him a place in the Labor Department's Hall of Honor. 
     Among the contributions cited was Tony's recognition that scientists and rank-and-file workers shared the same goal of reducing workplace chemical exposures, and that both groups could learn from each other.  Tony was one of the first to note the health and safety issues that workers faced in chemical processing. The citation noted that Tony involved physicians and public health scientists in researching the health effects of workplace chemicals, and in sharing their results with workers.  He also enlisted workers to teach medical and other students about how change occurs on the shop floor. 
     Tony was tireless, and over several decades of work he influenced countless people and as David Michael, assistant secretary of Labor, said in the citation, "Tony's legacy lives on today in worker health groups across our nation, in which workers, unions, activists, and professionals come together to prevent work- place hazards."  
     History is soon forgotten, but Tony's work ought to remain, for every worker in a chemical processing organization owes him gratitude.  Tony was ever watchful for public service opportunities; he targeted the labor-concerned members of Congress and, with fire in his eyes and urgency in his voice, he was immensely persuasive.  He played a major role in convincing Congress to pass the seminal Occupational Safety and Health Act (OSHA) of 1970, legislation that is still important today.
     The year 1970 was also the formal beginning of the environmental movement; this was also the year Tony encouraged three of us budding public interest scientists (Mike Jacobson, Jim Sullivan and I) to begin the Center for Science in the Public Interest.  He offered his library in the Union headquarters in Washington, DC as our first office which we shared with notable scientist and nuclear safety advocate, John Gofman (1918-2007).  Mike and Jim alerted me to Tony's award, and we recalled that without Tony's help the three of us would have had a very hard time getting started.  Tony linked word with deed as was his habit.
     Prayer: Lord, raise up other public-spirited people from the ranks of labor to help improve the quality of the workplace for all fellow workers.


Goldenrod at Bernheim Arboretum and Research Forest.
(*photo credit)

September 2, 2012   Guarding against Enticements and Allurements  

  You put aside the commandment of God to cling to human tradition. (Mark 7:6)

     We are disturbed by another's unconventional ways of dressing, cooking, recreating, studying, or living.  What about ourselves?  Today's Gospel passage makes us examine what we take as "proper," and what is an overlay of tradition that may really distract us from our journey of faith.  Jesus encourages us to look deeply into our hearts and discover who we are.  How much are we fashioned by cultural traditions in which we participate?  If unchecked, these take root and become all important; they can block our journey to God.  Our goal is a pure heart, a soft heart, a merciful heart, a loving heart.  Without effort, our hearts can become greedy, hardened, merciless and even hateful.  God creates us with the freedom to modify the quality of our hearts.

     Obtuse hearts are those which fail to understand the need for care and virtue in our life's practice.  Too often in a materialistic culture, an uncritical possession of "things" can slowly make us insensitive to the needs of others, to using only what is truly needed, to sharing goods we have, and to disposing our minds to more serious matters.  In this age of television and quick information sources; it is hard to say "no" and to avoid allurements.  We need self-control and God's help, for we cannot make our journey alone.  The obtuse heart is a dull one that lacks alertness and fails to develop intellectually and spiritually, and to take the time to listen to the Spirit.

    In today's readings, Jesus brings disciples whose cultural traditions neglect the ritual of sprinkling utensils before use.  Here is the Pharisees opportunity to attack Jesus by indicating that his disciples lack religious fervor.  Jesus brings us back to basics, to what is important in religion.  The Scriptures say that observing commandments gives "evidence of your wisdom and intelligence to the nations" (Deuteronomy 4:1-2, 6-8).  We take divine commandments "to heart," and discover that keeping them makes us critical of the pervasive materialism.  Through experience we learn that a multitude of devices and goods can overwhelm us.  Observing God's commands is a gentle way to expose our weaknesses and what allures us.  Little wonder that substance abuse abounds, for such enticements are checked through unpopular self-discipline.

    Spiritual allurements are also possible.  We can turn away from material enticements and, instead, turn to God.  In the second reading today the Apostle James tells us to look after orphans and widows.  When we see others' essential needs, we discover spiritual allurements as excellent replacements that can give us joy.  Through sensitivity and alertness, we abandon self-centeredness and become solicitous of those who are burdened.

     Prayer: Lord, purify our hearts and help us focus not on personal material wants but on essential needs of others.

Sunrise on western Kentucky farm.
(*photo credit)
September 3, 2012    The American Dream and a Living Wage
     On this Labor Day, it is high time that I finally mention "The Living Wage"; I thank John Crance, a local industry executive, for reminding me to do so.  Part of my neglect is that our family sought a living wage but we often omitted the needs of others.  The matter is somewhat complex because the cost of living (including health and personal problems) is far higher for some than others, that what some people regard as needs are simply their unnecessary wants, and that internal pressure on the part of wage earners from peers expands for them the definition of the "living wage."  
     I know people who are almost too ashamed to say that their wages are not enough to meet their elementary needs: proper housing, current utility bills, and basic nutritious food for their children.  Many people on this planet also suffer from such lack of adequate wages -- if they are lucky enough to be wage earners.  So often in the past, my response was that they ought not depend on wages but be self-employed or engage in small-time agriculture or crafts.  However, as much more of the world becomes urbanized and removed from land and small towns, people depend on wages for elementary human needs.  We may dislike current trends but we cannot turn back the human flood to cities; we must address it forthrightly.

    The great difficulty in this discussion is seeing things from the viewpoint of the wage generator or distributor, who must earn enough to keep the organization paying wages afloat; such a person must thrive to continue employing workers and give them their just income.  To distribute too little wages is unjust, too much leads to bankruptcy.  This spring, the tightrope walker who mastered Niagara Falls required extreme balancing; so do many business managers every week and month.  This brings the complexity down to the wage earner as both problem and solution.  Why not abolish the distinction between giver and receiver and make the workplace owned by the wage earner, and thus all are concerned?
     People press us who are critical of the current system: what is a better replacement?  The answer is that with time the wage earner ought to earn the place of work, and thus become both employer and employee.  Then the living wage includes what is earned for effort and also the means of employment.  The chief capital is the group of workers.  Certainly this is a hard saying for distant owners or investors, but quite telling for the vitality of a community where the work is presently performed.  Otherwise, the unhealthy state of affairs exists where non-workers become the privileged class and expect preferential treatment.  Should not those who work be privileged as well?  Yes, it is a privilege to be able to work and earn a living, and a double privilege to own in part the place of employment.

     Prayer: Lord, teach us to be just with all, to help workers to make a living, and to expand the system so their quality of life may improve through the fruit of their labors.

Stone sheep / northwest Alberta, Canada.
(*photo credit)

September 4, 2012  Creating Jobs through Protecting the Environment

     There is much talk this election year about job creation, especially when we have so much persistent unemployment in America, in Europe, and in developing countries everywhere.  A majority of Americans polled think it is important to protect the environment, and also that this protection improves economic growth. 

     Environment is a global security issue and needs some of the funding currently going to military expenditures.  Is that area really being cut too far or is security in need of redefining?

     Renewable energy implementation can create research and development opportunities, as well as jobs for installing solar and wind applications and extending utility transmission systems.  Improvement costs are investments in the needed infrastructure and can be repaid through fees that will actually reduce costly coal-fired and nuclear plant construction and maintenance.  Wind and solar costs are plummeting and are becoming cost competitive with fossil-fuel sources -- even recently fracked natural gas.

     Recycling programs require workers to collect, sort, ship, and reprocess the materials collected.  While these are not high-paying jobs, they are needed on a full-time basis, and the reprocessed recycled materials pay the decent salaries.

     Environmental reclamation programs are needed in many resource-extracting parts of our nation.  These remedial activities could be partly paid for by fees and fines on culprits and by charges to those who use resources extracted and lands reclaimed.

     Infrastructure for transportation includes hiking and bike trail networks (some Rails-to-Trails), but also investment in revitalized public transportation systems requiring construction and maintenance personnel at various skilled levels.

     Home efficiency programs could be expanded to include domestic construction and retrofitting programs.  The massive energy savings would be the basis for funding the additional jobs.  Here is where austerity is postponed by current investment in the future.

     Caring for shut-ins and elderly is a form of domestic environmental protection.  Most often, this demands stay-at-home caregivers who replace expensive institutional care facilities and personnel.  Funding home caregivers costs far less, protects the quality of life for elders, and keeps money in local settings.

     Establishing proper recreational facilities in natural areas could enlist talents of those who seek fulfilling and high-quality service jobs: office, lodging and food personnel, builders, guides, park police, and grounds managers.  User fees can recoup costs.

     Prayer: Lord, give us a creative sense of how everyone could be employed as part of the higher quality of life on this planet.

Ripening grapes on the vine.
(*photo by Fernando Stankuns, Creative Commons)

September 5, 2012  Grapes: A Choice Fruit of the Season

     Then the trees say to the vines, "Come now you be our king!"
(Judges 9:12)

     Note that we do not say that grapes are "THE fruit of the season," for we know that a rich variety of produce from orchards, vegetable gardens, and berry patches are super-abundant throughout summer and into autumn.  However, grapes are a notable fruit; viniculture and general culture go hand-in-hand.  Grapes are the fruit of the vine and the source of wine (10/5/09; 9/1/11); and thus hold widespread human attention.  Grape-gathering straddles summer and fall, and gives different levels of wine tastes and quality depending on soil conditions, amount of sunlight, moisture, and temperature variation during the day -- and even more specific characteristics that experts can list. 

     Grape quality varies from year to year.  Some of us noticed a new phenomenon this year, namely, that our grapes leafed out in late February and early March along with small clusters.  Then a mid-April frost (when I was unable to cover the grapes) left this batch of leaves and clusters dead.  Fortunately, the vines were not killed for they leaved out again in May, but there were no grapes from them this year.  An April frost was not unseasonable, but the early spring in winter was.  And so in 2012 we have no ripening grapes to protect from hungry birds.  

     Grapes are rich in symbolism; their clusters were carved in the facade of the Jerusalem Temple -- akin to maple leaves in Canada.  Grapes and their products represent fertility, plentitude, joy, wealth, distinction, allurement to misuse, wrath, celebration, and prosperity.  Where they grow abundantly in fertile soil, they are a sign of promise; when as fruit of the vine, they are pleasurable and when misused by excessive drink, detrimental.  Grapes need the vine-dresser's loving care.  (In my youth we always manured grapes, trimmed them twice a year, and kept them weed-free.)   Jesus confirms this need for care in several parables and speaks of the twice-trimmed vines (John 10): in the winter the vine-dresser removes dead wood and again in middle summer removes the excessive shoots so the vines can concentrate efforts on grape production.   

     Grapes are enjoyable to our taste buds.  Wild grapes are quite tasty in themselves, at least some of the varieties found in our woods; in early to later autumn, hikers find them a welcome treat.  The joy extends to raw table grapes that often meet the fruit lovers' tastes.  Furthermore, Concord grapes make wonderful grape juice, along with grape jelly and even grape cobblers, one of my favorites.  Besides wine, the distinct flavor of grapes can be used in a variety of candies, soft drinks, vinegars, and baking recipes. 

     Prayer: Lord, you give us all good things, and some fruit rank high on the list of goodness.  Help us to use all things properly and to use our grapes with respect and care.

The busy bee.
(*photo credit)

September 6, 2012  Is Honey Bee Colony Collapse Disorder Solved?

     Five years ago we asked where have all the honey bees gone (July 12, 2007) in a new phenomenon known as Colony Collapse Disorder (CCD).  It was noted that in 2006 entire colonies of worker bees disappeared, and this was soon observed elsewhere.  Perhaps a March 12, 2012 article in the Bulletin of Insectology by Chensheng Lu, et al. entitled "In situ Replication of Honey Bee Colony Collapse Disorder" helps unravel the puzzle.  The abrupt emergence in 2006-07 of CCD alarmed growers and others due to both suddenness and severity of the problem.  These little bees are vital for pollination of large-scale food crops.  We noted in our reflection that this is stage one in a three-way treatment of an environmental disaster: discovering the problem; determining the causes of the problem; and discussing and implementing solutions.

     Harvard School of Public Health scientists have moved the problem to the second stage.  While a number of other causes have been proposed, Lu and associates focused on the role of Imidacloprid, one of the neonicotinoid insecticides used in crop protection.  They asked why CCD became so ubiquitous?  The approach was to look at the alternative to the sucrose-supplied bee colonies; sugar is traditionally added to help supply energy to bees during colder periods.  The scientists looked at alternative high fructose corn syrup (HFCS) that contained traces of Imidacloprid, originally inserted in the genetically-engineered seed corn, from which yielded corn product was processed into HFCS.

     The hypothesis that this was the culprit led to constructing Imidacloprid-treated hives with parallel control (untreated) hives.  In time, the treated hives were 94% destroyed.  "Data from this in situ study provide convincing evidence that exposure to sub-lethal levels of Imidacloprid in HFCS causes honey bees to exhibit symptoms consistent to CCD, 23 weeks after Imidacloprid dosing."   Evidence in these and other studies show that chemicals in the environment are the most likely culprits of this shocking CCD epidemic.  The third stage would be quite simple, if this proves to be the only cause, namely, return to traditional sugar feed for bees.  This may prove a major relief for growers who have worried that there would not be sufficient bees to pollinate their large-scale fruit and vegetable crops.  It does not solve all problems in populated areas where other toxic chemicals are present.

     One lesson from this study is the potency of contaminants in growing crops.  What about the risks of using GE seed that is now rapidly becoming a prime source of many edible products?  The bees may be like canaries in a mine; their tragic end is a lesson.  It may also set up warning flags about the use of HFCS, a material that some claim is harmful when ingested in sufficient quantities (manner stored and utilized within the human body).  Let a former chemist say, "All new chemicals in quantities deserve respect."

     Prayer: Lord, keep us alert to the dangers that constantly crop up, and help us continue to address environmental problems.

An Appalachian Elder, at age 95.
(*photo credit)

September 7, 2012   Encouraging the Grandma Moses in Elders

     On this 152nd birthday of Grandma Moses (1860-1961) we celebrate a person who became a popular artist and personage after her eightieth year.  Several other "late bloomers" have cropped up in history: political leaders, writers, business people, and popes.  Recall that philosophers put Immanuel Kant in this category.  The point here is not that such phenomena occur, but that we do not recognize the special gifts of elders who continue to make progress in some fields long after normal retirement years.

     The primary gift of elders is wisdom acquired through long years of hard knocks and success or its lack.  I heard an interview recently with Noam Chomsky, a radical thinker, who has been critical of the political and economic system of our age and our country.  He shows in his measured responses willingness to allow things to evolve, and accepts that they would eventually be solved long past his limited mortal span.  Yes, wisdom includes knowledge of the shortness and other limits of this mortal life.  The dreams of youth and accomplishments have to be modified, and we have to learn to live with reality and a limited legacy.

     Elders like to complain or "belly ache" that others do not listen to them -- but did they ever?  Few seem to be listening today, for everybody is speaking at the same time.  It's not so much hearing difficulties but competing noise.  Certainly, this website is such an attempt to speak by the elderly, but so are millions of others.  Here many elders have the disadvantage. because they have failed to master the foibles of the Internet -- and are silent.

     First suggestion: Encourage elders to do their own thing. Too often people feel self-conscious, especially while watching the talents shown on TV shows or in the various events we are privileged to attend.  Talents are cheered, but all have some.

     Second suggestion: Encourage elders to launch their own enterprise.  The difference from the first hint is that here people are asked to break silence and routine, and pursue a new pursuit.  Such "elder-launchings" keep minds agile and able to find new pathways to use what is already there, and to take on a freshness that will inspire others to follow suit.

     Third suggestion: Extend encouragement to people of all ages.  Encouragement is not limited to elders.  Many are shy or feel far less talented than others; they give an excuse for not engaging in a new practice such as dancing, singing, exercising, and caregiving for those in need.  Yes, it is for their own growth in self-worth to develop a new skill, and it is beneficial for those they serve as well.  Let's expand our efforts to all.

     Prayer: Thank you, Lord, for allowing me to take up church chanting in late life, and enjoy it -- though listeners may differ widely in levels of enjoyment.  Help others to new pursuits.

Falls of water on small meandering stream. Woodford Co., KY.
(*photo credit)

September 8, 2012   Breaking Up Banks Too Big to Fail

     In the past, on International Literacy Day (9/8/07 and 9/8/09) we considered the need to recognize and fight illiteracy, with attention to the poor souls who are unable to read.  That problem has not gone away and some progress in literacy occurs on a global level in emerging countries.  But even the literate often do not read fine print or between the lines.  They fail to see the signs of the times and the vast immorality of growing wealth and lingering destitution.  Yes, some people are illiterate when it comes to fairness and justice.  Americans and others suffer heavily from such "justice illiteracy."

     Failure exists.  Jamie Dimon, the CEO of JP Morgan Chase, apologizes for an egregious loss of at least six billion dollars earlier this year -- and only two years ago he was regarded as the paragon of banking success.  Yes, failure is not always a future possibility but is hidden in a recent past, and failure of legislators who are beholden to big money can lead to a form of illiteracy on their part.  The failure rests in the uncontrollable size of current big banks and the failure to manage them. 

     The title above could be fine-tuned to "Too Big to Continue to Fail."  A book entitled "White House Burning" tells the sad story of a banking failure and existing condition.  The shock of what occurred in 2008 and beyond confronts us.  Is this situation out of control when the large banks now control 62% of America's GDP? There is a failure in management, for most boards of directors admit they do not know what is going on in the bank.  Neither do executives who cannot control associates who take unseen risks; nor do investors who fail to control CEO's salaries and perks.  How can we heal a wounded Earth with capital resources held by the greedy?

     Disadvantages of bigness.  Smaller bankers point out the unfair advantage of the giants who will expect a taxpayer bailout if their risks go bad.  For the smaller ones in the community of banking, such risks are not allowed.  Only the big banks have the unspoken advantage of a governmental guarantee against insecurity from excessive risk-taking.  Big businesses are not dumb and thus prefer bigger banks with massive guarantees backed by the government -- grossly unfair from a small banker's perspective.

     Urgency to ask "Why big?"  Banking is a public matter, not a private gambling bout.  The call is for cooperative endeavors at all levels -- and banking is a public's business whether at the local or national or global levels.  Privateers and pirates are out of fashion, and so are hedge-fund operators and cushy, high-salaried bank executives.  Let's get rid of big banks, for smaller ones can serve us better.  Let's get rid of the ones that have failed and have been bailed out.  Where possible, let's return banking to local communities or cooperative groupings. 

     Prayer: Lord, buck up our courage and especially those of our legislators; help all of us to divorce ourselves from big money.

Fog on chilly September morning.
(*photo credit)

September 9, 2012   Attending Those with Hearing Impediments

          He does all things well; he makes the deaf hear and the dumb speak. (Mark 7:37)

     People with hearing loss bear a cross (see upcoming September 14), though it is not as severe as others -- and we, who struggle to hear, thank God that it is not overly burdensome.  Without straining and attempting to read lips, I miss important aspects of conversation on many occasions, for much depends on the depth of voice of speakers.  Often I miss hearing those with high pitches.  
Jesus has compassion for the deaf person with the speaking impediment.  He takes him aside and undertakes certain actions to get him to be healed.  This compassion leading to action is really a foreshadowing of what researchers and healers should do as well.  The ability to have more than pity, and to actually translate a passive suffering with another (compassion) into active service, is the continuation of the work Jesus initiated two thousand years ago.  Jesus cures the person through personal interaction. 

     Miracles happen within the realm of human compassion and a caring atmosphere.  Authentic miracles are meant to elicit faith on the part of the recipient and witnesses.  Few believers dwell on the fact that healing and teaching go together, and Jesus as healer/teacher is performing more than healing.  In a practical way, Jesus teaches all of us who are able to devote time and resources to the healing ministry.  We create an atmosphere in which general healing occurs: hospitals and clinics, silent bedroom space, medicine and operations, research and fashioning of hearing devices, and orthopedic treatments. 

     Our goal today is the same as the compassionate goal of Jesus, namely, to give care to those who suffer and to teach all, whether victim or general public, that caregiving takes effort and resources -- and is needed for the world in which we live.  We do not tell sufferers "good luck, and endure with patience."  We help them.

     The Eucharist gives us the nourishment to be like Jesus and to be of one mind and heart with him.  We are the body of Christ, and that means at one with his loving heart.  Not all of us can offer personal care for others, nor are we expected to when lacking talent in such ministry.  But we can enter into the heart of the miracle-making process when we pray for researchers and caregivers and for all the uninsured.  Health care needs to be universal in a world of abundant resources, and furnishing them is the best form of national and global security.  Through the effort of a democratic people, we can theoretically provide for the health needs of all people.  The Eucharist helps us effect changes that make the possible a reality.  We must believe it is possible.

     Prayer: Lord, empower us to see that miracles happen through the efforts of believers working together for the good of all.

Fossil find (Zoophycus), Cave Run Lake.
(*photo credit)

September 10, 2012    Swap Ideas Day: Expand the Web of Life

     How can we celebrate Sway Ideas Day when we are in the middle of an election season with political temperatures rising all around us, and the media swamped with attack advertisements of every sort?  Can we become more civil in our conduct, and how? 

     Humor.  Can we inject humor into a very serious campaign?  Most of the quips we express have a bite and, when folks are serious, the hurt can lead to breaking a community spirit.  It is always a challenge to make people cry and laugh all within a short time period.  One path may involve elevating the ideas exchange this year beyond hints for hanging pictures, or placing post-it notes to keep humor alive.  Refraining from jokes with a racial overtone may be a first step.  Omitting those that disparage others is second.

     Non-partisanship. Though the matter is delicate, we could attempt to broaden the arena of issues for right-to-lifers who concentrate on abortion and so-called "mercy killing" to include the entire web of life, namely, death penalty, peace issues and climate change.  Amazingly, if polarized sides would come together, they would ease the partisanship that is so divisive in America at this time.  To acknowledge climate change dangers and abortion practices takes the issue either beyond the global to the local, or beyond the local to the global.  To remove the rancor advances non-partisanship, but it leads to the more debatable question as to whether "independents" are better in advancing democratic process. 

     Redistribution.  When only a few hold vast sums and believe they have the power to influence elections, our democratic process is in jeopardy.  How can a revolution occur that will distribute the wealth to satisfy the need for essential services (health, education, lodging, etc.)?  How do we keep it from being violent? How do we hasten it with non-violent means?  Limits on salaries of CEOs have occurred in France; can they be initiated in this country as well, perhaps through executive or legislative action? 

     Civility.  America has a clouded history of lack of civility even though George Washington spoke openly for the virtue.  Recall that in July, 1804 a Vice-President while in office, killed the former Secretary of the Treasury, Alexander Hamilton; it was a duel in which the latter did not even aim his gun.  Recall again that the unsettled issue of slavery festered so much that it led one American legislator to cane another almost to death within the halls of Congress.  Civility took a back seat during the entire four-year Civil War, which recently revised figures show killed over 700,000 mostly young men.  It continued in the reconstruction period as well and through the vast industrialization period. The current paralyzed Congress continues the tradition of incivility at the highest levels.

     Prayer: Lord, help us to expand the web of life to include the quality of life for all people, plants, animals, and Earth herself.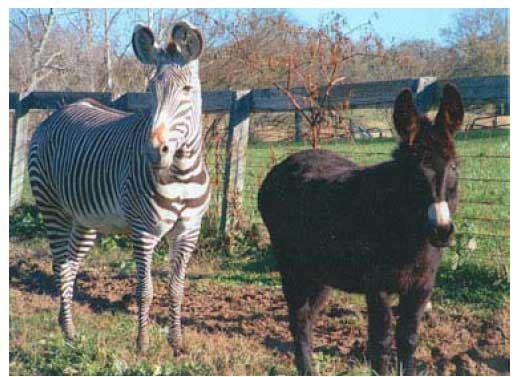 Zebra and Jenny at Peace Place.
(*photo by Carol Stiefvater)
September 11, 2012    Peace Place: An Answer to 9-11
     On this day, many remember attacks on our American symbols of business and military might: the Twin Towers and the Pentagon.  It's a perfect day to focus on simpler ways to meet and change a world with far less money and far more love and caring.
     While I have praised the idea of a "Peace Place" on numerous speaking occasions, I cannot find a written reference to it -- though we have Sister Carol Stiefvater's remembrances as essays on our website.  Sister Carol and her Franciscan companion, Sister Syra, came to Kentucky from Wisconsin three decades ago, and they started a "farm" from scratch for young abandoned children.  Their idea was that animals would act as companions to these children who, in turn, would care for the entire menagerie of chickens, ducks, goats, sheep, pigs, rabbits, and even llamas and a zebra.  The children identified with the animals and felt close in one big happy family.  An alpha llama would perch himself on a tree stump and guard the entire flock with a steady and watchful eye.
     Like other visitors, I was deeply impressed by the two sisters and their creative ministry that lacked any startup money and any sure means of support -- only the good will of the people who heard about them and were fascinated by their ingenuity and love.  In this busy world some with no funds are able to establish islands of peace that can go out in a ripple effect to influence the rest of the world.  Elders can detect possible resources and even enlist the good graces of animals and plants to act as caregivers.

     With time, the passing of Sister Syra demanded that the ministry be turned over to younger hands.  But the lasting effect of Peace Place's establishment impressed local residents, visitors, volunteers, and especially the youth; Peace Place provided a temporary residence in a region of America lacking in social networks.  See the insights written by Sister Carol in the Additional Essays at our website entitled, "And They All Get Along."  Her keen and perceptive insights portray her love and caring -- and how much may animals rise to the occasion. 
     A short time back, Sister Carol returned to Kentucky for a visit; she took time to go to the Louisville Zoo that had accepted a number of her dispersed animal "caregivers."  She went to the wide open area where many mammals are pastured and began singing, "Peace Is Flowing Like a River," and her former zebra perked up its ears and came running over to the fence.  Youthful zoo visitors were absolutely amazed that a wild animal would behave in such a fashion.  And Sister Carol got a chuckle.  Perhaps Sister Syra did as well from up above.
     Prayer: Lord, on the challenging anniversary of 9-11, teach us to find new ways to bring peace to our fractured world, and to do so using all the limited resources at our disposal.  Your love can overcome all things and we need to show it to others.

Violet wood sorrel, Oxalis violacea.
(*photo credit)

September 12, 2012  Privacy, Buddy Systems, and Connectedness

     Recently, somewhat close but distantly-residing friends asked me to give their phone number to someone in my ministry -- in the unhappy event of my demise, so they will receive proper notification.  It was like the time in middle age when a store clerk told me that a sale item would be a good gift for a "grandchild."  Reality of our aging is slow at first, and then, upon second thought, is quite natural, and it is actually a compliment to have friends who care.  We should also have ongoing funeral preparations that can be adjusted when pallbearers are too aged to carry you to the grave or potential participants die.

     Privacy and Isolation.  Many of us value our privacy.  However, we often take a hike, walk, or jog without identification. What if an accident occurs and precious time is consumed in determining who this person is and where he or she lives? Virtually all of us, especially those without constant 24-7 care, have moments of independence from others, the private time when we are not connected -- and prefer not to be.  Privacy is one matter; total disconnectedness is another.  On occasion, we list on our Daily Reflections disadvantages of cell phone overconnectedness.  We tend to omit the opposite, namely isolation that exists for elderly and independent individuals who may need immediate connection in case of emergencies.  Face it, the privilege of being alone can help collect our thoughts, but at times it has proven highly detrimental when in an emergency situation.  Are the very private moments worth the risks? 

     Buddy systems.  Sickness and accidents happen.  Those cases are far from rare, and many injuries need immediate attention and the last moments of some are unattended through lack of information on their whereabouts.  Isolated individuals ought to join a system of daily calling or receiving a call to or from a friend or relative.  Just the brief chat can be helpful for many reasons.  Other are willing that neighbors stop by and monitor an elderly resident, just to make sure all is going well for them.  Many times, it is the alertness of rural or urban letter carriers who signal that something is awry at a given residence.  A buddy system could eliminate the awful specter of someone being found dead after a period of time -- perish the thought.

     Upgrade information lists.  We Jesuits are encouraged to list those to be notified in event of death.  In rare cases, when this is lost or closely connected relatives are lacking, those who are burdened with critical illness care or funeral arrangements find an unpleasant event before them.  Recently, a longtime friend and family doctor of my family passed away after the long fog of Alzheimers affliction, but we were not notified until after the funeral.  It is always painful for those involved and yet funeral arrangements take far less effort for all parties.

     Prayer: Lord, give us the grace to be always connected to you, and always connected to some degree with other human beings.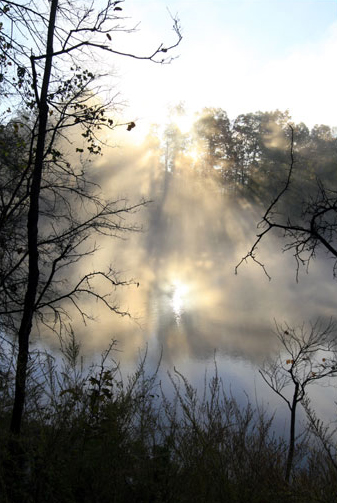 September morning by water's edge.
(*photo credit)
September 13, 2012   The Haunting Mists of September
     This misty month lends itself to poetry and song for a special reason -- the times are changing and nature is preparing for its winter sleep.  The evenings are cooler after hot days, and thick mists appear, especially in the valleys.  In fact, it is a wonderful sight when climbing a high place and looking down on a misty valley in the morning sunlight.  Mists do more than cover; mists make us wonder about things that were once clearer and are now faded; mists beckon us to consider the past in a new way.  The word "fading" has a distinct character this month:

     Fading daylight.  This is the time of year we notice days getting shorter, and this is approaching the daylight span of early spring.  Waning of light yields a melancholy feeling.
     Fading summer's glory.  We recall summer's bright flowers and the comforting canopy of green in soybean and corn fields, forests at their height of leafy foliage, and meadows after a mid-summer rain.  The season passes like nature's ongoing parade before our eyes and we cannot stop it.  Septembers still carry some of this summer glory, but like an aging wealthy homestead, there is less radiance to the landscape.  Sycamores are losing their leaves; cobwebs are more frequent; birds are flocking; animals scurry around with greater purpose as winter approaches. 
     Fading memories.  The "misty" bygone era makes us aware that we have to let go of certain things; we may have to let go of good memories, for even these are mortal and must pass on.  Some past events we would like to forget but can't, and others we would like to retain but they fade in September's mist.  Praise the Lord!
     Fading life.  New projects are slower to organize.  Our energy fades with the years, the longer we distance ourselves from the springtime of life.  September makes us aware of maturing and movement to less busy but perhaps wiser times.  Now we know the shortness of life when we look back to youth's limitless dreams and fresh ideas.  Many of those goals came to naught; problems we hoped to solve still plague us; even some hopes fade with realism.  September tells us that we can't halt the march of time.
     Fading resolutions.  Seldom is this the month of new beginnings, though every month can be.  September's mists bear the mark of bypassing or surpassing defined plans that never came to be.  Maybe new plans lie ahead, but morning mists blind us as to what the are.  The crispness of upcoming winter days may sharpen new resolve, but September reminds us of solitary powerlessness.  Perhaps this is the time to repeat our motto, "In God we trust."
     Fading year.  What more can be said on this point?  Over two- thirds of 2012 has passed but where has it gone?  Fall is coming.
     Prayer: Lord, give us the grace to see the seasons as they are.  Let the gray mist moisten our hair and help it to sparkle.

"Dog day" Cicada, Tibicen sp., fading September call.
(*photo credit)

September 14, 2012    Bearing Our Crosses during Hard Times

     Christ had his cross, and so do the many followers.  Though crosses may not seem heavy at first, they soon become harder to bear.  Let's review our crosses on this Feast of the Holy Cross.

     Material problems.  The American people (mainly in the middle class), lost over 40% of their wealth in the last three complete years.  This was mainly the evaporation of housing equity in their property portfolio -- and in many parts of the country this major segment has not yet started to bounce back.  The material cross is certainly made of more than wood and nails, but in the form of depreciated buildings it is very real for many.  And what about those who have lost their jobs and have looked in vain, the hardest occupation?  They can not easily move to a new home due to connections in their areas of residence, and yet no jobs can be found that will offer a living wage and pay current bills.

     Physical & mental health.  Perhaps half the population has a major health problem existing or looming just over the horizon.  It may be partly from one's lifestyle practices or maybe not.  It may be obesity coupled with a failure to exercise properly.  It may be an unhealthy diet or maybe a desire not to see a doctor for fear of what he or she might tell you.  Suddenly, the cross of personal health can be weighty (forgive the pun), especially if health bills start to mount or a life-saving operation is needed.  It may be the fading of eye sight, hearing or mobility.  Another cross is mental: depression that comes and goes, a bipolar condition, bouts of uncontrolled anger, lack of mental concentration.

     Regional and national problems.  These can be a host of civic duties, tax returns, uncertainties about election choices, etc. 

     Global problems.  I am drafting this daily reflection three months before it is posted, and global conditions are in a state of flux.  When read we may be the wiser with respect to the Greek, Spanish, Italian, or Irish crises all spelled out in economic terms.  Hopefully, on the front of Arab springs, Syria will see an end to civil struggles and peace sprouting in Iraq and Afghanistan.  Unfortunately, glimmers of hope are not strengthening in certain trouble spots, for solutions take time.  Cyber and drone attacks must respect boundaries of sovereign nations.   

     Solving problems.  We know crosses when we see them, but knowledge does not lighten the load; we wear these emblems and metals for a reason and personal non-metallic ones as well.  We desire to unite with Jesus on his cross and find this helps us bear our own in a spiritual way that can't be easily explained.  In the Mass, the Calvary event extends in space and time and comes into our own neighborhood today.  The cross is before us and calls for our united efforts, even when compassion proves challenging. 

     Prayer: Lord, help us confront our crosses, not to deny them, nor to excuse ourselves, nor to escape to comforting alternatives.

Fritillary (Speyeria sp.) butterfly.
(*photo credit)

September 15, 2012   Confessions of a Fiscal Conservative

     Those of us who would like to call ourselves "fiscal conservatives" often hesitate.  We differ from a batch of conservatives who would like to hold back government and save their precious earnings, but impose austerity on others.  Even some so-called conservative prefer to spend, spend, and spend.  I have never had a debt or applied for a credit card; the local travel agent always said I would squeeze a nickel until the buffalo bellowed (for younger readers the buffalo or American bison image was on the five cent coin in the 20th century).  They have called me "tight," "cheap," "penny-wise," and other unflattering terms in a world where spending money had become a patriotic duty.  When I asked one new non-profit director how he was to fund his starting operation he replied merrily, "I have a credit card."

     Refraining from wasting hard-earned money that never comes easily can make someone parsimonious to a fault.  I may be tight, but hopefully not tightfisted, for there are times and places to dispose of surpluses and to do so prudently.  Thus said, fiscal conservatism can be watchful, generous, and a platter of common sense.  The original idea of a "Tea Party Movement" seemed most intriguing until one realizes the new party ignored the role of public government AND the first international corporation (The East India Company).  Modern tea-party members forget that the tea was corporate property.  The upstart 21st century tea party is an alliance of the misguided and privileged classes who may or may not be conservative in retaining wealth, only astute in gaining the wealth, and desiring to keep it through less government. 

     Authentic fiscal conservatives must be: watchful of funds but not parsimonious; capable of saving but not so miserly as to lack generosity; sensitive to the need to save but not hard-hearted to others; suspicious of wealth and not greedy for wealth; and willing to accept taxation as a democratic way to redistribute surpluses.  For these, it is difficult to tolerate waste in all its forms whether by unregulated private or governmental agencies, or by individual owners who squander their property. 

     A fiscal conservative can be an enemy of excessive private or public use or retention of resources.  Ultimately, in an age of disparity of wealth, fiscal conservatives must be opponents of excessiveness in every respect, for this leads to violence and instability -- and is not good democratically regulated conservation.  A fiscal/social conservative can advocate for change in the political system, because both unregulated public or private agencies and the upper "one-percent" individuals have too much power to decide the use of world's resources (including economic ones) that belong to all the people as part of the commons.

     Prayer: Lord, give us the grace to value gifts you have given to be used properly by everyone.  Help us to avoid waste in any form, and to work to eliminate it in our own personal lives and
that of larger communities.

Lending a helping hand.
(*photo by Melody Art, Creative Commons)

September 16, 2012  Faith versus Works or Faith AND Works

     "You say that you have faith and I have good deeds; I will prove to you that I have faith by showing you my good deeds."
                                                       (James 2:18)

     I was one of the speakers at the funeral of Tommy, who was a murder victim.  I pulled from my pocket a listing he had given me of all the Christmas gifts he distributed that winter in America's poorest county (Owsley in Kentucky).  After delivering my homily, I rested a brief moment feeling good for enhancing the not-yet-fully-polished diamond of a charitable person gunned down at normal mid-life.  Suddenly the other minister sprang to his feet and said in a loud voice, "Tommy was saved by the grace of God."  Oh!  Here is the battle of Catholic versus Protestant Reformation played out all over again, and I was virtually the only Catholic present.  Only by the grace of God, the minister glanced at his watch during a rather long rebuttal of my theological position; the ushers told me afterwards they would have "carried that fellow out for looking at his watch."  My failure to glance accordingly occurred on that day when snow flakes were heralding the beginning of a major storm.

     The above-quoted letter of the apostle James tells us much about the need both to have faith and do good works.  Didn't that settle the matter at the beginning of Christianity?  Not so!  In recent years talks between Catholics and Lutherans settled on the both/and not the either/or; however, the controversy never seems to die because it is so difficult to implement in a balanced manner.  We all agree that the gift of faith is from God and that we show our appreciation through deeds.  However, the difference is in the weight and effort we place on quickly professing faith in word and living through performing difficult deeds over a lifetime.  We must remind ourselves of James' caution about the emptiness of saying, "Goodbye and good luck!  Keep warm and well fed." 

     Interestingly, Earthhealing requires balancing word and deed.  The current battle over climate change and whether it is of human causation is a case in point.  Essentially, unconcerned consumers say to a troubled world, "Goodbye and Good Luck," as we continue to consume precious resources, the expenditure of which causes the climate change.  Unfortunately, as more and more of the world wants to be like consuming Americans, pollution caused by misuse of resources grows and the problem becomes ever greater. 

     We learn the importance of doing difficult deeds through the words of Jesus in today's Gospel passage (Mark 8: 27-35); we must deny our very selves and take up the cross and follow Jesus.  Self- denial goes beyond individual practice, and demands that we as a people share with our needy neighbors.  Denial must be seen as something social and includes the excessive and addictive practices of our entire culture -- and that is an unpopular cross to bear.  We cannot do this alone; we need and trust in God's help.

     Prayer: Lord, teach us to balance our profession of faith in you with the good but difficult deeds we must now undertake.

Mount Rushmore.
(*photo credit)

September 17, 2012  Citizenship Day and a Relevant Constitution

     The Constitution is the glue that holds our nation together, and it ought to be known, revered, and updated when necessary through amendments.  Vigilance is demanded of Americans and of all people in the world who respect their nations' foundational structures.  A number of amendments are being touted by various interest groups to the American Constitution.  Such amending is not easy, for it requires both national legislative votes and the action of the majority of states.  Once we desire a special amendment, we have to apply pressure at several levels along with getting local support to get the amendment approved.  Some possible amendments include: 

     Limits to Campaign Funds.  The 2010 Supreme Court decision of Citizens United to allow unlimited campaign contributions is a travesty of justice and democratic process.  Some 70% of Americans support a constitutional amendment to roll back this decision, seeing how much it is a threat to our democracy.  The ruling holds that companies and anonymous groups (even foreign ones) have a "right" to free speech, and thus can contribute any amount of money without revealing sources to support certain policies.  With horror we watch unchecked political contributions erode our democracy.  This proposed amendment is utterly necessary.

     Limits to Property Amendment.  Benjamin Franklin wanted this to be part of the Pennsylvania state constitution and the Federal one as well, but did not succeed in seeing this come into effect.  He was dealing with too many of the major property holders within the framing process.  We still need to have some way in which the democratic process might be preserved against the multi-millionaires and billionaires, with such unregulated power of the purse. If disparity of wealth continues to grow in this country, will it not endanger our democratic process?  See Joseph E. Stiglitz, The Price of Inequality, that treats this question.  

     Corporations are not Persons.  The great travesty of our court system is giving corporations -- creatures of the state -- the "right" to citizen privileges.  Their power of wealth helps fashion laws that allow them to skirt the duties of private citizens and thus advance their privileges.  Corporations are not human beings endowed with certain inalienable rights; they are creatures of the state.  No corporation serves prison time though several million human persons have or are -- yet infringements of laws are committed by people within corporations virtually every day.

     Balanced Budget Amendment?  A proposed amendment that would make national budgetary policy comparable to that of states may have some theoretical value.  However, in a time of economic crisis with calls for investment and with an absence of fair taxes on the rich, this amendment may be currently untimely.

     Prayer: Lord, give us courage to know how to exercise our citizenship fully, and alertness to remain watchful in doing so.

Lazy creek along the Greenleaf Trail, Cumberland Gap National Historical Park.

September 18, 2012  World Water Monitoring Day: More Water Concerns

     On World Water Monitoring Day we ought to couple this with reading another "Daily Reflection" (9/18/09). In reading our current draft of the book Reclaiming the Commons Mike Mitchell points out that the water chapter needs mention of an additional problem area, namely, powerful chemical drugs contaminating water supplies and not being removed by traditional water treatment procedures.  However, the book touches on global limited supplies of potable water, privatizing that water, and extensive use of irrigation water by privileged or powerful agencies.  We did speak of both exploitation of water supplies and pollution of water that belongs to all the people, along with failure to pay externalities of environmental degradation of water quality.  Four areas of concern need monitoring, remedying, and further discussion: 

     Chemical contaminants.  The modern world has fashioned powerful medical drugs that cure or change body behavior on parts of humans and animals, from pain relief to birth control.  Many of these medicinals, pesticides, and drugs are cropping up in water supplies because traditional water purification methods do not eliminate them in totality or part.  Steroids of various types in drinking water can cause sterility or cancer or even enlargement of male breasts.  Certain members of the animal world are showing detrimental signs of ubiquitous powerful chemicals, for the world is becoming unintentionally drugged by what is getting loose.   

     World security.  The Middle East and parts of Asia and Africa are starting to see struggles over curtailment of traditional water sources such as through upstream dams and irrigation demands.  A swimming pool or manicured lawn of the privileged ought not take precedence over people needing drinking water or for growing essential food crops.  Damming of rivers, especially in China and Turkey, affect livelihoods of people living downstream.

     Climate change, rainfall and rivers.  Parts of the world are experiencing the effects of changes in rainfall patterns such as both the eastern and western portions of Sub-Saharan Africa.   How water be gained and conserved in these regions is becoming a major global concern.  What happens when the Himalayan glaciers melt and the great rivers of India and Bangladesh are no longer fed with the snow and ice melt?

     Rising oceans.  The melt from Greenland's ice sheet must go somewhere, and that means oceans will rise.  Inland people may not be affected but people live near oceans -- half of the human race lives within an hour's drive of oceans and seas.  Bangladesh will have severe problems along with many ocean island nations; so will such metropolitan areas as Calcutta, Sao Paulo, New York, Cairo, Rio, and Shanghai.  Effects will occur beyond our lifetime, but that is no excuse for lack of current concern.

     Prayer: Lord, help us who are saved by the waters of Baptism to help monitor and save pure water for the benefit of all.

Silence is a Form of Partisanship
              In this watershed year, 2012, many of us citizens, who strive to be nonpartisan, are forced into a dilemma: To remain silent is to be partisan.  We confide to our European counterparts that this year resembles Germany at the rise of Nazism in 1933.  Today, with the rise of militant materialism deliberately following the selfish and atheistic principles of Ayn Rand, one political party has been taken over by Big Energy merchants of doubt and confusion.  This group, with arrogance stemming from millions and billions of dollars of undertaxed bank accounts here and abroad, seeks to buy this national election just as it has bought the recent primary.
              These arrogant powerbrokers have partisanized a national unified environmental stance that since the First Earth Day has for the greater part stood beyond politics.  A comparison of the energy platform of the Republicans in 2008 and 2012 shows this shocking turn of events.  Four years ago, concerning climate change their platform says that common sense dictates taking reasonable steps to reduce any impact on the environment.  This year any mention of such effects is gone and in its place is a demand that Congress "take quick action to prohibit the EPA from moving forward with new greenhouse gas regulations."  These merchants of doubt emerge in full force demanding caution because "the causes and long-range effects of a phenomenon [anthropogenic climate change] are uncertain."             
              The dilemma for those of us with a lifetime history of championing life in all its forms and circumstances is thus: Both political platforms are imperfect with an explicit Democratic pro-woman's right to choose plank and this Republican rejection of concern for global climate change effects on the life of countless human beings.  To say one or other is more important here is to digress into a distracting and politically-charged argument. In essence, all life is important and must be defended whether life of human beings from unborn to senior citizens or our planet Earth, the ground of our human vitality.  We must defend life!
              Unwanted effects of the one platform are being mitigated through citizen actions and emerging lawsuits that would remove restrictive and religious freedom-threatening clauses in the Health Care regulations.  However, denying human-caused climate change (now judged far worse by climate experts than known in 2008) while taking pride in being pro-life is a form of latent hypocrisy.  The policies of continuing benefits to Big Oil and other fossil fuel producers, relegating fuel efficiency to a minor role, and reducing the thriving rise of renewable energy are all harbingers of global disaster.  All this when our country should be in the forefront of responsible environmental action!  We see impending disaster -- and we must speak or be judged cowards through our neutrality and silence.
                           The Earthhealing Team
---

Bearded Robber Fly, Asilidae sp.
(*photo credit)

September 19, 2012  Why Postpone an Interactive Blogging Site

     Blogging has its strong and weak points.  We strive to show the strong points here by giving experiences, observations, and opinions on matters of concern to healing our wounded Earth.  Some may dispute how some topics are directly related, but that is a matter of opinion.  In one way, this site is interactive when on occasion we ask for comments and receive them (though do not feel obliged to publish them).  This "Daily Reflection" is a fruit of just such remarks by others.  On July 31, 2010, we mentioned that we intended to launch a "Gray Matter in the Green" interactive blogging site, but due to comments have had second thoughts.

     First, sorting through comments takes time and effort.  Some interactive comments are well thought out and worthy of response, and we try to do so.  Others are not.  Unfortunately, due to our daily discarding of much "junk mail", we may inadvertently lose a good comment and we regret this.  However, many blog comments are off-the-cuff remarks and may require more response than the original creation.  We honor insightful remarks and strive to address them in our note of appreciation.  We blog as a service in intellectual advancement and citizenship, but interactive activity requires some effort on the part of all participating. 

     Second, interactive blogs can waste time.  This method may allow a website to become an existing platform and soap box for certain individuals who do not take the time to develop their own thoughts on a given subject -- and so they spend their limited time in quick remarks at others' sites.  Some researchers may blame this writer for precisely this practice, and that is a possibility that we need to reconsider in our planning process.  However, in order to fashion the new science of Earthhealing, exploratory remarks are certainly necessary and developed comments are most welcome.

     Third, sensitive people are hurt by negative comments; some tell us that a bad comment on their blog site bothers them for the rest of the day and beyond.  We have enough concerns from a troubled world that we do not have to invite frustration through negativity.  Some may respond with the need for tougher skins -- but that is dubious for many of us.  Blogging that seeks suggestions for healing our wounded Earth must be within an atmosphere of healing, and negativity opens wounds.

     While we risk through interactive blogging skewing the goals to our work, still the absence of such blogging practice may risk lost opportunities.  Our risks are compounded when flippant remarks can be humorous, but can cast doubt on the entire goal of the project.  We do request comments, make corrections when pointed out, and share changes with the general readership.  Keeping to reflection means keeping to serious matters worth reflection. 

     Prayer: Lord, inspire us to do the proper things in life and to find when it is right to expand our social contacts.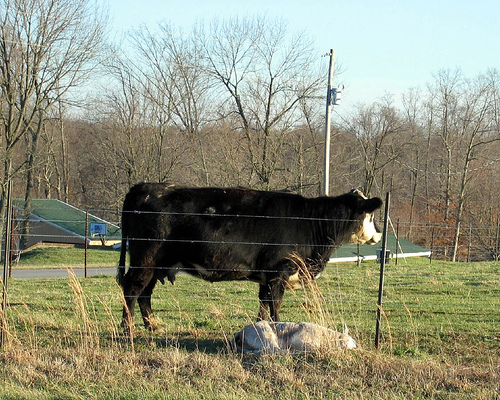 Newborn calf with mother. Cambell Co, KY.
(*photo credit)

September 20, 2012  Good News: Learning from Creature/Teachers

     Idler, go to the ant; ponder her ways and grow wise;
       no one gives her orders, no overseer, no master,
     yet all through the summer she makes sure of her food,
       and gathers her supply at harvest time. (Proverbs 6: 6-8)

     I tell this true story often but cannot find it written among my Daily Reflections.  The sky was foreboding and a storm was in the making; Daddy had told me, an eleven-year-old, to go out in the pastureland and bring in the pregnant cow missing from the herd.  Amazingly, I found her in the back field with her already-born calf, which was tottering about, for calves learn to walk quickly after birth.  I found the little calf was too heavy for me to carry about a half mile.  Every time I tried to herd the cow, she circled back to the calf -- and the sky grew darker.  The cow nudged me and I took it to mean, "Go ahead."  I looked back and she followed me closely, and behind her trotted the calf.  Never before and never again did I experience this.  We hurried to the safety of the barn -- me, the cow, and the calf in that order, and we arrived before any downpour.  My lesson learned from a cow by this once-in-a-lifetime episode was it is easier to lead than to drive others.

     All God's creatures can teach us things if we but listen.  It is challenging to go out and spread the Good News as the Lord's command states: "Go out to the whole world; proclaim the Good News to all creation" (Mark 16:16).  We can hardly preach to wildlife or farm animals but, if we listen, we can learn from them.  They tell us of qualities worth considering in our maturation process.   

     There are four creatures little on the earth yet wisest of the wise [ants, rock rabbits, locusts, and lizards]. (Proverbs 30:24-28).  This Proverbs chapter also speaks of the bravery of the lion, the proud strut of the cock, and the leadership of the he-goat.  From experience, we learn that horses are sensitive, goats are friendly, dogs are loyal, and cows are contented.  In fact, on close observation, we become aware that many virtues we ought to practice have elementary streaks in the devotion, courage, tenderness, and concern of animals large and small.  Lambs and cats can be loving, but so can pigs and rabbits.  As Scripture says, ants certainly have a sense of self-motivated hard work and cooperative endeavors.  Dogs and even tame wolves die in defense of their "master," or for family members; their loyalty is astounding.   

     On my sabbatical a decade ago, I would go from the cabin where I lodged past a trout pond.  If I saw a caterpillar on the fishbait tree overhanging the pond, I would feed the fish.  I always wore a red sweater and pretty soon the entire school of fish would see me coming (I don't know if the color made a difference), and they would get so excited.  Somehow their excitement penetrated to my bones, and they energized me and made that sabbatical meaningful.

     Prayer: Lord, teach us to learn from the creatures around us and thus be humble enough to take in lessons to gain wisdom.

Apples from a home orchard, made into fresh pies.
(*photo credit)

September 21, 2012  Sharing Our Bounty on World Gratitude Day

     Someone cautioned me I would receive no eternal reward if I tell others I share my food budget.  So be it!  I do not share because of some future reward but to observe the radical sharing I preach.  We are reminded that this is also International Day of Peace and nothing can bring peace faster than radical sharing of what we have.  Why should there be billionaires when there are destitute within our global neighborhood?  Would that everyone would ask the question, and ask it again and again.  The world must share, not sequester.  I share my food budget with Roudaina, a little Muslim girl in Lebanon, thanks to the facilitating Catholic Near East Welfare Association.  Reasons for sharing are many:

     First, another in the world has need of our surplus or near surplus, for we hate to waste food; for some of us with expanded girth to overeat is wasted food;

     Second, others learning gratitude for what they have received through generosity, allows them the opportunity to await the time when in their surplus they can share with those less fortunate -- so sharing has a learning moment and an ultimate ripple effect;

     Third, what we share from a food budget is money originally given by those with whom we give service through the generosity of their hearts. We become the conduit of generosity to others.  We need to say this on a regular basis and not just once a year on Thanksgiving Day;

     Fourth, by living a simpler life we identify with the many throughout the world who share from their meager surpluses, and this makes the gift all the more precious.  We see our surplus food as a gift from God worth sharing because it is freely given to us;

     Fifth, this is one small way to break the selfishness of a world too bound to popular capitalist endeavors; this becomes a self-discipline that helps restrain the wish to be "all for me;"

     Sixth, the time will soon come when we can no longer give our surplus but only ourselves as we take those last mortal steps, and so we must practice giving of lesser things while time remains;

     Seventh, our nation is the great exporter of food.  We should not squander a precious corn crop that has survived the weather on wasteful biofuel; send it to lands with hungry people; and

     Last, it is simply the decent thing for each of us to do and, if this inspires one more to do the same, it becomes a successful endeavor that needs to be actualized in a selfish world.

     Prayer: Lord, teach us to thank you for the harvest bounty.  Help us to inspire our nation of gifted individuals and groups to consider radically sharing their surpluses on this Day of International Peace.  Let us turn our surpluses to waging peace.

Summer into autumn. Frost aster, Aster pilosus.
(*photo credit)

September 22, 2012  Autumn Equinox: It's Even Better Than It Looks

     The topic here is a word play on an electronic book by Thomas Mann and Norman Ornstein, Its Even Worse Than It Looks: How the American Constitutional System Collided with the New Politics of Extremism.  They paint a graphic picture of the current situation and, especially, how the legislative system has come to a state of paralysis.  One of their examples is an uncontrolled filibuster system in the Senate.  The authors offer practical and positive suggestions for reforming our governmental system.  The atmosphere that is painted is certainly downbeat and can be somewhat gloomy.  However, we can list some signs of light:

     * "Policeman of the World" is losing its luster even among bedrock conservatives as well as liberals.  A vast military budget is beyond our means and common sense is starting to recognize it;

     * Some salaries and pensions are too high for citizen tax payers and astute investors, and efforts are being undertaken;

     * Some 58% of the public thinks that protecting the environment can create new jobs, and facts show it does;

     * Higher education is over-extended, not pertinent, and extremely costly -- and other technical advantages exist through far less costly technical or self-educational routes.  College graduates are so indebted that they could become indentured to the system, but now they are starting to think about it and rebel;

     * Some employers look beyond degrees at the willingness and abilities of the potential employee, and they act accordingly;

     * We discover that the American Dream is out-of-date and it needs revamping to include a motivation for radical sharing of something beyond pay scales (September 3rd Daily Reflection);

     * We find that kids are in some ways smarter than we thought; they refuse to mimic the selfishness of an older generation.  Granted, many are too busy, too intimidated by peers, and too addicted, but glimmers of hope exist if we just look;

     * We are starting to debunk the glory of the wealthy and to see the nobility of material wealth is out-of-date through recent formation of "occupy movement" programs and events;

     * We are getting quite sick of campaign ads, and this may make their impact less noticeable in future elections; and

     * We come to believe that amid it all, God is in charge and that our actions must include the motto, "In God We Trust." 

     Prayer: Lord, give us the grace to see good and bad, and not to be complacent, expecting you to miraculously correct everything while we stand idly by.

Jefferson salamander, Ambystoma jeffersonianum. Mercer Co., KY.
(*photo credit)

September 23, 2012  Forsaking Greed and Taking on a Servant's Role

     If anyone wishes to be first, he shall be the last of all and the servant of all.  (Mark 9: 35)

     Father Jack Fabian, moderator for the Companions of Christ the Lamb at Paradise, Michigan writes about two blood brother priests (Bohdan and George Kosicki) who the community is moving to nursing facilities, and how their loss of freedom is one of the final gifts the two make as servants of the Lord.  He reminds us that St. Theresa Lisieux's father, Louis Martin, was suffering from dementia and her sisters were distraught.  She told them that through his life their father gave everything to God, including each of his daughters.  He deeply cherished his mind but that was the final gift before his passing to the Lord. 

     Maybe this story that we see retold in many noble people who move into the fog of dementia tells us that before our eternal rest we may be asked to be willing to give up everything.  Long before such eventualities, we are confronted by our own eroding use of talent.  As stewards, we receive gifts for a temporary period for the common good, not our own egotistic advancement.  We are so like the apostles in the beginning of their ministry who think of themselves and argue among themselves who is the greatest (Mark 9: 30-37).  Being last as the Lord says is shown in his prediction and resulting suffering and death; he shared the ignominy of the cross with common criminals.  Are we willing to follow in some way?

     Personal ambition must give way to service for others.  Would that the great Western explorers/exploiters had spent more time allowing Jesus' words to penetrate before their ventures.  We as a culture have suffered for the lack of being good servants for others.  The enduring desire for wealth is ruining our global financial system and causing others to launch on their own road to greed.  External temptations are quite pronounced when the worldly wicked test our effort at becoming selfless people (Wisdom 2: 17-20).  We reflect on the reading of James (3:16-4:3) that prompts us to ask whether it is not the inner cravings that make war within our members.  Materialism is at the heart of this struggle today.

      The servant role does not come easily.  In fact, we must be willing to undergo self-denial both as individuals and in our nation and world; we must give up so that we may ultimately have. The cross stands before us, and often the journey becomes more difficult when nearing its end.  Aging brings on new crosses that are only lightened by being close to Jesus who asks us to bear them with him.  Jesus allows a child to be the example (Mark 9:36-37), for the Greek word for child and servant are the same.  The child is dependent upon the parent or guardian; we are dependent on the will of God throughout our lives, and that evolves into different forms of service, each with its proper time and unique struggle.

     Prayer: Lord, thank you for allowing us to serve you.  We await with expectancy the road ahead knowing you are with us.

Spring flower of the star chickweed, Stellaria pubera.
(*photo credit)

September 24, 2012    Making a Twelve-Ingredient Autumn Salad

     At the start of each new season and without fixing in stone the list of ingredients, I attempt to make a salad of items from the garden for the most part (or in rare cases from others' gardens).  Generally, I make monthly 12-ingredient salads for potlucks, and these receive special attention in the colder months.  Why twelve?  Well that was the number of ingredients growing in the garden at my first venture, and it seemed proper since there were twelve apostles.  Here are hints if you launch your x-salads:

     * Grow variety or else this won't work (e.g., various brassicas such as Brussels sprouts, kale, and broccoli).  Near the salad preparation time, survey what you have in the garden or preserved from the garden in some fashion (deep freeze, etc.);

     * Plan the most plentiful ingredient as the mainstay as, for instance, autumn lettuce or, in my case, cucumbers or tomatoes, and make this a basis or bulk of the salad;

     * If the last of some produce occurs earlier in the month, store the last batch in the refrigerator to use as an item;

     * Some prefer to break up the greens from a cluster by hand instead of cutting them.  I find that some hearty greens as one mainstay of many seasons (collards, mustard, or onion tops) do not require such breakage, whereas fresh peas in the pod ought to be broken by hand in order to remove strings from more mature pods;

     * Choose several herbs, even the permanent ones such as oregano and various mints as special flavoring for the dish;

     * Pick the garden produce as close to eating time as is feasible, (especially lettuce, spinach, and endive), but this can be difficult for salad makers since other duties may intervene;

     * Keep gathered greens and other ingredients fresh by a generously dousing with lemon juice and olive oil.  Sometimes certain dressings may add to attractiveness, if you lack colored ingredients (e.g., peppers, radishes, beets, red cabbage, or carrots);

     * Some ingredients overwhelm the flavor and thus should be used sparingly (e.g., arugula, basil, parsley, dill, or garlic);

     * Post the salad listing for discriminating guests so all can learn and enjoy the different ingredients; and

     * Hold in reserve the dandelion, chickweed, or plantain as a garnish if the magic twelve or number is not easily reached.

     Prayer: Lord, teach us to be creative as you are creative, and to manifest the richness of variety in the salads we prepare.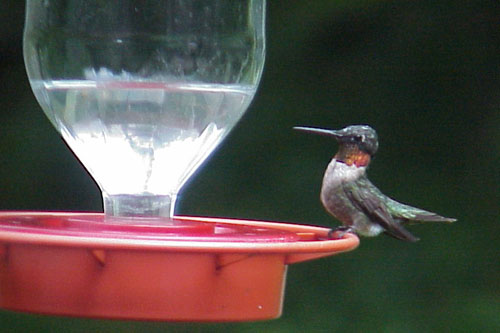 Ruby-throated hummingbird, Archilochus colubris.
(Photo by Sally Ramsdell)


September 25, 2012    Does Tweeting Have Some Hidden Value?

     Perhaps tweeting has value.  Here are some possibilities:

     Recreation.  Tweeting is a worthwhile way to whittle away time and is regarded as innocent recreation.  One economic value of tweeting is the immense profits to device makers.  I draft this on a week when one parishioner, who had spent a month in jail for an inappropriate email, has been banned for two years from our county.  Putting ones thoughts and threats on paper does have a detrimental effect on one's record.  It is also the week when a young New England tweeter was sentenced (as an example for others) for a fatal auto accident due to tweeting while driving.

     Frequent messaging.  A question as to shortening our language is proper to ask even by non-tweeters.  If you have to get a total message out in 140 characters, how informative can you become with such limitations?  They tell us that the message with limited characters is far more difficult in English than Chinese, where one character is not a letter but a word.  It is interesting what English tweeters do: they abbreviate, form acronyms, and initialisms.  How clever!  One group lists fifty such abbreviated expressions, such as BTW or "by the way" and BR "best regards" or PR "please retweet" that shows the desperate need for social contact -- by those who spend little time communicating with God. 

     Needed communication.  PR seems to be a plea not to be left alone and alienated from a world of family and peers.  "Please speak to me for I need to hear from someone."  Perhaps this "please retweet!!" tells us much of an age that needs some sort of lasting companionship if only for a few seconds.  How many tweets does it take to make a sincere communication?  If not too many, there is value here, for it takes thinking to work the device, and thinking to resolve to respond, and so forth. 

     Ultra-short reflection.  One proposal made to this website is to follow the twitter fad by becoming an established fashion.  How about converting these "Daily Reflections" of approximately 500 word each into 20-word abbreviated blips for the fast-moving and ever-busy modern traveler?  Would such people desire a brief daily reflection?  Through practice, messages of a succinct nature become quite pithy but are they reflections?  What about the prayer? 

     Economic benefits?  Tweeting could make us realize the massive volumes of paperwork left unprocessed, the file space conserved, and the pulp-designated trees still left standing.  Or would the event be so momentary that virtually nothing was achieved, for reflection takes time and effort?     

     Prayer: Lord, teach us to seek value in social communication, for we love to connect with others.  Show us, Lord, the good that comes from this new practice.  If practice leads one to give you frequent and urgent tweets via prayers, it perhaps has more value than we estimate at first glance.

Backyard garden of urban townhouse. Lexington, KY.
(*photo credit)

September 26, 2012  Urban Homesteading for Willing Folks

     A combination of existing abandoned urban areas, a need to make a living, and a drive to renew urban centers combine to bring an old fashioned and proven rural program into urban life.  In the 19th century, immigrants came to America to cultivate wilderness and prairies -- and succeeded.  It is an opportune time to bring in the indebted and help them resettle abandoned urban lands, and convert people into farm produce marketers and homesteaders.  They could be more than mere gentrifiers with cushy salaries.  Similar efforts are in Daily Reflections: "Urban Gardens" (8/9/10)), "Urban Simple Living" (2/28/08), and "Urban Forestry" (9/5/07).

     Policy needed.  In essence, there should not be abandoned urban lands, for these are a blight to the community and become a place to throw garbage.  Such lands are dispiriting for those who prefer to remain in the area; they are the gathering places for crime and drugs; and they reduce the tax base and property values of surrounding areas.  Urban blight calls for resettlement, and so a public policy of urban homesteading can become a worthwhile metropolitan issue.

     Subsidies needed.  Homesteaders are generally poor folks or indebted college graduates striving to start a new life.  Homesteaders were given low-cost or free land to colonize in times past.  It would pay as some cities are starting to do to recolonize vacant space by declaring it abandoned and common property, and then subsidize homesteading even in times of tight budgets.  The land title could be conveyed through proper procedures and, if land were contaminated by lead or other toxic chemicals, top soil may be replaced through culprit fines or municipal renovation projects.

     Training needed. In some instances, newcomers do not have experience of starting things, or of gardening and refurbishing property.  The lack of skills in finances and horticulture could be met by community college training programs or master gardener classes. The civic minded should help fund homesteading projects, realizing that experts may be needed by new colonists.

     Deregulations needed.  Homesteaders should be allowed to build homes incrementally, and thus begin simply without a fully built house, but a portion of what will eventually be a house.  As an infant, my mother lived with her parents and siblings in a converted garage until a new home was constructed.  Flexibility in regulations may go a long way.  Meeting sanitation needs should include low-cost compost toilets and renewable energy applications (with assistance from utility companies for tie-ins).

     Neighborhood groups needed.  Most homesteaders need cross-connection with others to trade information and skills as well as assistance in the manner of old-fashioned barn-raising events.

     Prayer: Lord, help those who seek to get a new start, and inspire all of us to speak up for urban or rural homesteaders.

Livingston, KY mural for Pride ("Personal Responsibility In a Desirable Environment") Program.

September 27, 2012  Clean Energy: Critical Investments & Decisions

     In America, we have watched the rise and fall of governmental support for clean energy, and fear that the coming election could lead to massive reductions.  This comes at a time when it is critical that investments expand.  Currently, we suggest curbing governmental expenditures and that fracking of gas and oil is meeting current energy needs.  In a short period the U.S. has gone from a net natural gas importer to an exporter, and oil production of over six million barrels a day is the highest in thirteen years.  But globally the picture is far from rosy, as carbon dioxide emissions continue to rise even amid concern about climate change.

     The International Energy Agency (IEA) says that, contrary to recent slowdowns, in order to meet rising demands, clean energy investment must double to $23.9 trillion dollars by 2020 and $140 trillion by 2050.  This push for clean energy is needed to keep the average rise in global temperature below 2 degrees Celsius.  We realize that energy consumption is rising, especially in China and some of the emerging industrial nations, even while it is holding steady or declining here and among EU nations.  Fossil fuels are still the energy sources of choice, but IEA admits that high potential clean investments like carbon storage, offshore wind power, and concentrated solar power are showing least progress.

     While these IEA reports are being published, the United Nations Environmental Program in a June, 2012 report warns that sudden, irreversible, and catastrophic changes are looming.  Climate change (with sea level rise and reduced agricultural yields), depletion of the ozone layer, plummeting fish stocks, and mass extinction of animals are among worrisome environmental threats facing the world today.  International goals are not being met.  What was unspoken is a concerted denial of climate change effects by Big Energy and paid associates so that unpaid energy externalities do not have to be compensated.  This report   predicts that, at current rates, greenhouse emissions will double in the next 50 years with the benchmark of 2 degree Celsius rise being exceeded to at least a catastrophic 3 degrees by 2100.

     The tipping point is near. To show what is happening, monitoring stations in the Arctic find 400 parts per million (ppm) of carbon dioxide levels, far beyond the scientists' benchmark of 350 ppm considered safe.  Globally, average carbon dioxide levels of about 395 ppm will pass the 400 mark in a few years.  Carbon dioxide emissions from fossil fuels hit a record high of 34.8 billion tons in 2011, up 3.2 percent from the previous year.  Little comfort that China ranks first in CO2 emissions, but rising methane emissions, especially in the U.S., could also help reach that global tipping point.  Looking back at the 2007 United Nations Intergovernmental Panel on climate Change, unresolved partisan differences arose that still need addressing.

     Prayer: Lord, help our country and world come to their senses.

Pharr Mounds, near Tupelo, MS.
(*photo credit)

September 28, 2012   What We Owe Others on Native American Day  

     The later arrivals often owe much to those who go before.  So is it with the many from other lands who came to these North American shores found a welcoming reception from most Native Americans.  Only after hostility and the sweeping epidemics that accompanied the European arrivals did the native population turn and resist the encroachment as best it could.  Let's list some benefi ts gained over that arrival time period:

     Use of native plants: The residing population had developed many corn varieties quite suited to different micro-climates.  This agricultural development had extended to a great variety of medicinal herbs and other crops: tobacco, pumpkins, peppers, potatoes, and tomatoes.  The list of such gifts is lengthy;

     Knowledge of the landscape: Virtually every exploring and settling situation in the early days was achieved through the cooperation and often overlooked assistance of the Native American population.  From early French and Spanish explorations to the Lewis & Clark Expedition, the knowledge of the land, rivers, and lakes occurred through cooperative efforts by natives, or else the benefits would not have occurred and permanent settlement resulted. 

     Network of trails and paths.  A travel system was in place when the Europeans arrived, and many of these earlier but somewhat primitive routes of transportation were used to get from place to place, and later became our current highway routes.

     Ways of cultivation.  Not only are the edible plants that were domesticated of great value, but so are the experienced manner of growing these in harsh and mild climates. Learning has been a two-way street between natives and arrivals.

     Ways of life.  The hyper-competitiveness of various arriving groups was met by a more serene manner of living one's life and a sense of possible peace by many of the tribes. Certainly, intertribal rivalries existed as part of a global human plague, and at times have been marked with varying degrees of brutality.

     Balance with nature.  For the greater part, the Native American tribes practice good ecology in the balance that exists between plants, wildlife and human.  This is especially noticeable in the most fragile regions of the hemisphere.

     Democratic practice.  This practice is surprisingly overlooked because most think democratic activities originated in Europe.  Many tribes have practiced community meetings in which all are allowed to speak and express their views.  At such meetings others are expected to remain silent and listen to the one speaking.

     Prayer: Lord, teach us gratitude in all gifts given and when forgotten have the wise recount the blessings for us.  God bless the Native Americans and may we express a debt of gratitude.

Seeking the sun. Maximilian sunflower, Helianthus maximiliani.
(*photo credit)

September 29, 2012  If We Can't Slow Down Time, Let's Cherish It

     Teach us to count how few days we have and so gain wisdom of heart.  (Psalm 90:12)

     We think things happened yesterday, and yet it was a month ago; we discover people walking about who we thought passed away; we finally learn a friend's age in the obituary notice; we dream of settings and people who passed away decades ago -- and on awakening wonder for a moment what year it is.  We are surprised when younger folks think we are talking about ancient history, and yet we were very much alive when it happened.  We visit a museum and see an instrument (a scythe or corn sheller) that we used on the farm.

     It is not only that we each have unique perspectives on time; it is that our perceptions change as we age -- and this is worth sharing with generations following after us.  We need to be reminded that four-year-olds have to live one-fifth of their respective lifetimes before the next birthday.  On the other hand, their grandparents and great-grandparents see each year passing ever so much more rapidly and birthdays fall on top of each other. 

     Let us remember that while we slow, time does not slow.  We move about with ever greater effort, and find that even moving by car takes more effort to enter, exit, drive, and stay alert.  Restrictions on mobility require changes in our ministry, residence, and daily practice.  Since time does not slow up, some things cannot be postponed.  One friend asked me to tell another her phone number in the event of my accident or demise.  That new request was like the first time a cashier assumed I got a senior discount without my reminding her.

     Since we slow up inevitably, we must face the advance of time in the light of what lies ahead.  Time is short and time is swift -- and we have to learn to live with it.  Some deny the inevitable, and thus torture themselves as time speeds up in later years. Instead of it becoming a despised experience of unresolved suffering and pain, let's learn to ride with the tide.

     How do we count how few days we have left (unless sentenced to death on a certain day), when we don't know the precise time of our departure?  Here is an approximate method: if your actuarial probability is another decade, count back a decade and see how close that year was in memory -- if memory has not already faded. Many of us note that longer-term memories are generally better than short-term ones.  I start my 80th year at 2:00 am tomorrow morning; for Americans this formal birthday observance comes at the end of the year not, as the Chinese do, at its beginning.  Still, starting the ninth decade is a milestone/challenge, but something I am awaiting.  We should thank God we could serve so long.

     Prayer: Lord, show us that in the swiftness of time we can still enjoy the fleeting present moment, as we await an eternal one.  Help us do this with both anticipation and joy.

Katydid studies contour lines on trail map.
(*photo credit)

September 30, 2012  Practicing Tolerance among Believers

         Anyone who is not against us is for us.  (Mark 9:43) 

     We struggle with this saying of Jesus for we prefer to think that OUR group is more favored by the Lord.  Jesus takes a broader view than many of us, for he sees the total community of believers of many stripes -- the "people of God."  Like us, the disciples were dismayed that others would use the Lord's name and work wonders.  So be it!  Jesus gives us a preview of heaven where, if we make it, we will find surprises.  While all are unworthy of glory, we may discover our surprise at certain people becoming shining stars.

     Robert Schuller was a great preacher and had a nationwide TV program called "Hour of Power." Through this great success of his ministry he was able to build a multi-million dollar "Crystal Cathedral" in Garden Grove, California.  When in recent years his enterprise came on hard financial times, his estate sold the structure for $50 million to the Catholic Diocese of Orange County that had no cathedral.  It is being renamed Christ Cathedral.  Schuler was a gracious person and said he had built this structure for Christ and he knew that under Roman Catholic ownership, the Crystal Cathedral would be with Christ forever.  His tolerance and graciousness as a Christian stands out for all to see and admire.

     Perhaps you are like me; we are learning to feel good when Christians of other branches show immense success in gathering worshippers in their prosperous establishments -- provided they use legitimate methods.  We struggle so hard in small congregations.  We are challenged to praise God when good things happen in a world too filled with news that is often bad and depressing.  Thank God that successes occur; we extend a hand to those who do good things.  It takes the fullness of Christ's love shining amid differences. Certainly, our individual records are not perfect and the religious wars of the 17th and up to and including 2012 vouch for that. 

     Our purview of tolerance extends beyond Christian flocks to the entire world of religious and non-religious believers in a better world.  If various believers hold that we can work together to make this a better place for all people, they are at least implicitly part of the indefinite "People of God."  To love our neighbor by being sensitive to their needs is to be "for Christ;" to be insensitive on such matters is to be against him no matter what tag we assign ourselves.  Let us not be jealous but thank God and grow in sensitivity to those who are for God and work wonders.

     An unanswered question: Should we tolerate unbelief?  This will be tackled next month.  For a start, we certainly must tolerate the unbeliever and the right to believe, but we must not tolerate silence as to the destructive effects of unbelief in saving our wounded Earth, even if uttered by nominal Christians.

     Prayer: Lord, give us the grace to be tolerant of others.