Faithful companion gallops to meet a friend.
(*photo credit)
August 1, 2012  Time to Ask Whether Race Enters This Election
     On occasion, shouldn't our reflections be a series of important questions demanding difficult but honest answers?  Isn't this election year one where all of us certainly do NOT have the same answers?  Am I the only American who will answer the title question in the affirmation, because of what is not said in conversation with friends?  Is to ask such a question about race issues the sign of a troublemaker?  Or do we each have to come to the tint of racism that could linger in ourselves?  When someone says to me, "We want Obama out of the White House," am I honest in answering with a question, "Wasn't it built by slaves?"  Why do they get provoked when I respond as Jesus did with a question?  Shouldn't we try to do what we think Jesus would do?
     Do memories play tricks on us old folks, especially those with emerging short-term memory problems?  Why does this election year bring back to me the vivid and harsh memories of an orange- exterior but lily-white interior schoolbus passing our neighborhood black Smith kids as they waited for the station wagon to take them to a one-room school in Washington, Kentucky?  Didn't that make me furious in pre-teen times?  Wasn't that a mere seventy years ago, and have times really changed?  Isn't there a proper connection when current events trigger past deep-down memories among old folks like me?
     Though there are virtually no opportunities in senate races to make choices, still is not that august body somewhat devoid of people of other races?  This brings us to that deeper question: is this not a matter of symbolism as well as experience in governance? Is a senator or president a symbol of who we are, and thus we strive to project ourselves through them?  Who do we Americans want to be before the world?  Isn't latent racism surfacing and often cast under other euphemisms?  Does the mere denial that a remark is racist excuse it from being so?  What makes one candidate of a different color so utterly different?  And what about the many who regard President Obama as foreign-born when he was not, or of a different religion than what he professes to be?  Are these suspicions tinged with racism? 
     Does not politics merge into one's personal spirituality? Ought we to seek spiritual answers no matter how harsh the reality is?  Isn't an ever-deepening spirituality one not of fading past memories of imperfect times, but of confronting current conditions exactly as they exist today? What can we do about such matters?  How about raising the racist question that allows those with latent roots to come to terms with their own racism?  How about challenging the reasons some want Obama out of the White House?  Are the reasons well formed, or do they contain an emotional element worth personal discernment?
     Prayer: Lord, will you tell us plainly what to say, when to say it, and how to be nice enough not to overly offend those who know this prayer goes out to all the world?

Enchanting watermelon patch after summer rain.
(*photo by Aspherical Element, Creative Commons)

August 2, 2012           Time to Enjoy Watermelon Day

     An Islamic saying is that eating a watermelon produces a thousand good works -- and Middle Easterners, especially Egyptians, have given the world a summer delicacy worth championing.  My taste for watermelon grew with time even though it never translated into having a green thumb to grow good watermelons.  My fondness for the red juicy pulp with all its seeds only developed with time, for early on I would have preferred other desserts.  Those seeds were somewhat bothersome even though the beginnings of future watermelons. 

     Growing and harvesting joys.  Watermelon had a long history and was a Nile River favorite millennia ago.  Sandy soil and plenty of water are both required.  Raising watermelon does not seem so difficult but some of us are challenged by particulars of cultivation. perhaps by when to plant the seed and to water the plant, as well as the correct type of soil and amount of sun.  Selecting a ripe watermelon to take home requires the art of knowing when it is ripe.  Knocking on the skin may tell much to the experienced harvester -- and to the buyer in a commercial place.  It is not always possible to take a plug sample at the store shelf or in the field where it grows. 

     Consuming joys. There is really an art to eating watermelon.  Much depends on the way the slices are carved, for elongated thin slices allow it to be eaten without loss of juice and use of utensils.  That is part of the joy of consuming watermelon, though that may not conform to certain cultural eating habits.

     Nutritional joys. Watermelon is really a good buy for it is packed with nutrients (Vitamin C, A, B1 and B6, the antioxidant lycopene, as well as dietary fiber, potassium, and magnesium).  Weight-wise, watermelon is a nutritional bargain even at $5 per large one when in season.  Four decades ago when CSPI created its "Nutrition Scoreboard," watermelon held a high place partly because the standard size of a defined portion was large enough that nutrients abound per serving. 

     Other culinary joys.  Watermelon is a fruit that has distinct flavor and texture.  My mother preserved watermelon rind; people in the South call this "watermelon pickle" or "rind pickle," using cloves and cinnamon for spices.  Candied watermelon rind is another variation on economizing the considerable cast-off portions of the fruit.  Watermelon juice is available and appreciated in summer, as is watermelon sorbet and fruit salads with various ingredients.  Additionally, salads made of watermelon and thin slices of onion are a summer delight.  Others combine watermelon with ice cream or make watermelon ices or cold drinks.  Watermelon-flavored candy is available and reasonably good tasting.

     Prayer: Lord, we are in high summer and find heat oppressive, but you give us such gifts as watermelon to allow us to appreciate the growing season with all its heat and remedies.

August treat for the senses.
(*photo credit)

August 3, 2012   Time to Appreciate August's Wildflowers

     Every season is one for flower lovers; we just have to look and see.  August has its wildflowers that are perhaps less prominent than those of springtime because the foliage masks their presence, and are contrasted with winter's lack of greenery.  August has the pinkish-purple Joe-Pye-weed, the exotic but stunning bush phlox, and the spiny teasel family.  When detected alongside of macadamized roadways summer flowers are covered with road dust. 

     We notice both plenty and scarcity among August flowers.  There are still plenty of red-spiked smartweeds as well as red clover blossoms.  Few want to champion the ironweed but it is a favorite for me for its purple clusters stand out in overgrazed pastures.  In more moist places we have the touch-me-nots or jewelweed (see October 8, 2011 for curative characteristics mentioned).  Our concerned environmental friends ask, "Where are the common milkweed needed as food for Monarch caterpillars?"  We used to see many during the Second World War when the government urged us to gather the silk to replace Japanese silk. 

     Yellow flowers have their place in this season: the common tansy, the appealing wood sorrel, the many kinds of buttercups, domestic and wild coneflowers, the tame sunflowers and the rage of our region, the coreopsis -- here brilliantly visible and soon gone.  Let's add to this the fuzzy and mellow goldenrod, that mainstay flower of this season that decks our countryside; an endangered variety is found in my native Buffalo Trace sub-region.

     August flowers can be both subdued and emphatic.  The white aster starts blooming this month and Queen-Anne's lace continues through the summer.  The woods can give some striking red and orange surprises in this season: the cardinal-flower or a member of the bluebell family, and the highly appreciated wild-bergamot.  Add to these the spectacular orange trumpet-creeper that has escaped from our southlands and moved farther north into the upper tier of states.  And then there are the middle summer day (we called them "tiger lilies") and Turk's-cap lilies, the flowers of the common folks.  Vividness comes not from its white flower of early summer, but the deep red to black pokeweed berry that comes in this season.  Yes, August is colorful and as prolific a wildflower month as April and May.

     Note: This litany of flowers is a hint to our web manager to select still more of her wildflowers to grace our pages.  Many readers tell us that these flowers bring the text alive, just like wildflowers at all seasons give us hope that our Earth can be healed.  We are invited to accept their scent and beauty, gifts of trust that this world can be a better place.

     Prayer: Lord, help us appreciate the wildflowers you give to a sick world; we need them to hasten our Earthhealing programs.

A cooldown spot for a regular guest. Stewart, British Columbia.
(*photo credit)

August 4, 2012      Time to Improve the Art of Hospitality

     Suddenly you are aware that someone is at the door all excited about a visit -- and you forgot they were slated to come NOW; the two of you had different calendar dates.  At this critical moment, your sense of genuine hospitality is put to the test.  You could lie and say, "I really have been awaiting your visit." Or more truthful is, "My house is always open though I have neglected some preparations."  The mind is racing as to available lunch food and how to reschedule previously planned activities.  Better than the unexpected but known visitor is the one coming in during a snowstorm, or who has car trouble and needs help.  And when we are the ones in trouble, we put others to the hospitality test as well.
Kentucky is known for its hospitality and so is the Appalachian Region.  With time and a heavy volume of visitors, the atmosphere of welcoming others demands more patience -- but it is basic Christian charity and that of other believers as well.  Besides, hospitality is good business and promotes satisfying tourism.  Help preserve a hospitable environment.

     * Be kind and sensitive.  The visitor is in need of some information and so anticipate it (e.g., rest room location, where to place carry-in items or wrappings, or how to address someone already present).   Anticipate their difficulties.

     * Show genuine welcome.  In older times, when travel was very difficult, visitors were infrequent and more welcomed to break the isolated solitude.  See each person as important and worthy of sincere welcome whether rich or poor, notable or not.  

     * Always be prepared.  Extra care is always needed to have the place presentable at least to some degree for the unexpected.  If a lunch might be needed, lay out a meal plan that could be pulled together quickly, and store ingredients for just such an occasion.

     * Keep smiling even if it hurts.  Really this is the hardest part of hospitality, and yet is utterly important for it changes the host and visitors' attitudes, no matter how much one does not feel like entertaining at this moment.

     * Honor visitors in a special way.  Introduce them to others or have those present introduce themselves, for that often proves a better approach for those of us who are slow on names. 

     * Avoid harsh remarks.  One may say this is obvious, but in our lives we recall times when people appeared unwelcome by being told where to park or of the need to remove shoes on entering.  It is often more a matter of tone rather than the request's content.    

     * Offer a gift or advice.  Some unique offering (a flower or a book) is remembered by the visitor.

     Prayer: Lord, teach us to grow in the art of hospitality.

A silent summer hike in the Daniel Boone National Forest.
(*photo credit)

August 5, 2012  Time to Get Physical AND Spiritual Nourishment

     Do not work for food that cannot last, but work for food that endures to eternal life. (John 6:27)

     All our Sunday readings for the month of August delve into the heart of the message of St. John's Gospel, Chapter Six, the Eucharist.  Here, we are drawn to ask a basic question: How can we reconcile the spiritual drive to share things, with the billions who are hungry for physical food?  Should we divide our efforts or focus on the physically hungry and neglect those with spiritual hunger?  Not an easy predicament!  Perhaps we must consider nourishment as a healing exercise that is holistic in nature and involves both a physical and spiritual element as Jesus indicates.

     Physical nourishment is necessary, or people will suffer from lack of food; they may actually succumb to diseases through the hunger that affects almost a billion people in some form.  In a world of plenty such a condition is an abomination; this is a black mark on a world that needs to share plentiful resources and holds prior property rights in such high regard.  The Fathers of the Church say that we cannot receive communion worthily if we neglect the physical hunger of our neighbors -- and neighborhoods expand, thanks to modern communication and transportation.  The world is now a neighborhood.  We become worthy of spiritual nourishment by feeding the hungry, AND we are motivated to share resources through the Eucharist. 

     Earlier this year on the feast of Corpus Christi we remembered our need for spiritual nourishment to overcome barriers from our past allurements and addictions.  We need heavenly food to set our sights on the future and to assist us on our journey; we need Eucharistic nourishment to know the present in its fullness and to enable us to see, and then share.  The Eucharist is a divine promise from out of the past and one inviting our fidelity; it is a celestial glimpse of the future that awaits us if we remain faithful; it is a godly act of love through our sharing with others.  

     The answer to satisfy either the physically or spiritually hungry is like the "chicken and egg" dilemma.  Yes, physical hunger cannot wait, but often spiritual hunger cannot as well.  Thus it is not which arena comes first, but how does each become a mutual part of our spiritual/physical focus.  Jesus became one of us who suffered from physical hunger and still suffered from a hunger to go out to all people to answer their spiritual needs.  He is telling the crowds not to simply focus on filling their stomachs on the multiplied loaves, but to look beyond, to see that spiritual nourishment must go hand-in-hand with earthly food.  When spiritually nourished, we seek to feed the hungry now.

     Prayer: Lord, nourish us to furnish all forms of nourishment to our neighbor, to feed them when hungry, and to realize that our desire is inspired through the Eucharist.

Old shade tree at Shaker Village of Pleasant Hill, KY.
(*photo credit)

August 6, 2012     Time to Take "The Shakertown Pledge"

     On April 30, 1973 almost four decades ago some inspired citizens assembled at Shakertown, Kentucky and showed concern about the need to care for all people.  Their statement below is still valid in its entirety today. I have it posted on the wall in front of my computer.  Please read it, reflect upon it, and consider ways this can become part of the radical sharing we speak about in these reflections.  It is especially fitting on Hiroshima Day to make this pledge.

                 --------------------------
     Recognizing that the earth and the fullness thereof is a gift from our gracious God, and that we are called to cherish, nurture, and provide loving stewardship for the earth's resources.

     And recognizing that life itself is a gift, and a call to responsibility, joy, and celebration.

     I make the following declarations:

     1. I declare myself to be a world citizen.

     2. I commit myself to lead an ecologically sound life.

     3. I commit myself to lead a life of creative simplicity and to share my personal wealth with the world's poor.

     4. I commit myself to join with others in reshaping institutions in order to bring about a more just global society in which each person has full access to the needed resources for their physical, emotional, intellectual, and spiritual growth.

     5. I commit myself to occupational accountability, and in so doing I will seek to avoid the creation of products which cause harm to others.

     6. I affirm the gift of my body, and commit myself to its proper nourishment and physical well-being.

     7. I commit myself to examine continually my relations with others, and to attempt to relate honestly, morally, and lovingly to those around me.

     8. I commit myself to personal renewal through prayer, meditation, and study.

     9.  I commit myself to responsible participation in a community of faith.
--------------------------

     Prayer: Lord, give us the courage to take this pledge, and to strive to live it the rest of our lives.

Helplessness of a two-month old puppy.
(*photo credit)

August 7, 2012       Time to Beg for Help from Others

     Why didn't you ask?  That question may surprise us at times when we wanted assistance but were too distracted, too shy, or too proud to ask.  Some might ask what reflection in a particular month is more difficult to assemble -- and I must admit this August that begging is not my particular forte -- in honesty I despise to beg.  It was the begging during years of public interest work that helped lead me away from administration a decade ago, for begging takes a certain amount of underlying enthusiasm as well as time and energy.  Just maintaining the appearance of enthusiasm takes effort.

     Why didn't you survey your needs?  People can't ask unless they know their own needs and articulate these in a succinct fashion.  How often we hear of someone who failed when he or she neglected to ask others for help.  As Monday morning quarterbacks we see that a simpler or clearer begging request would have produced results.  How do I get help to confront the deniers of climate change -- an urgent question of this very month?

     Why didn't you pray (for that is begging at its best)?  Amazingly, why didn't you ask?  Will God ask us this some day in reviewing our efforts?  We need help to do what is expected of us, and refusing to cooperate with others may be part of our current difficulties.  We forget that some find it a privilege to be asked for help, especially when they know we need assistance.  However, they do not want to intrude in our lives.  Their honoring our freedom is hidden from the proud non-beggar -- who mistakenly thinks he or she can do everything alone.

     Why didn't you ask others?  At times, begging affords satisfactory results.  Prominent leaders in history had to beg for the resources needed for their expedition, campaign, or start up.  Did not Christ beg for the assistance of his somewhat raw and imperfect recruits, for he had to mold them into becoming bearers of Good News?  We are not going to live forever, and we need the help of others before we leave the scene.  So we beg for those to carry on our work.   

     Why didn't you see begging as ongoing?  Today, the importance of the work ahead calls for talented and enthusiastic souls and those who are also not so self-obsessed that they know it all.  The call is for humble people willing to work with others, and who are unashamed to say they need others, and willing to beg for associates.  Will the ones we target know how to beg and be willing to do so when the urgent need arises?  Pride has to be overcome because beggars have to show a sense of humility in their work. Others are willing to help, but it takes effort to find them.

     Prayer: Lord, teach me to see urgent needs, to see how little I am able to do it alone; give me the humility to ask for help.

Golden ragwort, Senecio aureus.
(*photo credit)

August 8, 2012  Time to Think Differently: Ten Easy Suggestions

     Our challenge to those who want to think in modern ways and with the crowd is to break away and be creative.  Think on your own but in the manner in which our ancestors did in bygone ages.  Of course, to think differently is frightful to conformists.  These pointers have both positive and negative aspects worth considering:

     1. Pay as you go.  Simply put, refrain from going into debt or engaging in the credit game unless this is absolutely necessary.  For instance, build a low-cost house, making additions over time when space is needed or funds are available, in contrast to seeking a home mortgage.  However, today mortgages have low interest rates.

     2. Buy less of what is not needed but only wanted.  Begin to say no to self-indulgence and gratification.  The negative aspect is that this involves an evolving parade of "needs."

     3. Travel and drive less.  Why go to every event that the crowd springs up and attends because it is expected?  A negative aspect is this may hurt our church attendance.

     4. Champion silent space. Free yourself of the cell phone and electronic device craze.  A certain amount of non-connectedness allows for private thought.  However, when having car trouble  recently, I borrowed a cell phone to call for help.

     5. Live lightly.  The trend is always "needing" more goods (clothes, electronic devices, home furnishings, auto accessories, etc.).  However, some additions may improve performance.

     6. Turn Lawn into garden.  The conversion of all of American lawns would also be the source of half the local produce that could be healthier and cost less.  However, greenspace is good.

     7. Downsize expectations.  We all at times have dreams of glory and success that will not come, leading to disappointments.  On occasion, God calls some to increase in size for certain work.

     8. Spend quality time.  Unfortunately, this may be a real challenge for a large number of us.  I am not one to spend extra time with relatives and friends (but ought to) and this demands readjusting our work time, free time, and travel time.

     9. Read just news inputs.  While many suffer from information overload, much can be said for more careful selection and filtering of information we receive.  Avoiding gossip, trivia or hourly stock market reports is one thing; avoiding all news is another. 

     10. Try a new physical exercise.  You may be getting tired of routine and so change; however, more importantly, do exercise.  

     Prayer: Lord, break us out of imperfect ruts and set us more closely on a path that leads to you.

The old Darland barn. Mercer County, KY.
(*photo credit)

August 9, 2012        Time to Defend Dilapidated Barns

     This is dedicated to friend and long-time supporter Wendell Berry, not because he has such barns (his place is very well kept), but because he might appreciate what I am trying to say.  We have many ways of conceiving of barns, whether those with which we were associated or those that we drive past on country roads.  Five years ago today, we reflected on reusing barn space ("Recycle Barns," August 9, 2007); within this short period my attitudes have shifted to less practical and more aesthetical ways today.  Old barns speak to us if we listen to what they say.  They were built locally with the help of neighbors and contain great memories.

     At the edge of our village is a dilapidated barn that is half fallen down and somewhat hidden by overgrown scrub trees and bushes.  I asked the owner why he let it stand and not ask the fire department to burn it down for practice -- for it is almost too dangerous to tear down without getting dismantlers hurt.  He said it is inhabited in winter by local deer and he wanted to provide shelter for the fawns.  How can nature-lovers object to that?  The willingness to keep these structures around after their normal usefulness is akin to keeping elders like me around. 

     The barn that is aging beyond use shows that we tolerate the presence of what was of service in our past because we value the past in a special way.  We stand and challenge the present culture's "tear-down-and-build-anew" attitude.  I always took pride in painted barns and in a countryside prosperous enough that the majority of the barns were painted.  That includes those with one side advertisements for chewing tobacco, or the recent craze of painting patch-quilt designs on barns (see "Quilting Day," March 16, 2012).  After their useful time barns can be fire hazards, havens for snakes, and present a bad appearance in the countryside.  Maybe tolerating them is worth it, for we learn value aging.

     When at our home place we no longer needed a coal house, Daddy tore it down; the same when Mama stopped raising young chickens in the "brooder house"; the same when they stopped raising hogs and when the "milk house" was no longer needed.  Each had its time.

     From the standpoint of the aged, the dilapidated barn does not represent untidiness or poverty or abandonment, but a loving memory of time spent playing in it, sheltering horses and the buggy here, staying safe in a rain storm, repairing when repair was needed, and allowing chickens to scratch and make little nests in its safe confines.  Barns are often married to farmhouses and they often age gracefully together, though purposes change and costs of maintenance mount.  They age together and greet each other each morn or after the thunder storm.  These may be the last, but they are good years.  When caretakers pass on, the embarrassed descendants may tear barns down, but if heaven graces them well, they will remain as memories among the living.

     Prayer: Lord, let the aged around us teach us something.

The emerald ash borer.
(*Photo courtesy US Department of Agriculture)

August 10, 2012  Time to Talk Tree Troubles: Emerald Ash Borer

     On a moist Saturday morning in early May I had a knock on my door and Sister Theresa said, "Did you see what you missed by not parking your car under the shade tree?"  I looked out and that parking place on the Church lot was filled by a sizeable quantity of branches from that ash tree.  Since I have an additional Mass on Saturday in Menifee County, I decided, when coming in that Friday evening before the storm to park close to my residence.  A one-foot thick branch landed on the tarmac exactly where the Honda would normally be parked -- and would have been totaled. 

      Before determining what was wrong with a seemingly fully greening tree I wondered about the many tree troubles in our woodlands (certain oaks, pines, maples, elms, dogwoods, and hemlocks) and what about our ashes?  What about this invasive thing called the emerald ash borer (EAB)?  This uninvited guest had perhaps arrived in shipping crates from Asia to southeastern Michigan and has become epidemic, not only infesting that state and causing the loss of millions of trees, but now expanded into other eastern Midwestern states, crossed into Ontario and Quebec, and now invade Kentucky and Tennessee.  No one knows where it will end.  Will the demise of our ash trees follow that of the American Chestnut in the early 20th century?  Our local tree expert was quick to come out but said he was certain this was not the culprit -- and our beautiful ash was simply dying of natural causes.  The EAB is still fifty miles away -- we think.

     Invasive species are a wake-up call to specialists.  In the last decade scientists have been hard at work trying to learn about the life cycle of the EAB, early detection, quarantining infested firewood, timber, and other ash wood products, and protecting the remaining ash trees in heavily invested areas.  Insecticides and larva traps are being developed and no matter how much we dislike chemical sprays, there are times when limited amounts of effective agents will have to be used to save our forests; here I perhaps break with the thinking of some purists.  In many ways, this is one of the costly tree epidemics now menacing our forestlands -- and drastic steps must be taken to combat such tree threats.

     The deciduous ash tree in its many varieties (especially the white ash) is native to America and its shade has been its most valued characteristic.  Its winged seeds are prominent and its small flowers furnish pollen that attracts bees.  Because of the ash wood's beauty and strength, it has been used for furniture, tool handles, baskets, and baseball bats, and the wood is strong and workable.  Ashes have become a fixture of our culture within towns, streets, suburban tracts, and even the Henry Clay family estate named "Ashland" -- and other place-name variations.  The beauty of this tree cannot be quantified monetarily, nor can the loss that we are experiencing in our country and Canada.

     Prayer: Lord, teach us to protect our trees, to realize the fragile nature and the rapid spread of tree diseases in our world.

Beauty of an overgrown late summer garden.
(*photo credit)

 August 11, 2012    Time to Think about Autumn Gardens

     Today Dog Days end, as stated on my "ASPI Simple Lifestyle Calendar."  No apologies are needed, and we are fully aware that only about half of summer is over, and still many hot and lazy days remain.  Yes, the peak of greenery is here in rainy years for soybeans, corn, tobacco (in previous times), and grasslands are blazing in greenness along with gardens and fruit trees.  Also the non-cultivated forests are green except for the black locusts and sycamores whose withered leaves show the first hint of autumn. 

     Plan for fall.  Amid it all, NOW (with all the urgency that word can muster) is the time to plant the fall garden.  Let summer lethargy be overcome.  Plan the space well. Sow the autumn turnips on Assumption Day next week according to my Alsatian traditions. It's time to prepare the garden space that will not have cover crops this fall; it's time for salad greens that can satisfy our craving for green things. 

     Obtain the seed.  Consider mustard, kale, collards, spinach, lettuce of various varieties, endive, radishes, arugula, and all the brassicas that have held on during the summer heat along with those that prosper in temperate autumns.  It's an opportunity to add herbs that may prosper (with winter protection) in your locality.  Acquire proper cloth or plastic (or prepare the permanent greenhouse) to protect produce during the winter. 

     Prepare ground.  This may be the perfect Saturday to turn the soil for the autumn garden.  For one thing, some produce (potatoes, beans, etc.) are now far past their prime and need to be harvested, thus freeing land for autumn bounty. 

     Add a little compost to fertilize the salad areas.  An alternative is to stir the ground around the pepper plants and others that will not survive the cooler weather ahead and allow these plants to serve as living mulch when the salad greens seedlings are so young and tender.  The challenge of any autumn garden is starting in hot weather and nursing the plants through proper shade and watering.  For autumn, one can sow either in rows or cover an entire area.  Much depends on your water supply and the amount of space available.  The weeds are not such a bother in autumn as in spring and row cultivating is of less importance.  

     Observe moon signs?  Some will tell me to observe moon signs though that has never been my forte; my parents did to some extent in sowing.  However, I will not refute the practice, and this might have saved me a number of second sowings.  My habit is to sow in intervals in August and September so that if some fail others may hit it right.

     Prayer: Lord, give us the sense of the seasons, weather, climate, and things to grow.  Make us creative in our own simple ways so that we may have ample nutrition in the seasons ahead.

A view beyond...
(*photo credit)

August 12, 2012  Time to See Eucharist as Pledge of Eternal Life

     I am the bread of life. (John 6:48)

     The bread we bake only lasts so long -- but it is from the bounty that God gives us.  The manna in the desert was gathered by day but it had a short duration.  Was not Elijah so depressed that he asked God to take his life for he was devoid of hope?  For some period, we are fed with earthly bread but we crave that which lasts beyond short spans -- we want eternal bread.  Our stomach and our heart do not rest with each physical meal; we desire more and yet we continue consuming the bread of this world that is perishable. 

     In our Gospel passage from John, Chapter Six, Christ promises us eternal bread.  If we feed on Christ's Eucharist we are satisfied. for an introduction to eternity is before us.  Material goods often lead to wanting more material goods, and this sequence continues because material of itself is insatiable.  On the other hand, the Eucharist in which we partake is the perpetuation of the Last Supper when our Savior instituted the Eucharistic sacrifice, which lasts down through the ages.  When Jesus says that we are to be at peace, he pledges to us a route to eternal life.  He entrusts "to his beloved Spouse, the Church, a memorial of his death and resurrection, a sacrament of love, a sign of unity, a bond of charity, a Paschal banquet in which Christ is consumed, the mind is filled with grace, and a pledge of future glory is given to us." Vatican II (Sacrosanctum Concilium 47)

     This great Mystery of Faith gives extended span to the bread we receive in the "Breaking of the Bread," so that it is what St. Irenaeus says, "Our way of thinking is attuned to the Eucharist, and the Eucharist in turn confirms our way of thinking."  Thus, through this memorial of the Lord's passion and resurrection we are elevated to a spiritual plain wherein we leave temporary material satisfaction and enter eternal spiritual gifts.  We are inspired and, as St. Ephrem taught almost two millennia ago, Jesus fills the Eucharist with his spirit. 

     Blessed John Paul II wrote in his Letter on the Eucharist in cosmic terms of uniting Heaven and Earth and permeating all creation through the Eucharist.  In this way, the Eucharist is eternal bread for it brings the spiritual and material into one union and thus, what does not satisfy on a purely physical manner, now becomes the gateway to eternal life.  The Eucharist is the pledge of eternal glory and this gives a certain satisfaction.  The Eucharistic devotion goes beyond being a memorial of the Passover, for through our communion at the altar we are filled with heavenly blessing and grace.  Now the Eucharist is an anticipation of the heavenly glory.  This tells us that victory does not come at this moment, but the materialism in which we are immersed will be defeated and a spiritual future awaits us.  In fact, the Eucharistic pledge is our sure sign that Earthhealing will occur.

     Prayer: Marana tha!  Come Lord Jesus! (Revelations 22:20)

Fresh pawpaw fruits, asimina triloba, from native Kentucky tree.
(*photo credit)

August 13, 2012  Time to Review Preserving Abundant Produce

     Some of us have a compulsion never to waste food.  It may be our communion with the hungry people in other lands to whom our abundance of cucumbers are totally inaccessible, but other foods such as grains can be shared.  It may be knowledge as to how much sweat goes into growing something; it may be residual frugality from Great Depression days.  Whatever, it connects well with the impulse to preserve food for scarce times.  Furthermore, we share with hunter-gatherers who know August is the preserving time of year.  Perhaps we are inclined to sell (if a ready market of surpluses exists) or give to those who have modest means and are short of this particular garden bounty.

     As stated in preserving techniques (July 17, 2008) our forebears dried, stored in the ground (less susceptible to theft and confiscation), or preserved foods through salting, canning or by other ingenious means.  Their goal and ours is to preserve extra produce along with flavor and quality, and to satisfy hunger in times of want.  We have suggested: root cellars (if you can arrange space for one) for a wide variety of fruits and vegetables; canning of fruit, berries and vegetables (in six decades of such preserving my mother never lost a single jar's contents); solar drying (July 18, 2008); pickling (June 17, 2006); and freezing content (the preferred modern approach).  We also recommend leaving root crops in the ground and salad greens protected in non-growing seasons, and to make sorghum from cane (August 30, 2006).

     Intending to preserve is the first step; doing it can take much effort and involve skill and hard work.  I have tried every listed method and admit a series of benefits and difficulties with each.  When options exist, take the easier route if possible.  Freezing almost always saves time, but some produce may lose flavor in the freezer.  Drying has limited applications depending on the climate, types of produce selected, and moisture content of the produce.  Actually the surplus cucumbers and zucchini can be canned, pickled, and refrigerated (combining with peppers, onions and other vegetables in a salty pickling solution and refrigerating if space allows).  That is almost always my surplus crop.

     Preserving foods has many advantages: the process furnishes us additional quality and quantity of produce and thus avoids wastes (just as Jesus made the disciples retrieve the leftovers after the multiplication of loaves).  Preserving food becomes an extended meditation about the bounty we have received in a world of limited resources.  Preserving food teaches us to preserve other aspects of surroundings and life (historic sites, memories of those who passed on, cultural activities, threatened languages and wildlife, and on and on).  Lastly, preserving food is a way of teaching others to respect what they have received and makes them sensitive to sharing with those lacking food.

     Prayer: Bless us, Oh Lord, in these thy gifts that we are about to receive after the regular growing season ends.

Epifagus virginiana, beech drops. Franklin, TN.
(*photo credit)

August 14, 2012  Time to State Reasons Why I Am No Capitalist

     This reflection may be offensive to many who say that all of us benefit from the "fruits" of capitalism and this view shows a lack of gratitude.  Explicit rejection of what is held dear even if the value of the current system is not evaluated may lie behind this opposition.  Looking more deeply, these opponents may find that we have been forced to sacrifice to the state-sponsored religion of Capitalism.  Money is the god, the only system, the religion.

     1. Threatened Salvation: I do not see camels passing through any eyes of needles.  The Lord has spoken, and the commons of the world ought to be shared, not retained by the privileged few.  Our efforts in liberating the rich will help in their salvation.

     2. Fake Promises: "If successful you will be happy" is part of the message of the devil, our baptismal vows ask us to distance ourselves from such a temptation. 

     3. Unsustainability: Capitalism encourages material consumption and makes those who want more acquire an insatiable appetite that could ultimately destroy our fragile Earth.  

     4. False Religion: The Catholic Church never accepted capitalism as it is presently known, only tolerated it minus its blatant excesses.  Why should anyone be beholden to others in monetary matters, and be labeled a capitalistic heretic?

     5. Breed need that feeds of greed: Capitalism, unchecked by regulations created by hired legislators at the behest of super-capitalists, leads to greater and greater greed on all fronts.

     6. Lack of freedom: I do not or have never really borrowed from banks and think the idea repulsive.  Why are people enslaved to a system that exacts interest beyond legitimate service fees?

     7. Hypocrisy: If you are a small backwoods Kentucky moonshiner your still will be destroyed, and you go to jail.  If you are a giant industry you are subsidized by taxpayers (until last month) for making the exact same stuff (100% ethanol) for the addicted automobile.  Similar argument could be made on many addictive medicines that are legally produced by pharmaceutical companies.

     8. Anti-Democratic: This characteristic is the one that is often hidden from the general public, namely, that capitalism breeds privilege for those with material resources, and thus does not allow power to rest with the people where it truly belongs.

     Prayer: Lord, deliver us from the power of the evil one who is closely allied to the current economic system.  Hasten the day for its demise, and the rise of an economic system where all hold resources in common as dramatized by the early Christian community in the Acts of the Apostles.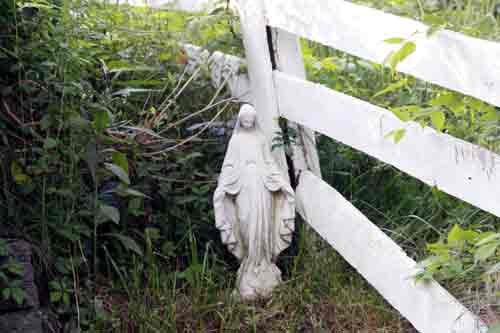 Mary in the garden. Washington Co., KY.
(*photo credit)

August 15, 2012    Time to Stop Pretending: The Assumption

     The Assumption to Mary into heaven is assuming that we are using the word in its root meaning of being "taken up" and not something that occurs by the power of the person involved.  Mary's assumption is the work of God, just as is our acceptance by God and being inspired by God as well.  The play on words here is in contrast to those who seek sources of conflict.  This is not a reflection on Mary's pretending, but how Mary is above pretensions.

     Annunciation.  Mary hears the word of the angel and says immediately "let it be done."  To pretend to need time would show that Mary does not dwell in the eternal NOW of God, the instant that takes no prolonged period for assent to God's will. Mary is ready; she is always an affirmation, a "yes."

     Visitation.  Mary goes to the assistance of her cousin as soon as possible.  She shows her deep realism in the Magnificat, for she understands that the great revolution of God is done through the poor and not the princes of this world.  She never pretends that power lies with the mighty of this world, as many of us do.

     Nativity.  Mary accompanies Joseph to Bethlehem and does not pretend to remain distant, stay at home, and let nature take its course.  She endures the trip and uncertainties with peace of soul.

     Presentation. Mary reflects on the sayings of Simeon in her heart.  An instant NOW does not negate the need for Mary to grow in grace in order to understand the totality of the mission in which she is a part.  We often hesitate and pretend to need time when an instant yes to God's will is needed; we pretend to be able to go about without reflection when we need time for deeper discernment.

     Cana.  Mary tells Jesus that the hosts have run out of wine.  She does not pretend to see a social embarrassment and allow it to continue.  She is sensitive to a perceived bad situation.

     Calvary.  Mary does not have the pretended stamina of the disciples that melted quickly when Jesus is arrested.  Except for John, they go and hide.  Publicly, Mary stands at the foot of the cross, a witness to all who need courage.

     Resurrection.  Mary accepts in faith that God would triumph, and this great unexpected event is a mystery for her as it is for all of us -- and she is first in accepting mystery in life.

     Pentecost.  Mary does not whimper or withdraw into the comfort of her home.  She is present in the assembly when the Holy Spirit descends on the Apostles.  She accepts her role as mother of the Church and joins with others who have different roles from hers.

     Prayer: Lord, help us see Mary as the supreme realist, and then affirm our belief that she goes ahead of us.

Monarch, Danaus plexippus, sunning on the sand.
(*photo credit)

August 16, 2012     Time to Confront Modern Atheism

     Each of these reflections ends with a short prayer -- to God. That is the God to whom this nation trusts.  It is the God who offers us material goods for our use, but not for such idolizing that we become materialists.  Along with believers I pray and speak to the God who is the reality of my life.  I lament that others do not have that same experience, but my lament is of a deeper level: the utter need for God to save our fragile Earth because our addictions run so deep.  See our "Motivation for Activists" now found on this website.

     Current materialism has great similarities to that of the USSR and the communist countries of the past century.  Differences involve the type of force and terror imposed by these former regimes and by North Korea today.  Another more subtle form is utilized by the communist/capitalist amalgam of China today. In some ways this is similar to the current American materialistic capitalism with high levels of incarceration, capital punishment (in the majority of American states), and consumer economies with privileged administrators with disparagingly high incomes and smothered in luxuries.  Perhaps the difference is that capitalism is the undeclared "state" religion of the U.S., whereas China has communism with such an entitlement.  Similarities in standard American and Chinese economic philosophy result in confusion, especially if our religious leaders of many stripes remain silent to the economic and political system in which we are engulfed.

     This brings us to modern atheism.  I have friends who call themselves such, and we have much to discuss.  To one, I told that the vindictive god he gave up in his evangelistic youth was not my personal merciful and tender God.  Lack of satisfaction in the addictive culture with its false gods makes searching people strike out in different ways, and one is to dramatically call themselves "atheists," which could mean a denial of a god of money in which this country has given itself.  Many Americans may say they patriotically "trust in God," but their god is money.

     One may advert to saying they are atheistic to the god of money, but that causes still more confusion.  Is this a clever rationalistic distinction or something deeper?  Really is this not opposition to a false god and a call for the will power to oppose the prevailing culture?  If we do not admit the addictiveness of materialism and the need for a Higher Power, the current confusion continues.  Once admitting the current levels of social addiction, we must as a people change direction, become humble, pray to the Creator of all things and discover a merciful, loving God who is with us.  Our differences are thus more in personally accepting the true nature of our addictive culture; when we fail, we are left with many materialists who say they are worshipers of God --but it is a false god, which confuses many earnest seekers of truth.

     Prayer: Lord, give me the guidance to see and tell the truth and in so doing to find you once more in our collective lives.

Passionflower, Passiflora incarnata, native Kentucky wildflower.
(*photo credit)

August 17, 2012  Time for Conference on Christianity & Ecology?

On this day, a quarter of a century ago, over 500 concerned Christian believers assembled at North Webster, Indiana and conducted the North American Conference on Christianity and Ecology.  This was achieved with only a shoe-string budget, including a small grant from the Oregon Province of the Society of Jesus.  Actually, most of the work was donated volunteer services and travel costs of the amorphous steering committee of which I was elected leader after Professor Maria Jaoudi considered it too burdensome.  The dozen or so who formed that committee got along quite well up to the Conference, and a good feeling might have prevailed if the entire group had not decided for a permanent organization; the infighting that resulted took a heavy toll on me during a rather stressful year involving family death and a murder of our ASPI staff member. 

     We got Wendell Berry to give introductory remarks at the Conference and a host of talks occurred concurrently, the texts of which were only partly preserved in those pre-Internet days; one would be challenged to try to reassemble them.  Perhaps one positive result was the discovery that there are various concepts of how Christians participate in ecological matters; several books that followed express this in some ways -- including the first public mention of Resurrection-Centered Spirituality by Bob Sears, SJ at that meeting (see this Website for the electronic book, Earth Healing: a Resurrection Centered Approach).

      Assembling willing speakers and participants was not near as difficult, for even some non-Christians wanted to display their thoughts and wares, and selecting subjects became a challenge in itself.  Evangelistic folks regard traditional religious expressions as anathema, but the objections were rather subdued during the Conference itself.  Power groups were present and the people from St. John the Divine Cathedral in New York made moves to take over the funding aspects and controls of this movement -- and to some degree they succeeded.  Perhaps one could say that church awareness of the environment crisis was launched at this meeting, even though very few formal church groups were involved. 

     Positive insights only emerged over time.  It proved difficult to work with divergent groups seeking their own pre-set agendas.  Perhaps the best received aspect of the Conference was an environmental art exhibit under the direction of John Freda, the largest such display of environmental art ever assembled up to that time-- and mostly at his own expense and effort.  After a year or so of struggle many of the organization's founders broke away.  Though the name changed from "Christian" to "Religion," another group with the NACCE original name surfaced with little reference to that original Conference.  Now, one answer to the title question is "No," unless it is a teleconference. 

     Prayer: Lord, may all be one in saving our wounded Earth, and do help us see the way to becoming one.
---

Special Reflection: Atheistic Paul Ryan Position
     While this website strives to be non-partisan, an important political issue has arisen that demands urgent attention. With the upcoming nomination process for the Republican Party we are compelled to immediately address this issue.
Attention: Republican Delegates to the National Convention;
and to Tea Party Christians and major church leaders:
     Can you, by action or silence, affirm the nomination to a high federal governmental office (vice presidency) a person (Paul Ryan) who follows the atheistic philosophy of the novelist Ayn Rand?
     Not only does Congressman Ryan admit this fact of influence by Rand, but he shows in his budgetary policy that he espouses Rand's tenets with respect to a laissez-faire capitalism that is unhindered by governmental regulations. It is a philosophy that she wrote about in "The Virtues of Selfishness." This is an utter lack of solidarity with and contempt for the poor -- truly an unchristian position fitting her avowed atheistic materialism as found in many of her novels and writings.
     This is the time to act, for the Paul Ryan position will certainly become a major issue in the coming months. And the national debate will be saddled with the pros and cons of a philosophy so inimical to Christian values. A possible victory of such a person as Paul Ryan in the national election would set this country back in its sense of compassion, and bring about the triumph of a materialism that has been disavowed by all seeking social justice.
                                                                                               The Earthhealing TeamTeam
---
Additional readings on this topic may be found at the following sources:
---

Lovely floral collection at a Texas A&M greenhouse.
(*photo credit)
August 18, 2012  Time to Ask How Survivors Cope with AIDS   
     Bill was the Texas "State Chemist" and operated out of Texas A&M University where he analyzed feeds, fertilizers, and pesticides to ensure they met state regulations.  He and his wife designed a dream house for retirement with an adjacent chemical laboratory for future research -- and they built this dream into reality by his spouse doing all of the stone work.  Bill looked ahead to a well-earned change of life, especially after a mild heart attack; a second attack occurred a year later and he went to Methodist Hospital in Houston for by-pass treatment.  The surgery was successful, but in the process he received several units of AIDS-contaminated blood.  Bill got AIDS only one month before the Red Cross announced testing for AIDS in their blood supply. 
     As the end neared Bill donated his extensive personal laboratory equipment to a non-profit group in Appalachia and supervised its dismantling, packing, and shipping.  As he lay dying, Bill was given some of the first trial AZT medicine, but he was a little too early for both safe blood and full medical treatment -- though he never saw himself as a victim or held anger towards those who perhaps deliberately donated contaminated blood to the Houston blood supply.
     Twenty-five years ago today my younger sister (and Godchild) suffered the loss of her husband, for Bill was her loyal spouse.  Mercifully, with the help of relatives and friends she was able to cope with this loss and yet everything around the place reminded her of Bill.  In those early days of AIDS awareness it was difficult to let go and even sell their wonderful dream house -- but over time she was able to adjust to life without him.

     The stigma is there.  Our heart goes out every time we hear of someone dying from AIDS.  Major stigma is attached to this epidemic  both in this country and even more so in Africa -- and may be why our family history is written in this way.  Not only does such cultural disdain burden dying victims, but also the survivors who must cope with burial, disposal of property, and settling affairs, as loved ones will testify.  Jesus spoke against stigmatizing blindness  and other ailments by saying it was improper to cast blame.  Stigmas have been attached to other maladies throughout history, including tuberculosis well into the twentieth century. 
     Give comfort.  A corporal work of mercy is to bury the dead.  This includes ministering to the often forgotten bereaved.  Many times the bereaved have to work matters out on their own, and this takes time and that is particularly true of cases where society blames victims for getting into death-threatening situations.  Certainly survivors of cancer victims deserve such comfort, but all too often we may hold that in such cases the survivor did not do enough to redirect the victim away from substance abuse.
     Prayer: Lord, show mercy to AIDS victims and survivors; help caregivers extend mercy to all, especially those affected by AIDS.

Fringed polygala, Polygala paucifolia.
(*photo credit)
August 19, 2012  Time for Eucharistic Believers to Help the Needy

     For my flesh is real food and my blood real drink. (John 6:55)
     The Real Presence (August 9, 2009) demands our complete presence physically and spiritually in being HERE at this place, NOW in determining the immediate needs, and acting as a WE in a cooperative manner.  "He simply is not here" may mean that he is physically present but not fully participating in a needed activity; "She doesn't see the need to act;"  "He wants to do everything alone as though he has the power to do it."  Reality involves recognizing needs, realizing that they must be confronted now, and seeing that we need God's help in addressing them.
     Real national budget problems.  Reality is at the heart of the Eucharist, and that means confronting and tackling real issues.  In this year, "real presence" takes on special significance in reference to our Federal budget and being realistic about the implications of all parties.  When one group accepts just about any new proposal for new funding it is unrealistic in an age of overspending.  Also unrealistic is the excuse of national security that America's military expenses must continue at high levels (half of the global military expenditures).  Furthermore, it is unrealistic that the wealthy 1% of Americans ought to have special lower tax rates because they are potential "job creators;" yes, they have created a deceptive job on the public to retain their privileges.

     Community budgets.  As a socially coherent group, we take up work that individuals find too difficult to do alone.  The Lord is with us, and so we realistically attempt to act in a fitting manner, knowing that God is our companion.  We work as modestly endowed people; our time and stamina are limited; our work is never perfect; our ability to include all depends on many factors outside our controls.  However, our enthusiasm stemming from the Real Presence of Christ leads others to grow in confidence.  Jesus asks us to truly believe and to receive the nourishment needed to work together.  This is part of the "mystery of faith" and the eternal life that is to come.  The Eucharist helps us say "yes" to reality.    
     Individual budget.  Trivial details of life blind us to how to focus and to take time to pray for the work ahead.  Our time on Earth is a gift, but limited; our priorities are partly hidden and only sort out through reflection.  Our responses are weak when made alone in a complex and distracted world.  In truth, we have God with us, and each of us can become another "Emmanuel" to an anxious world.  Each of us can grow in the presence of the Lord and receive the Eucharist as our spiritual nourishment.  We can take notice of issues, discern, vote, monitor legislative action, write letters, phone, encourage, and make proper community choices.  We are empowered to act with others. 
     Prayer: Lord, help us see reality in all its complexity and reaffirm that you are willing to help us through our difficulties.

"Catalina," a once-homeless cat who became a beloved pet.
(*photo credit)
August 20, 2012  Time to Be Concerned about Homeless Animals
     Today is Homeless Animal Day, a day worth remembering abandoned pets and discussing the status of threatened and endangered animals whose habitat is being destroyed.  The Great Recession has made pets an added unneeded luxury for some cash strapped households -- and additional pups and kittens are often abandoned.  New wealthy Asians desire hippo tusks and other rare wild animal organs for supposed health reasons and thus the price on the black market is so high that wild populations are in sharp decline.  Homes for pets are scarce; homes for wildlife are unsafe. In the August 21, 2007 "Daily Reflections" we mentioned animal shelters, one remedy for homeless animals.  Of course, such places find it hard to serve stray horses or large wild mammals.  Recall last year about two dozen lions, tigers and other animals got loose from a private animal farm near Zanesville, Ohio, and this created a local crisis until all were rounded up, captured, or shot. 

     People consider it humane to abandon cat or dog litters, hoping that kind-hearted people will give them a home.  Odds are stray animals are reduced to intense hunger and death in painful ways.  Concerned animal lovers know that local animal shelters are the next best thing to adopting the animal on site; however, such shelters are at the mercy of donors with many other outlets for their charity.  The state chapters of the largest animal welfare group, Humane Society of America (the largest animal welfare organization in America), may furnish assistance to help groups in a locality.  So can such organizations as A Voice for Animals, Adopt-a-Pet, and All God's Creatures Rescue.

     Individuals saddled with stray pets could advertise by word of mouth.  Quite often, we stumble on a child whose parent does not have resources to purchase those surprisingly high-priced pets, or to maintain them once acquired.  Children bringing home a stray may not realize the dilemma parents face at that moment.  If such conditions exist, assisting by adopting a pet for others and assisting with feeding, vaccination and neutering costs would be a perfect act of charity for the budding animal lover and the homeless animal as well.  Furthermore, assisting the elderly by establishing bird sanctuaries near them fits into such actions.
     The humanitarian approach is NOT to turn an animal loose somewhere else in hopes a kind heart will give it a home.  That is cruel to all parties.  Introducing "dog-catcher services is a last resort.  "Putting the animal away," means exterminating it as a merciful last alternative.  Sometimes stray animal lovers have far more cats or dogs than they can care for properly -- and the animal is equivalently homeless in improper conditions.  Animal shelters usually strive to be compassionate, but they are not of adequate number and size to handle the volume of the strays all about.  What do you propose in such circumstances?
     Prayer: Lord, direct us to show love for animals by becoming matchmakers for those wanting to get such creatures a loving home.

Dried corn on the ear, escaped from the harvest season.
(*photo credit)

August 21, 2012  Time to Look at Corn Alcohol: Legal Moonshining

     Some years back an NPR reporter, Frank Browning, originally from Kentucky, asked me if I could locate for him an authentic local and illegal moonshiner.  In my youth we bought apples from his Browning family orchard in Fleming County, and so I tried to oblige a former neighbor, but was unsuccessful in finding a willing interviewee.  Yes, "moonshine" with the exact same chemical composition is being produced by the millions of barrels by mega-distilleries throughout the Midwest, and until recently at 46 cents per gallon of taxpayer money.  "Are there stills in Kentucky?" is what Prince Philip, the Queen's husband, asked me at the 1990 environmental dedication National Cathedral in Washington.  I answered yes, and they are still illegal.  However, commercial alcohol of the same composition now comprises about one-tenth of American liquid auto fuel.  Illegal or legal, both products are still "moonshine," except the legal flows in broad daylight.

     Moonshining under any guise is imperfect.  The illegal drink is the least harmful, for it takes only a fraction of the annual corn crop and the consumption is hopefully only occasional.  Legal moonshining is frightening: lasts year it took about forty percent of the corn crop of the U.S., the world's largest corn producer.  Many domestic and foreign processed foods depend on syrup, meal, starch, and other corn products.  As the corn prices tripled in this past decade, we meet prosperous corn growers but disgruntled and often hungry people depending on this staple crop for their food needs.  Higher food prices have confronted many of us who watch our budgets closely as food prices rise sharply.

    The problem is introduced biofuels that are not reducing carbon dioxide emissions as much as originally touted.  All of us were awaiting the insertion of non-food crops such as switchgrass as a biofuel substitute.  Early governmental predictions of production amounts were totally off base and relatively little biofuel from such non-corn sources have reached the market.  Simply removing the subsidy from corn-based ethanol has not been that great an incentive for substitutes moving rapidly from research to commercial production.  The use of the corn crop for the auto fuel tank appears to be with us for some time -- and the ones who suffer most are the poor folks who need lower-priced basic foods.

     Legal moonshining has no place in the renewable energy mix.  However, current practices have prosperous farmers and commercial processors pushing the continued popularity of corn-based ethanol being inserted into gasoline.  In fact, a strong movement is on to increase the percentage of alcohol in auto fuel to 15% ethanol in the next few years.  What seemed at first to be a green renewable energy alternative is turning into a social justice issue, due to higher-priced corn competing as food or fuel. Switchgrass is a long way off, but it certainly would be a welcome moonshine substitute. 

     Prayer: Lord, teach us to use the resources of our world, with global justice as major criteria for our actions.

Pearl crescent butterfly, Phyciodes tharos, widespead eastern U.S. species.
(*photo credit)

August 22, 2012  Time for Ten Travel Hints for Simple Living

     While striving to look more deeply into the basic causes of the environmental crisis, Earthhealers ought to reaffirm the need to live simply so that others may simply live.  Our travel choices are utterly important, and so we ought to recount them:

     1. Review need to travel -- (See August 3, 2009). The basic rule for all, especially those not desiring to over-travel, is to plan how trips can be shortened or combined with other travel needs, and when letters or teleconferencing can be substituted;

     2. Walk or bike on small trips -- (See May 16, 2006).  Far more can be gained by walking when physically able and weather conditions are proper.  Many trips are of one mile or less, and fuel saving would be sizeable if small trips are avoided;    

     3. Carpool or travel with others -- Two or four taking a given trip together can save on fuel and money, as well as the headaches of having more congestion on the highways;

     4. Take public transportation where possible -- This is far more easily done by some than by all.  There are limits to where a mix of private/public transport can be blended for the good of all;

     5. Purchase with auto efficiency in mind -- Higher-priced new or used vehicles that are efficient in fuel use can easily be a good investment over the longer term of vehicle life; 

     6. Upkeep auto -- It seems a heavy cost to keep vehicles in top condition along with tires, filters and other needs, but this adds to fuel savings and life of the vehicle.

     7. Travel light -- (See April 16, 2008).  Not only is this a convenience measure for travelers, but this practice lightens the load on autos and airplanes.  Before a long trip remove a few pounds of accumulated vehicle materials and save travel fuel;

     8. Operate with care -- (See May 31, 2011).  We all need to remember that speeding can reduce auto efficiency.  For over one minute delays we need to recall that to stop and start vehicles saves fuel lost through idling; 

     9. Inflate tires properly -- One area that many of us fail to see the value of is continued observation of tire inflation rates depending on design; 

     10. Don't multi-task -- Much has been said about use of cell phones and texting while driving.  The same can be extended to dialing the radio or eating, or even serious conversation.  

     Prayer: Lord, we are on the road through life and need all the help we can get.  Inspire us to also help others on their journeys
in life.

A burst yellow, a color for autumn.
(*photo credit)

August 23, 2012  Time to Recognize Inordinate Love for Automobiles

      Almost exactly fifty-eight years ago today, I bought a used car to travel during my later college years.  It was a 1950 dark green Oldsmobile with tail fins and in almost perfect shape; the first owners were an elderly couple, the driver of whom passed on soon after purchase.  I really fell in love with that vehicle and found it to be the only thing I really hated to give up when I entered the Society and forfeited ownership of possessions.  In fact, at times in the Novitiate I felt the loss keenly.  Now on the other end of the spectrum of life, I wonder when the definitive day to give up driving will strike me with the same force of giving up that Olds in 1956.

      This brings us to America's and the world's love for the independence, speed, control, and feeling of power found in one's automobile.  The private car has changed cultures and shifted entire populations from cities to suburbs, opened landscape to travel, permitted a false sense of privacy or escape, and proved a danger to occupants and those near the speeding vehicle itself.  A vast amount of attention is given to buying, maintaining, cleaning, repairing, parking, as well as driving such vehicles.  During my career in environmental field work, I put over one million miles on a series of vehicles -- and was told when serving the Church at Somerset by one of the deacons that he had logged two million miles in his work.  My only retort was, "But you are a good driver."  Reduced driving is the order of the day, as is avoiding congested areas and night driving.  The next step is to stop driving all together.  Is this the prelude to dying?

     This brings me to the "inordinate" or somewhat improper love we have for these private vehicles with their promise of freedom and independence.  Whose freedom?  How much freedom?  The very concept of freedom gets confused with inalienable rights, being human, expanding needs, and focusing on material things as extensions of ourselves.  Our minds and hearts are turned to these objects of our possession and means of escape in the world around us.  We pity the unlicensed, the ones who never drive and yet they can be very human and alive.  Is not the auto a condition for being with it?  Is not our economy bound to maintaining vehicles and roads on which they are driven?

     Automobiles fit squarely into the framework of our socially addictive culture, and their presence or absence makes a difference in the ways we act.  Should not this "love affair" with cars be critically examined in depth?  The question reaches further than just drivers and particularly aging drivers.  It is an entire culture that has so much at stake in lands where public transportation is not readily available or bikes have been abandoned.  It is tied to our outlook on life, view of the world, and our particular work and ministry.  Should it be?

     Prayer: Lord, teach us to discover inordinate attachments, and to see how these color the service we ought to render to you.

A bicycle built for two.
(*photo by Emiliano Zapato, Creative Commons)

August 24, 2012      Time to Walk and Time to Bike

      I deplore the cars containing students being driven each morning by parents right up to the school's entrance.  Can't they deposit the youngsters a half block away so the youngsters can get a little exercise?  Maybe the confidence in knowing they are now within the school's safe haven is utterly important in this unsafe world.  Granted, all of us need to walk a little more, parents and students and teachers.  Many have given up daily exercise, and walking is one way to get a measure of that human requirement.  I live one half mile from a convenience store with many food and other selections and, when not making a bulky purchase, I try to combine market with daily exercise.  However, I hardly ever see others doing this in our small town.

     The Native Americans traveled by canoe over vast territory, but some of them also traveled on well-worn paths by foot, even while carrying items of commercial exchange.  Those who tried to accompany some of these hikers discovered how fast they traveled and the many miles traversed on a single trip.  Hiking on the Appalachian Trail was a once-in-a-lifetime feat for one of our proof-readers.  He is one who champions walking -- provided the routes are safe enough from congestion and speeding automobiles.  Much of our highway system is off-limits to walkers (and bikers), as though the contamination might be too dangerous for all.  I will not contest the prohibition but only lament that many urban and rural walkers do not have safe and unhindered walking routes.  With only a fraction of the billions of dollars spent on our Interstate System, we could have suitable paths and trials for strollers, hikers, joggers, and bikers.

     Bikers suffer from shortage of designated routes as do walkers, and often they are even more susceptible to accidents because drivers do not notice them when using the same streets and country roads.  Choosing to bike requires agile and alert individuals who get good exercise but travel amid vehicles that do not observe their presence.  Mishaps occur even without other parties involved so bikers need to wear helmets.  Some states and cities are becoming more biker-friendly with designated routes, lanes, and proper signage for both auto drivers and bikers.

     In Amsterdam I experienced rapid movement of people in a quiet and courteous manner by use of bikes.  Unfortunately, Beijing and other Chinese citizens are rapidly moving from being bike-friendly cities to auto cities with all the additional air pollution associated.  Toronto, Canada is reacting against bikers by removing bike lanes, plus posting a reported $90 fine if a bike bell is not installed on the handlebars.  No doubt, congestion is hard on the bikers and "Rails-to-Trails" (see December 29, 2008) are a godsend for bikers and hikers.  Walkers deserve sidewalks and bikers designated routes -- a neglected national infrastructure.

     Prayer: Lord, protect all who move from home to work and study and back again, especially walkers and bikers.

Young oxen.
(*photo by Norma Nack, Creative Commons)

August 25, 2012  Time to Use Grandpa's Oxen at Church Construction

     In the first quarter of the last century, the master designer and builder, Father Patrick M. Jones left his legacy on the prominent St. Patrick Church in Maysville, Kentucky.  The History of the Diocese of Covington says he inspected every stone and brick as he personally oversaw the construction in 1909 of the 1,200-seat Gothic structure.  My dad said Father Jones would say to his dad, "Peter, we need your oxen to move the stone from the railroad depot." The local Kentucky workhorse teams did not have the strength and endurance to deliver the heavy limestone blocks for the church's foundation.  My grandfather would oblige, for he owned and knew both oxen and horses, for in younger years in forested Alsace he managed oxen in hauling logs in what is now the Vosges Regional Nature Park North.  He knew horses and was caretaker of the Colonel's horse during the Franco-Prussian War.  During the terrible winter of 1870-71 in the siege of Metz he and his hungry comrades-in-arms ate the Colonel's horse. 

     Oxen were certainly part of Grandpa's native land well into the twentieth century.  A photo of the evacuation at the start of World War II in September, 1939 from the home village (near the German border) showed teams of oxen carrying luggage for people to the railroad depot at Reichshoffen.  This was the largest evacuation in France's history from the border to the nation's interior.  The oxen were much a part of the French landscape.  Oxen conveyed a symbol of persistent strength as a rural trademark -- and my folks brought this with them from the Old Country.

    Those of us having the bovine spirit creature (see June 12, 2008) have an innate love of certain creatures -- for it's in my own gene pool to like cows, calves, bisons, and oxen.  There is a sense of fidelity and commitment by the bovine family that gives a special affinity.  It started when I began herding and milking cows at about the age of six and has never left. I always take offence upon hearing that Thomas Aquinas was called a "dumb ox," for I deeply suspected that his detractors had little or no connection with oxen.  Horses are smart and so are members of the cow family, if we only realize their good qualities: contentedness, mildness, fidelity, and understanding of what is needed by the farm managers.

    One of the great tragedies in American history was the mistreatment, slaughter, and ultimate demise of the buffalo herds that roamed the Great Plains, the Eastern herds would pass near my birthplace on their annual trek to the natural salt licks.  Every time I visit Maysville in the "Buffalo Trace Region," I thank God my grandpa and his oxen helped build that imposing church structure.  It is a monument to all parties

     Prayer: Lord, undoubtedly it was an ox that gave the warm breath to comfort your birth in a manger that first Christmas.  What other animal could have had that great privilege and that
awesome responsibility?

Sharing bread with a neighborhood squirrel.
(*photo by Chris Gampat, Creative Commons)

August 26, 2012  Time to See Eucharist as Reverence for Life

     Jesus concludes his discourse on the Eucharist in today's selection from John, Chapter Six.  He challenges his hearers, and many find it hard -- and thus walk away.  On the other hand, the disciples remain and Peter affirms that Jesus has "the words of eternal life."  This affirmation of life and Eucharist combine because the Spirit is life-giving.  We are called to furnish a receptive atmosphere in which the Spirit enlivens us.  Jesus is extremely open in the whole of the Chapter Six discourse: we need to be close to him and believe in the bread of eternal life, a faith that can enliven us in the next world.  This faith invites us to share this great mystery with others in community. 

    In the second reading today we see Paul telling his congregation to defer to one another out of reverence for Christ.  Though he refers to individual persons within a small community, he presents a germ that could be extended to all people and all of creation with an expanding understanding of our role in the world.  Scriptures establish a foundation; the Eucharist establishes a means, a way to expand our vision and understanding of the human role within all of creation.  Thus opens a friends' role to become other christs -- a role we learn through frequent Communion.

     The great medical doctor, thinker, and missionary Albert Schweitzer said in reference to the fullness of our reverence that must extend to all creation: "The ethic of reverence for life comprehends within itself everything that can be described as love, devotion, and sympathy whether in suffering, joy, or effort." (Out of My Life and Thought, Holt, Reinhart, and Winston, 1933, p. 159)
We must devote ourselves to all life with a sense of responsibility in an ever-widening neighborhood of our interconnected planet. 

     The concrete realization of that role in today's needy world is that we must confront the reality of global warming caused by human misdeeds.  We must confront the deniers who would define this as a natural phenomenon divorced from human effects; further, we must challenge the merchants of doubt who make immense profit from the lack of proper regulations and pretending the scientific issue is not settled.  It is the devil's task to divide and conquer acquired wisdom -- and unfortunately it often works.

     We must fall back on what Jesus tells us in the discourse on the Eucharist.  The HERE of our Liturgical celebration is our workplace; the NOW is the urgent call to action; the need is for us as a WE or the Eucharistic community to move together as one people and effect the immense change in which we are empowered as people of faith.

     Prayer: Lord, make us aware of the precious life that is all around us.  Increase our reverence for you by extending it to all creation.  Allow us to understand that our reception of the
Eucharist enhances responsibility for the Earthhealing work ahead.

Common St. Johnswort, Hypericum perforatum.
(*photo credit)

August 27, 2012  Time to Revisit an Authentic Eco-Spirituality

     All who touch our Earth with reverence have an authentic eco-spirituality (June 25, 2012), though we may wish to look more deeply at our reality (August 10, 2010) to discover even deeper aspects and degrees of refinement.  A spirituality is a character or quality that underlies our actions, and includes a motivational force acting from within or through the imploring of a Higher Power to assist us in acting.  An eco-spirituality is generally a sub-set of a comprehensive personal spirituality; this pertains to our relationship to matters of ecological significance such as the motivational force that helps us appreciate our Earth and its creatures.  This specified eco-spirituality involves concerns about our planet's protection. See "Towards an Authentic Eco-Spirituality" on this website.  Three basic principles are:

    * The interconnected relationship of all creation;     
    * The sensitivity to all who have compassion; and
    * The willingness to be open to participation by all people.

    Any authentic spirituality includes interior improvement and exterior service.  Eco-spirituality grows from the local situations outward to the entire world in a maturing process of moving from acting locally to thinking globally.  The first level is when we discover the mysterious world around us, its beauty, and its interrelations with plants, animals and landscape itself.  At this level we experience fragile creation being damaged by exploitation.  HERE includes misdeeds by exploiters and challenges by prophets.

     At the second level efforts are undertaken to go beyond exposing exploitation; we take often imperfect actions to make corrective measures, for we are impelled by the urgency to make change, the NOW.  We become aware of the efforts and sufferings of others and consider in a compassionate manner that nothing is lost, and all is ultimate gain.  However, our work is always for and with others and not in complete solidarity with victims for we do yet see ourselves as victims and culprits. 

     For authentic renewal, a new economics that avoids excessive consumption is essential.  WE cannot succeed alone or in small groups; we need participation by all the people and we need recourse to a Higher Power for we are immersed in addiction.

     An unauthentic eco-spirituality lacks the three elements of awareness, sensitivity to others, and willingness to serve with others for the common good.  These fail to comprehend the fragility of Earth and instead seek imaginary grandeur and selfish ego- satisfaction.  Those who take no responsibility, regard suffering as meaningless, and grasp material things as only useful when self-satisfaction fails an authenticity test.  With no sensitivity to suffering, some prefer escape mechanisms and fail to undertake teamwork to repair a damaged world with its social addictions. 
    
     Prayer: Lord, mold us into authentic Earthhealers.

Prairie dog (Cynomys), North Dakota.
(*photo credit)

August 28, 2012  Time to Ask Whether Creation-Centeredness Is "Junk"

     A junk eco-spirituality is one that is not capable of addressing the problems facing our wounded Earth.  Not all types of spirituality are good, for Nazis were "spiritual" in a diabolic way, and materialists can be inspired to make money their god.  Discernment of spirits acknowledges the titanic battle being waged between global good and bad spirits.  An authentic eco-spirituality does not deny problems, seek excuses for not being involved, or seek to escape into other allurements.  From a Christian theological standpoint the threefold components involve creation, redemption, and resurrection.  From secular ecological endeavors, these involve: pinpointing and challenging environmental damage; promoting appropriate technologies to answer existing problems; and addressing the dysfunctional causes of the crisis.

      "Creation-Centered Spirituality" (CCS) is highly popular today, but has its flaws (see Earth Healing, Chapter Two on this website and freely download).  Certainly all creatures are the focus of that spirituality and a certain connectedness is affirmed.  However, an authentic eco-spirituality must be based on local conditions, and subject to creativity of each person's unique stance.  Those who base their CCS on elite interpretations of experts deny true creativity and reduce their insights to a borrowed spirituality.  Yes, we all see the basic unity of all being, but we do so through our own senses and thus each has his or her eco-spirituality at this first level of action.

     The second stage involves repair of environmental damage.  While some CCS folks are repairers, other theoretical CCS adherents find a major hurdle, if they refrain from having a practical streak.  CCS people generally share a sense of urgency to do something NOW though that may be limited to telling others about the urgency.  Rather, an authentic eco-spirituality involves an appropriate technology that is prime to solving the existing problems on our wounded Earth.  We must do more than announce damage; we must begin NOW to strive to improve.  This defines a spirituality of working to heal what is damaged in part by our action or inaction and tolerance of culprits.  Thus an eco-spirituality must involve touching our Earth in practical ways.

     At the third level of action, CCS becomes a possible candidate for junk status (namely failure to address actual healing of our wounded Earth).  An authentic eco-spirituality confronts a consumerist economy as a malfunctioning source of disparity of wealth and wasteful use of resources.  CCS ignores the primacy of social change and the inherent addictiveness of our culture.  Addicts do not function well in self-improving intellectual exercises.  It takes will power.  CCS evades a consideration of redemption and the depths of human powerlessness.  Recourse to a Higher Power is absent, and retirement of the Bible in favor of evolutionary theory is no proper answer.

     Prayer: Lord, help us speak frankly about eco-spirituality.

Wildflowers emerge from stump of fallen tree. Woodford Co., KY.
(*photo credit)
August 29, 2012  Time to Promote Resurrection Spirituality
      Why is a Redemption-Centered Spirituality (RCS) that was first introduced 25 years ago so lacking in acceptance?  There are several possible answers.  First, RCS was written in our own publications without a national audience and thus was never widely discussed.  In essence it is a theological concept with practical applications, which have only more recently been clarified.  We are only gradually coming to the concept of social addiction as presented in the appendix to Earth Healing: A Resurrection Centered Approach in the 2011 edition (now electronically on this website).  The need for an addicted culture to find God in order to be renewed is key to RCS acceptance.
     Second, the approach has Christian theological implications that render less appealing to a secular world.  The mystery of the Resurrection is at the heart of Christian belief, and so the RCS is more easily grasped as part of a core Christian message.  Even here some evangelicals believe that Earth is a preparatory ground that has limited value, and its major worth is as a stepping stone to heaven.  RCS has not yet crossed the threshold of acceptability by more traditional Christians who await catastrophic events to modify the dysfunctional economic system in which we are immersed.
     Third, implications for completion of the process and resulting actions are daunting.  We must all acknowledge the damages being done ecologically to our Earth, our own weaknesses in trying to correct these in effective ways, and the need to see that this is not only a matter of rationality but of will power, for we are socially an addicted people.  Such admission of submission to God and our need for a Higher Power runs counter to a culture that attempts to pull itself up by its own bootstraps.

Fourth, the results demand radical action once we see the dysfunctionality of the current economic system as cause of the environmental crisis.  Who dares to propose such profound change when all that we do in life depends on this overpowering capitalistic system with salaries, investments, retirement, credit, and inheritance?  Only believers in the Resurrection will discover the empowerment that comes with faith to confront an apparently overwhelming system -- a system that we who are Christian must be pledged to bring down with all due speed and thoroughness. 
     These hurdles confront those of us with limited skills and other resources -- but our faith is in the Magnificat, that the princes will be brought low and those in low places rise.  While the Internet allows for wider circulation, the rash of Facebook's 900 million subscribers and the now millions of websites make this message diluted among a world of competing information outlets.  Must we await a future catastrophe to trigger serious discussion?
     Hardly, for rather we must truly believe in the Resurrection.
     Prayer: Lord, enable us to proclaim the Resurrection event with all its implications to a world in desperate need.

Mysterious moon, seen as rising through clouds.
(*photo credit)

August 30, 2012  Time Once in a Blue Moon to See Godliness in Work

     Today, as once in a blue moon I introduce a highly influential article, i.e., Lionel Casson's "Godliness & Work" in Science 81, 2, p. 36-42, (1981).  In a nut shell, Casson asks why the Greeks invented steam engines and didn't use them (except for toys and novelties); he asked how the Romans knew about water wheels but disdained them.  And in an age when Christianity is under severe criticism, he tells us that Christianity changed all of that for the better.  The fact was that the classic era did not see the potential for modern technologies (only using wind for sailing), nor care to utilize labor-saving operations.  Western monks did care. 

     In essence, Casson dismisses the arguments made by some Marxists that the slavery of Greek and Roman times was inexpensive enough to make labor-saving devices unnecessary.  Rather, he argues that slaves were quite expensive and had to be maintained year round and their upkeep was costly.  He also dismissed a second reason that cheap plentiful labor (slave or free) existed -- which he says was never the case in ancient agrarian society.  The disdain that the ancient cultures had for craft workers (not the products) was so intense that no one seemed to care how long a laborer slaved for the project's success.  Intellectuals had no sense of worth for the practical work itself -- the grimy and sweaty folk labor needed to build houses and to grind grain.

     Casson says the difference came when Christianity gained an ascendancy following Rome's decline, first with the so-called Dark Ages about 1000 A.D., and later when lights came on again in the Middle Ages.  By 1200 A.D. no community in Europe lacked a water mill that ground grain and performed other tasks: drove trip hammers and saws, filled the bellows of furnaces, turned grindstones to finish and polish weapons, crushed stone, and reduced pigments for paints, pulp for paper and mash for beer.  He said that by 1086 England alone had 5,624 water mills.  Wind was even more dramatic and continued year-round even in freezing weather.  By 1300 wind mills dotted all of northern Europe.

     The Christianity that directed Medieval life from cradle to grave saw the rise of monasteries -- oases for the arts of civilization.  Here prayer, study, and education occurred along with an organized routine of manual work to produce food, clothing, and shelter.  The prejudice of working with one's hands was absent.  Labor was as much as prayer a religious act.  "Just as ancients saw no reason to make manual labor easier or more efficient, the monks saw no reason not."  In this period Casson writes about advances of technology from heavy industry to making clocks and giant organs. One could add that the time to pray was precious for all people.  Dignified rest time for all demanded Sundays and feast days where all could rest and pray, and servile work forbidden.  Labor savings was of utmost importance for the good of a worshipping community.

     Prayer: Lord, inspire us to champion the dignity of work, and help us demand free time for all to be able to pray and reflect.

The common morning glory, always on time.
(*photo credit)

August 31, 2012    Time to Gather More Time Sayings

       There is a season for everything, a time for every occupation under heaven.  (Ecclesiastes 3:1)

Time flies...
when one is having fun.
Time marches on; time passes on.
Time won't stand still.
Time to look back.
Time passes with the blink of an eye.
Time cannot be controlled, only lived.
Time of youth was here awhile and then gone.
Time slips by between dawn and dusk. (Eccles. 18:26)
Time is hardly mortal when we believe in eternity.
Time seems long but is a ripple, a blink, a mere moment.
Time is gone -- there is nothing left.
Time to die...
"but there's more to do."
"give me a little more, Lord."
Time does not belong to us; we are borrowers.
Time is a priceless resource.
Time to finish an exam is short, ever so short.
Time takes its toll.
Time shows its face on our face.
Time can be the "best and the worst of times."
Time out -- and regain your composure.
Time in -- let's play ball.
Time is never repeated -- only reconstructed in our minds.
Time to live; time to die.
Time measures the precious sands of life.
Time is measured in imperfect ways.
Time costs money.
Time is all we have when awaiting an answer.
Time speaks in our wrinkled hands.
Time as mortal is fleeting.
Time machines are the work of dreamers.
Time is beyond the imagination.
Time is served -- in prison, in senior citizen homes.
Time is an unrecognized potential.
Time is the gateway to eternity.
Time is all preparation -- never a free moment.
Time is free to declare and to honor.
Time passes; God remains.
Time becomes NOW when we decide to act.
Time is always opportunity for those who hope.
Time cures old hurts.
Time is a continual offer to change.  
Time is short when answers are required.
Time is no permanent hot seat -- only a cold moving slide.

     Prayer: Oh timeless One, enough has been said here!  Fill my unfulfilled span in better ways to cope with the current time.