An eco-spirituality through the seasons
By Al Fritsch, SJ
CONTENTS
* Table of Contents
* Introduction
* January
* February
* March
* April
* May
* June
* July
* August
* September
* October
* November
* December
* Appendix

ECO-SPIRITUALITY IN DECEMBER

December is a beginning and an ending: the beginning of the
new liturgical year and the ending of the calendar year. In some
ways this month is the story of our lives -- we move from dramatic
events of birth and death through the slow process of just living
and growing. December is the time of hidden growth and maturation.

Growth. Many farmers know that winter starts the new growing
season, but this growth is hidden from view because it is within
the root system of plants. Radical growth occurs here and now at
the start of winter and thus this is the perfect time for us to
consider our maturation in our life's spiritual journey. Spiritual
growth continues to occur almost imperceptibly even when our
physical energy diminishes through aging; this requires our faith,
patience, fortitude, hope and love. We are coming to see who we
are and where we are heading.

Change. Much of December is Advent, a season of watchful
waiting for the coming of the Lord. The vigilance demanded at this
time is not one of sitting and looking up to the heavens for some
miracle to occur, but an active participation in life's journey.
We are like guards protecting a warehouse; dutifully we give full
attention and are prepared for all unexpected eventualities.

HERE. At Christmas we approach the creche in a childlike
manner and announce by our presence that Jesus comes to us as a
helpless infant. His coming is an invitation for us to be HERE and
open our hearts to the floodtide of the Christmas spirit. His re-
presentation makes us re-present our life's journey, a time of
precious review of a process punctuated by important events.

NOW. We ask the questions during this season: How well did I
use my time this past year? How much better will I use the coming
year? Past experience and future anticipation merge into the
celebratory NOW, a time of review, a time of resolution. Isn't
that the heart of spiritual growth -- knowing where we came from
and where we are heading, or our ultimate direction? Yes, this is
a time for major or minor readjustment in our directional bearing.

WE. This is a season of intensive hospitality. We are more
aware that others hurt deeply through isolation during this period
of family celebration. So many seasonal expressions are made for
peace and harmony among people of good will. Compassionate care is
expressed through letters, calls, visits, gift giving, and meals.
Knowing and loving expressed in meaningful deeds is a trinitarian
process.

In summary, December concludes a yearly journey and includes
the pause and rest before launching on the next leg of the journey
that will end in life everlasting. Review, testing ourselves, and
resolution all combine into one during this period. It is time to
see God in all things in a more explicit manner. And all the while
we say, "Come Lord Jesus!"

A. EXPERIENCE OF LIFE EVERLASTING

The culminating experience must be one of happiness, or else
why move to the end? It is the desire to increase this happiness
among all people that motivates us to review and improve our
spiritual journey. Our presence is God's presence and so, like
Mary on the road to Bethlehem, we are bringing forth the hidden
Christ to a world craving to be loved. Thus we relive Christmas
both in childlike terms to recapture the spirit, and in human terms
to find how we can be incarnating agents in this troubled world.

The union of divine and human characteristics as healers
becomes a challenge that takes us to the limits of our experiences.
A good beginning may be to those who are in most need of God and
human compassion, those who are forcefully isolated for one or
other reason. Sensitivity causes us to go out to them in a very
special way.

Next, we try to extend the spirit of this season through a
variety of ways. The gap between those who sing and those who
listen narrows considerably with mutual songs springing up in our
hearts. People become united by the sung word first sung by
angelic choirs and now by human ones. Somehow singing becomes
incarnating, and Christmas is when that becomes better known.

The spirit of the season includes the pungent natural scents
perceived through our nostrils. Nature has a way of adding to the
rhythms of the time -- in both faint and dramatic ways. We have to
recognize each as part of the inviting celebration.

Sharing with what we have is the key to this season. Some
creativity is demanded during the year but never to such a degree
as in December since every word has been spoken and every
conceivable gift given. However, many are hungry not for novelty
but for simple gifts; satisfying that desire is such a lofty goal.

Lastly, the humble hug becomes the experience that all need
and few ask for except in extreme circumstances. Today in this
troubled world and in this starting period of winter the hug means
so much to those who are out in the cold. Our Earth needs to be
hugged but our arm's span is far too short, unless we unite with
all other peoples. Then we can reach around the planet.

The paradox is that one might expect that with time the
culmination of an eco-spirituality is more on a rational plane and
less on the experiential. Ironically, rationalists now discover
that being closer to Earth makes the experiential all the more
vivid, raises new questions, and demands new inquiry. What went
around, comes around. Experience and understanding follow all our
footprints in dogtrot pattern.


1. Glistening Razor Fence at Manchester Prison

The spirit of the Lord Yahweh has been given to me,
for Yahweh has anointed me,
sending me to bring good news to the poor,
to bind up hearts that are broken;
to proclaim liberty to captives,
freedom to those in prison. (Isaiah 61:1)

Being able to serve the prisoners at Manchester on a periodic
basis is one of the great blessings. They need me and I most
certainly need them.

For one brief moment Manchester Prison seems like a giant
Christmas display set amid the hills of Appalachia. But on closer
inspection one finds razor wire, guard posts, and a vast
corrections institution. When the spotlights are shining during a
wintry night, the place sparkles like sprawling shrubs with a
million Christmas lights. But behind the glittering wire, a
thousand unfortunate prisoners are cast away from society. Some
keep the secrets of their own offenses in fear of being shunned by
fellow prisoners. Some remember the hurt caused loved ones back
home. Others regret the loss of time that could have been used to
make a decent living for their families. All hurt separately.

Prisons in Appalachia have become a growth industry, an
opportunity for employment for local people. America has more
prisoners per capita than any other industrialized nation. We
incarcerate them in expensive institutions, and overlook programs
through which convicts could make positive contributions to
society. We as a people have much to learn, even from primitive
cultures, on how to rehabilitate offenders. Can't a free society
find better methods for social reincorporation than razor wire?

2. Christmas-Caroling

And suddenly with the angel there was a great throng
of the heavenly host, praising God and singing:
Glory to God in highest heaven. (Luke 2:13-14a)

Even when merely listening we enter into Christmas carolling.
Thank heavens some take the time to get us in the Christmas spirit.

Singing is part of the mountain people's life, because it is
part of the mountains themselves -- for the very mountains sing
along with all creation. However, singing extends into the
spiritual realms of the angelic choir as well. The arrival of an
awaited One, expected for thousands of years, is something Earth,
animals, people, and angels find joy in expressing. Someone starts
the religious chant and others take it up. That's the mountain way
of expressing religious fervor. And that joy is not only
contained in the hills but goes upward to the heavens.

The whole universe and all its good creatures break into
emotion-charged singing. The song waves go out from one singing
group to the next, a concatenation of singing groups, each
expressing joy in its own song. Soon everyone breaks out into
melody, and the vibrational ripple effect spreads, moving forward
to the entire universe -- the Savior comes! Sounds and harmonious
vibrations extend out in a poetic and physical way through the
"ether" of the universe. And strangely enough there is a harmony,
not evident at first, but more audibly felt with time by those of
us who are near. Yes, we are all getting into the rhythm of
things, the voices of other folks, the strumming of the fiddle and
the sound of the harp, and drum, and dulcimer. All sing "glory"!

3. The Humble Christmas Cedar Tree

I will plant it on the high mountain of Israel.
It will sprout branches and bear fruit,
and become a noble cedar.
Every kind of bird will live beneath it,
every winged creature rest in the shade of its branches.
And every tree of the field will learn
that I, Yahweh am the one
who stunts tall trees and makes the low ones grow,
who withers green trees and makes the withered green.
I, Yahweh, have spoken, and I will do it.
(Ezekiel 17:23-24)

Our Christmas time always had its special songs, religious
events, foods, and gift-givings. At our household, we even as
youngsters, did not hold the myth of Santa Claus --who could fit
down our chimney? However, a generous uncle would suddenly appear
on the Eve and frighten us all -- and we all tried to guess who.
The tradition in our family that was most enduring was going out a
weekend before Christmas to select a native red cedar (Juniperus
virginiana); this "tree" would reign supreme and be decorated for
a whole month in a prominent place in our home. Our farm had
limestone soil and more than enough cedars, a "weed" bush.
However, the selected one would fill our house with a beautiful
scent, which reminds me of the coming of the Lord -- simple but
exalted and fitting in perfectly during that post-depression era.

No tree scent tops that of the humble cedar. Yes, some folks
regard cedars as pests, but we saw them as friends -- and made them
feel privileged as well. The cedar is bushy and makes a good
hedge, is green the year round, and tolerant of air pollutants; its
wood stays intact and proves itself to be an excellent preservative
when fashioned into containers (the cedar chest). And cedars make
wonderfully fragrant decorative boughs, bearing the nobility
conferred in Old Testament times on their far taller cousins, the
cedars of Lebanon. God's advent in flesh to us is to simple
people, in simple hill country, in a mere stable, amid farm
animals, and with no safe home place. The Christmas message is
told by Appalachia's humblest tree, if we but listen.

4. Providing Christmas Treats

Why spend your money on what is not bread,
your wages on what fails to satisfy?
Listen, listen to me, and you will have good things to eat
and rich food to enjoy. (Isaiah 55:2)

Christmas meant for me the taste of oranges -- a rare treat
for that occasion. Now, sixty some years later, citrus fruit is
always found in our grocery stores. It now takes an extra effort
to realize the bounty we have before us. And appreciation of what
we have is through sharing with people who are less fortunate.
That is an Appalachian tradition, especially at Christmas time.

Americans often turn their attention to what is not yet
achieved and make every effort to attain more and more material
goods which, in turn, do not truly satisfy. That is a secular and
materialistic "Christmas" message. In order to combat this, all of
us need to spend greater effort in pursuing spiritual growth, in
acquiring awareness of the Divine Presence in our limited span of
time. We are called to pray for that awareness of God's presence,
especially at Christmas when the Lord comes in a special way into
our lives. Let's remember at Christmas the have-nots of the world
and send donations for those who are far away, and Christmas
baskets to those near at home. On another level let's work so
that the hunger of so many may be relieved by socially just
policies in afflicted lands. We are blessed by having plenty at
this time. It is our task to extend those blessings to others who
are in need -- and Christmas is a good time to begin.


5. A Time for Everything

There is a season for everything,
a time for every occupation under heaven:
....a time for embracing,
a time to refrain from embracing. (Ecclesiastes 3:1, 5b)

Each of us know when another calls out for some sympathy and
when this person must be left alone. Somehow as we move towards
the end of the journey of faith we become more sensitive because we
are coming to know our own time and that God is beckoning us.

To embrace another has its special place at times of mourning,
on arrivals and departures, within sincere fellowship, with
congratulations, and in times of need and sickness. The gesture
says more than words, brings a sense of togetherness, and expresses
both compassion and joy. Just as there are times for embraces,
there are times when others need to be left alone, to figure things
out by themselves; they need their personal sacred space, and we
are better folks for honoring their wishes. If we are sensitive
people, we know when to approach and when to stand back. Thank
heavens for sensitive people, who know the sacred space of others,
especially those who hurt. And there are plenty who hurt.

B. REFLECTIONS ON ANTICIPATING THE EVERLASTING LIFE

And the life of the world to come. The Nicene Creed

We stand in anticipation of greater things with all the people
of God who suffer from hunger and disease and basic needs of all
sorts. We are in solidarity because we are one with them.

Emerging awareness. As our world comes together more closely
through mass communications we see our neighbors more clearly, and
thus we become more mindful of extended responsibilities. And
these are quite time sensitive for, if we do not act, others are in
danger from lack of housing or food. We are becoming aware that we
must act. We cannot remain pampered elite who may sit back and
watch the Lord do miracles for our satisfaction. We are humble
servants, not masters. But as servants in the midst of global
process we suddenly see the shining face of Jesus shining up from
every creature. It is not a miracle; it is a reality that our
blindness has caused us to overlook.

Catalysts. The yeast is needed to raise the dough; we are
needed to raise the consciousness of a world in need of seeing how
serious is the task before us. We are called to be watchful people
become as catalysts we are to hasten Earthhealing. We are as
consecrated people to be in strategic locations to interconnect
with co-workers to bring about needed change.

Presence. Jesus comes to us in three ways: He came that
first Christmas as historic emergency in our midst; Jesus comes
now in the Eucharist as sacramental presence and nourishment for
our continued journey; Jesus will come again as Lord of the
universe delivering over the Kingdom to the Father -- a solemn
giving at which we will be present. But these presences also
remind us that our mission includes a re-presentation. We were
baptized into the Divine Family; we are called to live our calling
in mission; we will accompany the Lord in glory.

Moment. Now is the acceptable time; now is the day of
salvation. In an unrealistic manner, we can live in the dreamy
past or in a visionary future, or we can deaden our sense through
drugs and forget about now. This precious moment of reality is
more real now in the end of the year than at the beginning, for we
are ever more aware of the urgency of our calling. To hasten the
coming of the Lord is all wrapped up with establishing social
justice today for justice cannot wait.

Community. Our consecration is together with others and not
alone. I cannot save this troubled world alone, but we can -- if
we work together. When we consider growth in consciousness and
meaningful change, the need for cooperative endeavors becomes a key
ingredient. What we sense is that our efforts must be a collective
endeavor requiring all the ingenuity that we can muster at this
time, all the patience, and considerable forbearance.

1. A Third Level of Growth: Seeing God in All Things

If you read my words, you will have some idea of the depths
that I see in the mystery of Christ. This mystery that has now
been revealed through the Spirit to his holy apostles and prophets
was unknown to any men in past generations; it means that pagans
now share the same inheritance, that they are parts of the same
body, and that the same promise has been made to them, in Christ
Jesus, through the gospel. (Ephesians 3:4-6)

My ordination prayer card from Abbey Press says, "Faith is
seeing the brilliant continence of Christ looking up at us from
every creature." The author is unmentioned, but the quotation has
always offered me a challenge. Do I see this continence on my
journey of faith? Am I blind or must I put on glasses? Is
perceiving the presence of God in all creation a goal, a gift, a
hope, an invitation? The Christic continence emerges with time.

In November, I recall my book, Renew the Face of the Earth,
(Chicago: Loyola Press, 1987). In that book was developed the
process of our growth of consciousness. Just as Christ grew in age
and wisdom (Luke's Gospel), and just as the Church grew in
understanding of herself and her mission (Acts of the Apostles),
so each of us grows in our journey of faith through maturation and
growth in consciousness. Amazingly, social awareness is the first
of the components perceived by those within a formal community of
believers; a maturing sense of our end as we seek to confront our
mortality and a destiny ahead. We thrive within a multidimensional
community of believers; we journey in a finite span of time
enlightened through faith. Just as we grow in a consciousness of
telos through our social awareness, so we become more aware of our
social dimension through awareness of the anticipated end. Both
work in tandem.

Christic continence. Now, after two decades of reflection, a
third component of our growth in awareness emerges -- that of
Divine Presence in our midst. The other two previously conceived
components related to the WE (social awareness) and the NOW
(teleological awareness). What emerges here is the Presence of God
-- an immanent HERE, a "Mystery beyond" now consciously present --
not that God has traveled, but that I have journeyed. Though God
is always within, we create distances through imperfections. This
emerging component is not so much a new dimension as a focal
center, a pervasive and enlivening atmosphere of Presence, an
emerging of continence, a re-presentation. The HERE is not out
there or beyond or the negation of either as separate; the HERE is
truly ecological, holy and consecrated -- and our awareness grows.

We speak of this capitalized Presence, since this is divine
Mystery hidden and has now been revealed through the Spirit to us
all. We acknowledge ourselves as present to God, because God is as
always present to us. Ours is a spiritual awareness that is
dependent on both time and society: temporally, because it takes
time to come to this; socially, because the support and
encouragement of others is necessary to mature. This Presence is
both divine and human; it defines who we are, where our environment
fits into the picture, and our need for social relations to grow
spiritually.

Awareness of the place of creative activity. In a passive
way, some people may be tempted to acknowledge their impending end
in God's good time and await the coming of the Lord in blissful
lethargy. St. Paul confronts this false notion in his Letters to
the Thessalonians. However, we must not sit idly by but
acknowledge and accept our humble station in life -- and this is a
noble calling and a mobile station for it invites movement.
Through our own creative activity, we find God's Presence in other
creatures: plants and animals and heavenly bodies all around us.
Through our human struggles and weaknesses we discover Divine love
and mercy manifested through covenants and rainbows, by sending
prophets and, in the fullness of time, sending the promised
Messiah. Such activities are not merely academic exercises and
insights. Rather, as mentioned in the early months, these
activities involve a reverential attitude towards all creation --
an atmosphere needed for continued spiritual growth. Without
reverence we suffocate; through humble work this reverence grows.

Seeking and finding proper places. We focus on the person of
Christ in whom all creatures have their being (Colossians 1:16),
for here is the fullness of one whom we can see and strive to
follow. God is everywhere. In seeking God in all things we search
in the hidden recesses of Earth and find a treasure of the Kingdom
-- the pearl of a great price. We open our eyes, follow the
prompting of the Spirit, and search about; we discover hidden
things not fortuitously, but deliberately. From the many treasures
we treasure what we discover -- we find God in all our limited
observables. Each finding is connected in some mysterious way to
another and another, so that the total process becomes part of the
divine flavor experienced in discovery. Actually, this process is
more like learning to cook than like treasure-seeking: each edible
ingredient becomes not the only jewel but a priceless spice when
blended. We seek to connect place A with place B, person A with
person B. As biological catalysts we become effective when we fit
into certain vital notches and, through this fitting, we allow
rapid change to occur. We fit into social grooves and, in the
specific location and through proper timing, we effect change.

Awareness of redemptive action: acceptable time and place.
Timing is of the essence, lest the catalytic fitting not occur.
Now being the acceptable time means that we have a place in history
that is measured in time sequences, and our growth in awareness is
part of the process. We realize that Jesus freely accepts his role
and his mission of healing and teaching, suffering and dying; from
the Calvary event springs a ray of liberation that reaches out and
embraces us all where we are. Place becomes holy in the blood of
Christ; place becomes consecrated when we enter in with Christ in
a formal manner. By accepting our place and position in life we
feel comfortable and willing to participate in a fuller manner.
Time makes us currently aware of where we are and allows us to
accept our role of suffering servants in a troubled world and to
see our place through God's love and mercy.

Seeking and finding our proper time. In a fleeting moment of
gratitude we realize that God has privileged us to be here and now
at this place and during these troubled times. However, we have
our limits in energy (that comes with aging), and so we strive to
be conscious of time. Mindful of change of seasons and times of
day, we now recognize our need for rest when exhausted. We
establish harmony by taking proper time to work and rest. Yes, our
physical energy waxes and gradually wanes, but our growth in
spiritual consciousness continues to grow over time. We are people
in process and this inherently has a temporal dimension; we are on
the road to our destined end. Within our newly discovered place
with God, we discover new horizons, and these involve time. The
future emerges as a twofold reality: we accept inevitable aging
and our natural bodily diminishment; and we define our future
through spiritual growth with its temporal component. Our time, as
well as our place, is a gift.

Awareness of emergence of direction for and with others.
God's healing power goes out to all the world through us as
inspired and formal agents of change. We are people who gradually
become aware of our emerging place and our limited time. Within
our believing community (consecrated HERE), and in these final
times (consecrated NOW), we learn forgiveness and a sharing in
Jesus' saving work of redemption (consecrated WE). Three levels of
awareness emerge: that of space (immanent Divine Presence), of
time (definitive end) and of social cooperation (social justice) --
and the three are conjoined mysteries, separate and yet
interrelated. And this interrelationship grows as the
consciousness of God's Presence emerges. When taken as a total,
still more is perceived: HERE centers and focuses our direction;
NOW extends it out in a ray to a distant end point; WE becomes the
field in which we operate and move. Proper direction is the vector
that includes our movement to end and our social awareness of all
who move; improper direction is to neglect or disregard one or
other of these components of our journey of faith.

Finding God in Others: a mystical experience. If God is to
be found in all things, our search should focus on those who are
created most to God's image and likeness. This seeking God in and
through other persons is not to be conceived of as a distraction or
a detour. We may see their talents for what they are and either
envy them or appreciate them as gifts from the divine Source -- and
that is Good News. Even our presence to other people and our
desire to communicate God's presence are a gift that both we and
they are invited to acknowledge in a joint atmosphere of
thanksgiving and mystery. They remind us that our journey to God
is for the most part social in nature -- though God may certainly
comfort the isolated soul. Our searching becomes part of an act of
love -- of both God and neighbor -- and thus bears the imprint of
the basic Christian public testimony: "see how they love one
another." And love is wrapped in mystery so that, by seeking to
find God in others, we experience a foretaste of the ultimate
mystical experience.

This experience can be highly fruitful, for God invites us
through others to become doubly creative: we discover God's
creativity in the uniqueness of ourselves; and we are encouraged to
assist others to grow in creativity as well. But does this
interaction only involve human beings? From what was said in
January, we know that mystery extends to all of creation. Thus to
seek God in others goes beyond the human sphere. In one sense,
people are correct in saying they find God in nature; in another
sense, they are selfish, if they regard their individual quest as
sufficient, apart from a believing community. Earthhealing is
inherently social, and thus a quest that is not communicated to
other people in some manner lacks the healing power we all must
exercise at this critical time.

In summary, our growth in consciousness involves specific
place (our current stance), time (the present moment), and
creatures in our support community. Although we are restless, we
can still have a simultaneous sense of peace -- our searching is on
the right track that includes an inherent restlessness. Through
the eyes of faith we see that our eco-spiritual search (as all
spiritual searches) is directed to finding God as a terminus of our
restlessness. What we have not yet reached, impels us forward and
stimulates our enthusiasm; the urgency to remove barriers of
segregation is based on the desire to be all in all. Our being
HERE with God allows us to be centered and not thrash about for new
direction. WE includes all creation: as the subject of our search,
encouragement in our ongoing quest; emerging vision of the unity of
all being; and stimulus for our enthusiasm.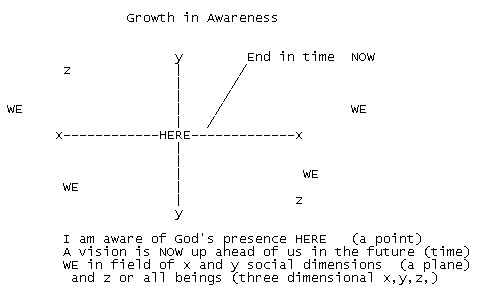 2. Catalysts of Change

Since everything is coming to an end like this, you should be
living holy and saintly lives, while you wait and long for the Day
of God to come, when the sky will dissolve in flames and the
elements melt in the heat. What we are waiting for is what he
promised: the New Heavens and New Earth, the place where
righteousness will be at home. (II Peter 3:11-13)

With growing awareness of ebbing physical energy, my
impatience grows. As I age I see I cannot run but must walk.
While I can drive I must not drive in the darkened evening hours
because of limited peripheral vision. When growing a garden, I can
handle only so much space in the year and that shrinks with age.
Diminishment occurs and should be both understood and maybe
welcomed. For God is ever nearer to those in greater need. And
that is part of maturity; we know and adjust to our limitations.

We have a role to play for we are not passive observers on the
scene of this world. Jesus spends too much time in preparing for
the coming of the Kingdom to leave the disciples as mere spokes;
they and now we are wheels of change. Jesus uses a host of
symbols; He is the light of the world, but so are we; he is salt
and so are we; he is leaven and so are we. All three of these
common symbols can produce catalytic effects in one or other way.
While we move to eternal light, we are also catalytic light that
triggers life and photosynthetic growth. Yes, we are ongoing
catalysts, mindful of proper placement and timing, and aware that
the catalyst is properly placed so actions (chemical or biological
activity) may occur. Thus the consecrated nature is our solemn
commitment in faith to be at the proper place at the proper time --
and then the catalytic action can occur.

Through our baptism we become agents of change -- enzymes,
leaven, yeast, chemical catalysts, all dynamic strategic agents;
we are called to leaven the global dough and allow it to rise but,
as mentioned in May, we are immersed in the dough. Healing Earth
requires our concerted local and global interaction. Dough needs
yeast in order to rise, and we immerse ourselves in strategic
locations to cause leavening to happen. The kingdom of heaven is
like the yeast a woman took and mixed in with three measures of
flour till it was leavened all through (Matthew 13:33, also Luke
13:20-21). Jesus' choice of women as the primary leaven is quite
significant and invites deeper consideration.

Leaven of Earth. This section's beginning quotation from the
Second Letter of Peter deserves further reflection. It is
translated differently in various texts. To long for and wait for
the coming of the Lord is somewhat passive and does not necessarily
contain an active characteristic. The Holy Bible New International
Version says, "as you look to the day of God and speed its coming."
A slightly different translation is found in the Inclusive New
Testament with the words, "Look for the day of God, and try to
hasten it along" (II Peter 3:12). The concept of speeding or
hastening (speudonitas in Greek) is affirmed by scholars and thus
Peter's words contain an active sense of our participation in the
upcoming event. To hasten is to accelerate much like leaven as
meant in Jesus' teachings about the coming of the Kingdom of God.
This means that an eschatology involves our participation, not our
mere viewing from a distance.

An emerging advent. St. Peter tells us that our lives must be
godly, for the work ahead is so demanding. Within a godly life we
see our place, our time and our need for assistance from and among
others. The transformation that is occurring is truly dramatic and
we have to be prepared for what lies ahead -- always watchful, but
not in a passive manner. True watchfulness is for the advent of
Christ who came forth from the womb, emerges in our midst, and will
come again. Some 2000 years ago, Christ came unto his own; today,
the continence of Christ emerges from the creatures all around; in
an indefinite future, Christ will come again and we hope to be his
heralds.

Accelerating acts. To hasten is to accelerate, and that means
increasing the speed of the process of our growth in consciousness.
Individually, we become informed as to urgent needs and we respond,
and the act of communicating (through the Internet) and response
can be hastened by a sense of responsibility. Collectively, the
same is true both on small group or larger global levels.
Placement and timing are of the essence. If an environmental
disaster occurs or a region suffers hunger, the effective response
time is quite critical. People working together and conscious of
each other's needs, enhance awareness -- a feedback loop of all who
are people of good will. However, the process is not automatic or
always moving towards progress, for process is not always and
everywhere progressive; freedom is involved. Hindrances, such as
environmental damage or national refusal for peace keepers to
operate need to be exposed and overcome, and that takes watchful
vigilance and international cooperative efforts -- and prayers.
Catalysts are fragile and need to be protected from poisoning.

Wanting God to Come. Through God's grace and our active
cooperation, good can and will conquer -- but deceleration may take
a heavy toll in time. In practicing our faith, we are drawn to
contribute most fully through godly work, and this will hasten the
Day of the Lord. But do we desire it and do we desire it openly?
As a community of faith we can publicly affirm that good will win
out, for we are not silent faith "remnants" unless we are
undergoing persecution. In seeking and finding God on the personal
and communal levels, we need to say -- "the Day of the Lord is
desirable." For better or worse, it is our feet that are on the
gas pedal, our hands on the tools, and our eyes on destiny; but we
must also articulate that we want the Lord to come. It is in
Scripture, it is a prayer, it is found in liturgical songs. We
need to make it a real petition, and we need to confront those who
do not want acceleration.

Homemakers in the making. Finally, righteousness will be at
home only when we realize that we are this Earth's humble
homemakers. Homemaking may not always be regarded as the most
illustrious undertaking, yet it is important enough to demand the
attention of a large portion of the human race. We cannot mess up
our home for that is a hindrance to the coming of the Lord. The
ecos must be maintained, cleaned up, healed, protected, and
improved. Healing becomes a part of this homemaking, and the more
we assume the healing ministry, the greater the acceleration. In
recent times some fundamentalist Christians dismissed the
conservation of resources and improvement of environment saying the
world will soon end. This is tempting God, for it considers that
an all good and merciful God will reward those who mess up our
Earth. It is similar to people disregarding their health with the
naive belief that God will perform a miracle to save them.

Hospitality, homemaking and dangers. Welcoming others is part
of authentic homemaking, for the prevailing atmosphere of the place
must be one of inviting others to come no matter how humble. Even
affluent and expensive places can be cold and uninviting. Let's
face it, an Earth in which the affluent "have's" consume a great
portion of resources and the "have nots" go hungry is not an
inviting place. Affluence suffocates us by drawing attention to
luxury demands and unimportant trivia, by making us self-centered
and forgetful of others, and by preventing us from hearing the
cries of the poor; affluence leads to generating excessive wastes
from extensive resource use and piping these wastes to poor places.
Rather than making Earth a home, affluence segregates the people
and creates the gated-communities that ultimately damage the global
home -- and decelerates the efforts to hasten the day of the Lord.
Delicate catalysts can be easily poisoned -- and affluence is a
major source of poison. If we regard Earth as merely a temporary
way station on the road to eternal life, we distance ourselves from
an authentic eco-spirituality. On the other hand, if meaningful
work will endure in some fashion, our sense of HERE and NOW
deepens. A HERE is more than ecological presence; a NOW is more
than knowing the seasons and time of day; a WE is more than the
community of all creatures. We are transformed through consecrated
host into consecrated WE, as hosts in the humbling task of building
our Earthly home.

The coming Kingdom of God. To say "Thy Kingdom Come" becomes
more than a prayer, a hope, and a yearning: factually, we are
within an emerging Kingdom that is only partly realized;
prayerfully, we pray for the courage to undertake our role of
becoming catalysts within the Divine Family (immersing ourselves as
change agents in a troubled world); hopefully, we will exercise our
freedom through an authentic eco-spirituality in a proper placement
and at proper times for the work to be done as a healing community;
and finally we need to articulate our yearning for the coming of
the Lord. We cannot do this alone whether individually or as an
enlightened people; we need God's help. Catalysts are fragile and
easily deactivated; only God among us is our protection and our
work is always within the Divine Family. Only in unison can we
hasten the Day of the Lord.

3. Consecrated HERE: Promise or Peril

Lord, make me an instrument of your peace --
Where there is hatred ... let me sow love,
Where there is injury ... pardon,
Where there is doubt ... faith,
Where there is despair ... hope,
Where there is darkness ... light,
Where there is sadness ... joy.
Divine Master, grant that I may not so much seek
To be consoled ... as to console,
To be understood ... as to understand,
To be loved .... as to love.
For it is in giving ... that we receive,
It is in pardoning ... that we are pardoned,
It is in dying ... that we are born to eternal life.
(Prayer of St. Francis)

I was driving back to my residence when I noticed the street
sign a block away saying "No outlet." It struck me that this poor
Appalachian place is the end of my road. I am assured through
prayer that this is truly the proper place at the proper time --
and a sense of peace returns. "No outlet" means it is time to
focus on what needs to be done here and now.

Believers arrive at different conclusions about the condition
of our Earth. A pessimistic HERE has sound scientific basis:
global warming, ice cap melting, slowing of Gulf Stream; rising
sea levels; deforestation, rapid spread of exotic invasive species,
AIDS epidemic, etc. Some say Earth is irreparably damaged. On the
other side one can cite an optimistic HERE: the United Nations,
Kyoto Treaty, international hunger relief, global tsunami warning
systems, emerging international police force, wind power, Internet,
medical breakthroughs, etc. Both point and counterpoint can be
offered for every peril and every promise. The current ecological
HERE is quite complex, and scientific and sociological evidence
points to this. A realistic HERE accepts that both co-exist and
must be weighed with discernment.

Realistic presence. The consecrated HERE is a personal
commitment to know our precise present condition and to see this
through prayerful discernment. In fact, we can struggle by listing
the different positions on certain issues. If languages are
disappearing at a rate of one every two weeks in the twenty-first
century this seems a cultural horror story. The counterweight is
that more and more people have a facility with one or other of the
world's major languages -- and that allows for better
communication. The realistic approach may be to acknowledge both
facts and actively support preservation of the threatened language
while encouraging the support of second major language learning.
Eco-spirituality seeks solutions to present problems while
acknowledging the good on all sides. What is a peril can be
transformed into a promise through proper controls and efforts.
Consecrated HERE involves the sacred commitment to finding a
transforming solution and to doing so in a realistic manner that
avoids the panic of the over-pessimistic and the false sense of
well being of the over-optimistic.

Technical presence. Today, we have certain technological
innovations that allow communications to cover great distances in
extremely short periods of time. Through cell phones and e-mails
we are connected with others in ways that were impossible only a
few years ago. Thus a sense of awareness of others grows through
these technological instruments and the benefit and value of these
instruments grow with each passing day. But the brilliance of
promise can be marred by spam, pornographic sites, disparaging
remarks, and many other perils. A danger is that what is now
available to the general public will for the sake of "regulation"
be privatized, and the general access in the public domain will be
closed. Individually, we may not be more wise nor able to retain
more information, but our access makes information easier to find.
However the power of the promises indicates the perverse power of
inherent perils. With growing technical presence come growing
responsibilities. We can be catalysts touching different parts of
a living organism at the right time and place, but our influence
can be easily poisoned. Increased technical presence demands a
consecrated HERE.

Divine Presence. God is everywhere, and perceived as present
in special places. A consecrated HERE may involve the heart of a
person. But the hour will come -- in fact it is here already --
when true worshippers will worship the Father in spirit and truth:
that is the kind of worshipper the Father wants (John 4:23). We are
temples of the Holy Spirit and re-presenting ones, for God is
present within us and we testify to this Presence through our
actions. Awareness of this Divine Presence impels us to redouble
our respect for fellow human beings -- a respect that extends out
to a fundamental commitment to being pro-life. If God is truly
everywhere, then the Divine Presence extends to all places and also
in a special way to designated or sacred places: tabernacles,
churches, shrines, Mount Zion, etc. God's Presence invites our
personal response, and a consecrated HERE takes on enhanced
significance for it becomes the occasion for our public testimony
to the Divine Presence.

Union of divine and human. In September, we saw that an
understanding of technology springs out of the Eucharistic
consecrating act; through God's grace we are empowered to transform
matter into the divine. Thus human beings no longer fear matter
but feel comfortable working with it and transforming it. If so,
then we who are consecrated through baptism have a godly role to
play in furthering the ecological HERE. Each of us is not two
human beings but a single individual believer, called in our utter
humanness and yet called to be other christs; we are aware of
being in the world at the same time we are aware that God dwells
within us and that we are empowered to proclaim the Divine
Presence. We are certainly not Christ, but we are other christs
individually and the Body of Christ collectively. As Teresa of
Avila says, we are the hands, feet and eyes of Christ. We are not
the Son who was begotten from all eternity, but we are called to
share eternally (an everlasting life) within the Divine Family.
Likewise, from all eternity we, like Mary though far less
privileged, have been in the mind of God. Within our being unite
human need of our neighbor and God's direction of our action. And
an awareness of the divine and human grows with time.

The divine springs forth. We look again at early reflections
(March) and affirm with growing awareness that God emerges not just
as a transcendent external source; God, as Mystery, emerges from
within as we grow in awareness. God incarnate is among us -- and
we know this both from Scripture and from our very lived spiritual
experience. Through the nourishing food of the Eucharist we grow
in this awareness of Presence -- and this we must if we are to
hasten the coming of the Lord. The utter cry from our heart is not
only a cry for another but a cry with another. The Holy Other
emerges from within only when we accept this emergence as part of
our being. Thus our fiat allows the emergence to occur in full
visibility. When we as formal Church become more acutely aware of
the God within, we will be more able to call for the culmination of
all things. Even our power to enter into the healing mission must
spring forth from within us as a consecrated body -- but we have a
role to play just as Mary did at the Incarnation. God Presence
emerges through our individual and collective fiat (let it be) for
God wishes to work through us. This immense mission comes with all
its responsibilities: the more we become aware of our neighbor's
needs, the more we seek the end; the more we become aware of the
need to move forward, the more we call upon God's Presence from
within. Come forth Lord Jesus!

Right place. Peace involves knowing we are at the right place
at the right time. Awareness of being properly placed is God's
gift. Through a combination of Church mandates, community needs,
personal willingness, and human condition many of us are where we
are -- though some may feel out of place. For those of us
satisfied with our calling, we know we cannot be just anywhere; we
are HERE at this moment. We are called by God to be at the right
place at the right time -- and not "no-where" or just "anywhere,"
or just an indifferent "somewhere." HERE is a special place for me
and is not a matter of pure chance, and God is here with me. The
house servants are not off fishing when the house is on fire;
rather, the servants are present, helping to organize a fire
brigade to address the impending crisis; so we as faithful servants
must be present in our troubled world.

The culmination of all things is to occur when this awareness
of emerging Presence becomes overwhelming. It is when, within an
anguish for bringing all to completion, we pray most sincerely Come
Lord Jesus (Revelations 22:20). When does this occur? In God's
good time. Thus we need to focus on present place which is a
determinate place. We cannot determine both current place and
final time because of an inherent indeterminacy -- so let us focus
on where we are right now. Then our time will be better spent.

4. Consecrated for Healing: HERE, NOW and WE

Now be patient, brothers and sisters, until the Lord's coming.
Think of the farmer: how patiently he waits for the precious fruit
of the ground until it has had the autumn rains and the spring
rains! You too have to be patient; do not lose heart, because the
Lord's coming will be soon. (James 4: 7-8)

Every time I plant seeds, I wonder whether they will sprout,
have sufficient moisture in the critical early stage, grow into
mature plants, and eventually bear fruit. This inherent
uncertainty is coupled with the need for a gardener's patience.
Certainly much depends on factors over which I have no control --
and that is part of my underlying restlessness. And yet through
gardening I learn to be patient. Extend this to ecological
issues: the crop is healing the wounded garden called Earth; I am
the actor and yet I seek to learn through the assistance of the
Divine Presence within, the consecrated HERE. But uncertainty
persists that pertains to my human efforts: the urgent eco-justice
issues before me and the shortness of time to address these issues.
Time will not wait. Justice cannot wait. The dilemma is the story
of my ministry: and this urgency creates a holy impatience;
cooperative efforts call for patience, and there seems to be some
disharmony. But God is within.

This dilemma that includes limited abilities and time and
urgent need for assistance from others is at the heart of
Earthhealing. Much has to be done now and yet adjusting the social
structure to handle the situation takes patience. Is one interior
tendency leading to inner tranquility a distraction or in need of
adjustment, and are other external factors worthy of all one's
attention and focus? Or can we have a simultaneity of patience and
holy impatience? How do we resolve these seemingly irreconcilable
tendencies within the human person -- if that is possible? Can we
find the tendency to peace in harmony with a basic restlessness?
And is there some sort of mystical union that is emerging that
creates a sense of harmony?

Stewardship as an imperfect exercise. In this journey through
the seasons we have not emphasized "stewardship" (responsible
service) to a noticeable degree. This is because the concept has
been given a capitalistic coloring that is foreign to my personal
economics. Stewardship has been interpreted as exercised by a
responsible banker who is inspired to dole out his "possessions" to
those in greater need. But are they really his possessions, or do
they belong to those in need? This conception of measured giving
goes counter to Jesus' sayings, for he does not speak highly of
tithing because he seeks people who are committed to perfection and
total giving of self. Granted the doling out by the wealthy is a
beginning level of charity -- but it is not perfect and is
dangerous in this age when immense resources must not be hoarded
but distributed. Jesus calls for giving out and not having any
reservation -- but this may pertain as much to time as to money.

Deeper eco-stewarding. Stewardship does have a certain deeper
meaning with respect to responsible action: realizing a socio-
economic need and giving this a temporal dimension --just as one
describes driving distances in congested areas in terms of minutes
or hours. In this regard, we become stewards of our time: we
become aware of the urgency to heal Earth and the shortness of time
to complete the task. The focus is social awareness of need and
the shortness of time to respond to that need. Amazingly, this is
the same urgency that motivated the apostles to go out to all the
world with the Good News and has motivated missionaries ever since.
Traditional evangelization contains these elements of urgency both
of need and of shortness of time in which to address the need.
What has gone out of favor is the urgency to act now, since it is
two millennia and Jesus has not yet returned.

Beginnings of resolution. Again, in realizing the shortness
of life (Psalm 90:12) we seek the wisdom of heart by turning to our
God within. Awareness of urgency creates a holy impatience, but
this requires patience when realizing that the responsibility is
more than what an individual agent can achieve. Harmonizing the
patience with impatience is a challenge. On reflection, we realize
we cannot effect change alone, travel alone, and succeed alone in
isolation except in a dream world. We are not alone; God is with
us, author of all including our energy and time. What we do
depends on the Divine Dispenser for we owe all to God. But if our
energy and time are gifts, we must act responsibly with them -- and
the placement and timing as well as cooperative assistance from
others takes effort on the part of an individual change agent.
Awareness of placement (HERE), propitious timing (NOW), and
cooperative interaction (WE) must be consecrated (or seen as
directed by God) lest we burn out. We could learn from saints such
as Theresa of Lisieux how to integrate this sense of Divine
Presence, a gift acquired in her early years (much like a young
musical prodigy), and how urgency is compatible with peace of soul.

Hidden aspects of resolution. Does our insensitivity fostered
by affluence block us from resolution of our struggle for patience
in a world calling out for change? If we so much as pose this
question, can we see this as a gift of grace? Are we willing to go
farther and turn insights into action? How can we do so in a
meaningful manner without losing our peace of soul? We seek to
establish a common ground of contemplative and practical time, when
reflective elite meets with humble and practical peasant. Is not
this ragtag assemblage a prelude of eternal unity? But can our
seasons be tranquil when some are blessed with abundance and others
cry in want? Maybe the striving for an imperfect and insensitive
tranquility is a work of diabolic powers bent on slowing the
process of the coming of the Kingdom. Cannot the discomfort of the
hungry and poor be globalized so that we all feel it to some degree
in lands of abundance? And is part of our mission to extend this
holy restlessness to all the insensitive in this world -- a
social/teleological awareness strategy that needs attention? I
have come to bring fire to the Earth, and how I wish it were
blazing already! (Luke 12:49)

Inspired restlessness. Maybe, just maybe, a proper eco-
spiritual discernment leads us to find that inherent restlessness
is a good thing -- a prompting by the God who is within. We are
not only prompted to address the social injustice in our troubled
world, but we are also made aware that this festering social
disorder holds back the world process to its final culmination.
The consecrated NOW becomes a holy moment for action that is
frustrated by insensitivity and desire for comfort. We are not to
procrastinate or be tempted to meaningless action. To "hasten"
means to move to the eternal NOW when the present struggle will
vanish. Limited time is in urgent need of focus and planning, and
tranquility keeps us from panicking. Through divine light we see
clearly that individual and corporate selfishness and greed hold
back the coming of the Lord. And we allow this to happen? No
wonder God inspires us to a holy restlessness. It must resemble
the many examples of anguish that Jesus showed in his public
ministry (seeing sheep without a shepherd, fields white with the
harvest, the lack of laborers, the ravages caused by sin and
injustice) and yet Jesus manifested the Divine within. May our
holy restlessness grow and be balanced by interior peace so as to
be other christs.

Various obstacles: The time is short; the needs are great;
and yet human beings seek to compensate and turn away from what
gives them discomfort. Often tempted individuals and groups create
or raise up external obstacles. As individuals, we run from
problems by denying their existence, excusing ourselves because of
weaknesses, or escaping to comfort zones of drugs, alcohol, sex,
television chatter, or cell phone conversation; as communities, we
hold on to what we regard as safe havens of untenable comfort; and
as nations, we put vast resources into military security, counter-
terrorist measures, and preemptory strikes against those who
threaten security. All of these approaches are mirages. Holding
on to affluence is ultimately impossible and thus is the root of a
false restlessness that so easily leads to violence. The gulf
between rich and poor continues to grow, and this distance spawns
the terrorism that is the whirlwind for the economic comfort zones
of this divided Earth. To allow these obstacles whether of an
individual or social nature to go unchallenged is a sure way to
retard the coming of the kingdom. And herein lies holy impatience.

Confronting obstacles. Excessive use of resources could bring
ruin to our fragile Earth when others are in desperate need of the
basics of life. Excessive consumption is such that it can only
continue because of the insecurity that is generated under such
socially unjust conditions. This insecurity grows when the poor
take matters into their own hands either by erecting barricades or
by acts of covert and less controllable terrorism. The
impoverished may and do take matters into their own hands -- and
violence grows on all fronts. The time to confront these unjust
conditions and their accompanying violent reactions is now. The
issues are certainly unsettling. God's Presence shakes us and
moves us to action, and the sureness that we are moving in the
right direction is what brings peace of soul. Excessive wealth and
consumption opportunities that result in a materialistic society
must be confronted, and this is our calling. The militarism --
soldiers, weapons, military bases -- is the direct result of these
unjust conditions. And we must be bold.

Seizing the moment. Our NOW includes the following points:

* The conditions for violence and revolution grow through a
disparity of social and economic conditions;
* Getting addicted affluent people to change their ways is
nearly impossible, given the present conditions;
* Using violent means either to retain wealth or to take what
is rightfully the commons for all the people is wrong;
* Earthhealing involves confronting the unjust conditions that
are all around us, but to do so in a non-violent manner;
* And many aspiring healers lack the courage to take stands
that are confrontational in nature. Consecration calls us to do
just this, for God is within. Now is the acceptable time!

Cooperative action. Encouragement to overcome obstacles to
the coming of the Kingdom is a community enterprise. A
phenomenology of one's journey of faith involves "I" the pilgrim
becoming a disciple and missionary "we," and then the maturing
pilgrims moving together from ecologically conceived independence,
through a dependence on God in my life to a sense of
interdependence embracing others who are also on their respective
journeys. Discernment is a process of discovering self, our
relations with the God within, and the need to cooperate with other
agents of change; these agents help us detect detours and navigate
the stony paths of life: allurements, temptations to settle for
comfortable affluence, and discouragement. They assist us to grow
in reverence for all creation through prophetic word and loving but
non-violent service.

Prophetic word must be individualized. The primacy of
prophetic word can transform the consecrated individual agent.
Obviously, wrongdoing must be confronted within ourselves -- though
many ecological prophets exclusively address social and corporate
misdeeds distant from their own persons. The true prophet helps
create an uncomfortable condition within, for prophetic work cuts
deeply into the marrow of selfishness -- and on top of this it may
precipitate hostile and even violent reaction. Necessary
correction of ways is a risky business. In eco-spirituality, one
form of correction needs special attention: our failure to see God
in others. A shallow prophetic witnessing involves seeing the
faults exclusively in others -- and Jesus tells us to be careful
about that agenda. On the other hand in purifying ourselves, we
discover the God within both self and others -- their talents and
gifts, often undeveloped, overlooked, belittled, or taken for
granted. Prophets can proclaim Good News: we are all potential
healers and we are all needed in the Earthhealing mission. When
used properly, the talents of others will have immense benefit for
the common good; when used improperly they can cause massive social
disruption and retard the hastening process. Prophetic word must
unearth undeveloped talents even more than the wrongdoing of
others. Development of these is needed for authentic Earthhealing.

Loving service must be globalized. It takes effort to
maintain enthusiasm, especially during winter. A cozy hibernation
seems inviting, but a consecrated awareness of mission impels us to
go outdoors even in inclement weather. The parable of the Sower
(Matthew 13) tells us that we are both enthusiastic sowers and the
seeds sown on fertile ground yielding a hundredfold. The promise
is a plentiful harvest, but that is achieved through proper timing
(sowing at the right season) and proper placement in fertile ground
(not among brambles or footpaths). My local sowing is not enough;
we need a league of sowers engaged in a collaborative effort, for
the harvest needed is far larger than a single sower's work. The
action must eventually be globalized.

The Spirit harmonizes. The task before us is immense; we are
not just to become aware of the Divine Presence (HERE) and the
necessity to hasten the Day of the Lord (NOW), but we must engage
with others in restoring all things in harmony. Such an
inspiration cannot originate except from the Holy Spirit who is
capable of such harmonizing. In finding a peace of soul within, we
discover our place, a stationary point of departure and direction,
a divine inspiring source; in noting our basic restlessness, we
discover something lacking or limiting, namely, our limited time
and our lack of cooperation among agents of change. We are
inspired to attend to human sufferings and confront human
weaknesses and that includes our own limitations. Harmony allows
for inner peace and restlessness -- and this is our incarnation:
the God within taking on human limitations and needs.

God's gift of harmony. The issue at the start of this section
relates to our new-found tranquility through God's Presence and our
fundamental restlessness in a troubled world. Loving God is
primary; loving neighbor impels us to move out to attend to their
needs. Inner harmony allows us to heal a wounded Earth with full
awareness of our limitations and of God's Presence. Healing Earth
involves knowing that it takes a unique union of divine harmonizing
and human effort. We cannot act alone; we need God to stabilize
(give us placement and timing), and we need the cooperative efforts
of a community journeying together in faith.

Happiness. Since eternal happiness is our ultimate goal,
healers attempt to define some of the elements in which happiness
consists: peace of soul, hard work, solidarity among the poor, and
growing social, teleological and mystical consciousness. We
celebrate by radically sharing with all people in their happy
moments. We become all the more aware that segregation, disunity
and all forms of wrongdoing -- of which we can enumerate many
varieties -- bring unhappiness. All things considered, our healing
mission must be enjoyable as indicated by our December reflections:
God gives us peace even amid the turmoil of this world. We
discover this peace in the incarnate Lord who brings peace, who is
our model, and who inspires us to undertake the mission of healing.

5. Our Journey in Faith

I tell you most solemnly, when you were young
you put on your belt and walked where you liked;
but when you grow old you will stretch out your hands,
and someone else will put a belt round you
and take you where you would rather not go. (John 21:18)

It has been a long journey since Earth Day, 1970. Then, it
appeared that environmental corrections would be a temporary matter
and require moderate readjustment. Through the ensuing years the
difficulties have grown even while moderate environmental progress
has been made. We have entered ever deeper levels of awareness of
what needs to be done, and technical changes are now seen as part
of a far broader picture involving political, economic and social
changes as well. As we approach the time of the Coming of the Lord
our responsibilities grow.

In order to adjust to a long-term journey, we need to
summarize our eco-spiritual insights of this past year for each
increment of time. We entered the year knowing full well that an
ecological consciousness requires awareness of the local HERE and
NOW, aspects often omitted by other eco-spiritual discussions. To
repeat introductory remarks, the temptation is to generalize in
order to capture a wider audience. However, I have tried to
balance experiences from my local background with the need to move
forward to more generalized conclusions that apply to Earthhealers
throughout the world. To do so requires that they respect where I
am coming from -- my HERE and NOW. Through mutual respect we can
grow together and I must listen to the other's HERE and NOW as both
different and shared; we all need to be ecologically grounded.

Introductory Position: We Must Have Mutual Respect by All

A mutual respect for specific local place and time of all
people is the very atmosphere in which environmental healing may
occur. This is pre-conditional and cannot be overlooked nor
minimized. Any forthcoming and mutually cooperating WE must
include allowances for our relative positions of space and time,
for the local conditions not only color but influence the
characteristics of an emerging eco-spirituality. From an
ecological standpoint we are confident that the same patterns of
healing will emerge though expressed in different ways. Those who
omit the local HERE and NOW get lost in their directional bearings
and can only confuse the discussion, not make it more complex.
Individual paths lead to the Light, but our individual paths merge
into a well worn pilgrim's highway; both the paths and the highway
are part of a vital network and both are needed for the blood of
vitality to flow in the healing process.

January's Discovery: Creation Unveils a Deep Sense of Mystery

January is the month of new life, for plant roots are starting
to grow as we awaken in winter's deep sleep. We glimpse into the
depths of Divine Mystery, but admit that we cannot fully see, for
snow-covered winter is fraught with mystery within, without and
beyond. We hear our individual call and find it as both event
(repeated) and process (ever deepening); even the hills and valleys
invite us to uncover Earth's deeper mysteries. We taste the
sweetness of God's creation, both the microcosmos beneath our feet
and the macrocosmic universe far beyond. Both the distances and
dynamics of our world manifest the glory of God and the origins of
our world. We detect the aroma of harmony that embraces our hands,
head and heart; this harmony finds expression in art, science and
all human undertakings. Finally, we feel the exuberance of
creative activity, especially within the dignity of manual labor.
In winter, we are aware of our sensory perceptions and our
experiences both individual and communal, all giving some clues to
the deeper Mystery beyond, for ultimately only God is true Mystery.

February's Invitation: We Must Experience This Suffering Earth

In the grayness of February, we come face to face with our
individual and collective wrongdoing - the gray naked fields show
their scars. A long litany of ecological damage has resulted
through greed and insensitivity - to people and to Earth herself.
More is involved than sins of corporate greed and intertwined
governmental acquiescence; the blame includes our own individual
unwillingness to assess and address problems and to work together
for solutions. We stumble when not looking; we hear the sounds of
discordance and turn away; we savor a chance to deny, excuse and
escape; we are drawn by the aroma of sanctity and yet often turn to
local allurements; and we are touched by a sense of compassion or
suffering with others, but often find the spirituality of endurance
to be so difficult. To simply describe disasters and not address
major sources of troubles makes us uneasy, for it skirts underlying
issues. Responses go beyond non-confrontational simple living
techniques, though these are important to implement. Confrontation
is necessary even when difficult, for this requires our own
purification and self-denial so as to gain the courage to become
authentic Earthhealers. But the mystery of suffering remains, and
we can only concede that God gives it ultimate meaning.

March's Demand: We Seek a Model Who Is Radically Compassionate

How can we do the work towards which we are called without
some perfect model for healing, teaching and confronting others?
As Christians, we turn to Jesus and find him to be a model of love
and mercy, of balance and harmony, of action and passion. Christ's
redemptive mission includes this most perfect and harmonious person
who is able to perfectly balance mercy and anger in his public
ministry. As we meditate on Jesus, we discover God's harmony at
work in a perfect person, one most fitting to imitate. After
seeing God's glorious creation and then glimpsing an earthly
desolation, we look again. We see a blinding transfiguration:
Jesus is consoled and offers this to us -- a simultaneous awareness
of Earth's raw experience and Heaven's ultimate victory. As
disciples and healers, we learn to suffer with others in a
compassionate manner; as activists, we must be willing to respond
with courage. We can experience the pain of a wounded world
acutely, face desolation squarely, and yet await ongoing
consolation. Only God can be our model at so important a task --
and our God is one of us. We search; we hear God's Word; we
"enflesh" it with our own special earthly experiences. As we
imitate Christ, who is divine and human, we find enough compassion
to be human and godly.

April's Election: Eco-Justice and Social Justice are One

In changing April, we take on spring housecleaning that
requires radical rethinking of our stance. Using Jesus as our
model, we extend our vision to the whole world. We can no longer
tolerate the division of haves and have nots in this world. God
creates a world with enough for everyone, and yet some have too
much and others not enough. God's mercy extends especially to
those who suffer most through sacrificing service, for the Spirit
inspires us to extend love to all. The word is Good News,
liberating news, a legacy, a living will, not specifying a
theoretical action, but making it life-giving as an act of faith.
So we seek reasons for moving to a preferential option for the
poor: to follow Jesus who is poor; to focus on the most needy, the
Anawim of God; to be poor as agents of change in the spirit of the
Magnificat; to avoid a reliance on the affluent; to realize that
the poor are freer to criticize themselves; and to become authentic
Earthhealers who must focus on poor Earth and poor people -- and
choose to be part of this emerging community. In the light of our
accumulating insights we can conclude that only God can lead the
way to total self-emptying and spiritual empowerment.

May's Testimony: We Proclaim Power through Powerlessness

In floral May, we move into the high springtime of our eco-
spiritual journey. It is now clear that Earthhealing operates at
successive stages: seeing the urgent need for saving our wounded
Earth; recognizing that justice is due to all living creatures;
realizing that the lowly must rise to take charge; finding the
Risen Lord among the poor who are the proper agents of change; and
identifying Christ-like actions that respect all life in a manner
of the respectful poor, namely non-violently. We are not
anthropocentric but rather Christocentric, while experiencing
Easter joy and power. But it is most important that we analyze
spiritual power and realize that this is not power over others or
the confrontation of power through secular notions of militant
power. Rather power rests within acceptance of our ultimate
powerlessness, and herein Christ's power and lordship comes to
light. Through obedience and purification in suffering we rise:
we see an urgency to act, a willingness to challenge the class
divisions in our world, and in solidarity with the true agents of
change, the poor, we insist on non-violent procedures. And we
testify that this is the only way to act and ultimately to empower
others; and concluding from what we have said, this empowerment
can only be achieved through the example of Christ's Resurrection.

June's Revelation: Appropriate Technology Is Instrument

In June, our reflection on the Ascension completes the first
phase (half year) of our delving into the paschal mystery. We are
commanded to go forth to all creation, and yet we lack
instrumentation and media outlets. What on Earth is the answer?
Poor folks may quietly and gently show us the way: we find the
proper and appropriate tools lest by use of weapons we become
violent and self-destructive. Instead, appropriate technologies
are environmentally benign, low-cost, people-friendly and
community-enhancing. The emerging mission is to spread this Good
News throughout the world; today, this is possible mainly through
an appropriate technology Internet -- as long as the Internet stays
in the public domain -- and that requires ongoing vigilance.
Suddenly, the poor are empowered to enter into a re-creation of
Earth in an even more wonderful manner; this is done with Christ's
Resurrection/Ascension as defining events and the Incarnate Word as
model and Lord. Our road to discovery becomes a metamorphosis as
healers are transformed through touching Earth into agents of a New
Creation, which ultimately is only achieved through God's guiding
hand. The second half of the eco-spiritual year is the vast season
of Pentecost that prepares us more specifically to be healers of
Earth.

July's Finding: Jesus' Personality Is Ecologically Balanced

In the heat of July, we consider the individual obstacles
holding us back from being healers of Earth: denial, excuse,
escape, self-empowerment, fence sitting, spinning wheels, cynicism,
and affluence. We affirm that Jesus is the perfect ecologist whose
personal good qualities counterbalance all the barriers that hinder
our journey of faith. Thus through discovering our talents,
inclinations and shadow sides we are systematically examining ways
to become better healers. Assistance is necessary because healing
Earth is a social function demanding give-and-take with others.
This is all the more necessary because we are so heavily influenced
by the allurements of the materialistic culture all around us that
seek to make us self-sufficient and independent of others. Through
overcoming these barriers we are better prepared to become
catalysts of change in our world. We are called to be at the right
place and time. And only Jesus who possesses a perfectly balanced
personality can lead the way.

August's Inspiration: Let Us Enhance Our Enthusiasm

In verdant August, we discover that inspiration and resulting
enthusiasm are the spice for healing Earth. The Holy Spirit gives
us a broadening view of our ecological stance. We begin to see
through the eyes of faith a holy HERE and NOW and an enhancing WE
that includes all people of good will. Mystery enters into
ecological consciousness at this deeper level. We strive to
justify our restlessness that somehow energizes our enthusiasm;
this restlessness stands in sharp contrast to the "comfort" levels
sought by those who seek to compromise an ecological stance with
the addictive culture in which we live. We are gradually awakening
to the trinitarian nature of our undertaking, looking to the Source
of all gifts, the Gift (Christ), and the Giving (the Spirit). We
express gratitude through deeds as well as words, deeds that become
part of ongoing salvation history. Mystery thus emerges as
discovery on our journey of faith through the sciences and the
arts, and, in these final times, in our healing of Earth herself.
Ultimately, only God is our source of enthusiasm.

September's Insight: Only God Is Fitting Nourishment

In balmy September, we find the field is white with the
harvest. As Church, we encourage Earthhealing, for our goal is
salvation -- and Earth needs to be saved. Through liturgical
action of word and deed we give thanks for gifts given; we show the
rhythm and value of work; we celebrate at the grassroots level; we
are nourished by Christ, the divine gift, lest our enthusiasm wane;
we proclaim a consecrated HERE, NOW and WE, and we strive to be and
encourage others to be prophetic witnesses who expose the
destructive forces all around. We see mother Church as icon of the
Trinity and, through her, we transform our individual enthusiasm
into communal action following the patterns in which God works in
this world for us: a harmony of Triune persons sharing love and
mercy with us. However, our enthusiasm breeds growing restlessness
within our faith communities, which is to be more understood than
allayed: we still lack direction, a deep sense of urgency and a
movement to greater unity. However, in the hunger that accompanies
our restlessness we become deeply aware that only God is our source
of nourishment.

October's Lesson: Forgiveness Brings Proper Communal Actions

Mother Church gives direction, urgency, and movement to
greater unity as a formal corps of Earthhealers. The glue of such
a personal instrument is the offer by God of a Spirit of
forgiveness for ourselves and others; we are free to initiate the
Earthhealing process without resorting to incrimination and
friction. Through baptism, we are launched on our saving mission;
we become conscious of being participants in salvation history; we
are invited to say "yes" to the Spirit in the manner in which Mary
said "yes" during the incarnation event. Our awareness grows and
we learn that we must share with others with a budding social
consciousness. God's sharing of self becomes the model for our
action both on an individual level and on the global level, where
radical sharing means promoting and encouraging global eco-justice
initiatives. We establish bonding with Earth, with plants,
animals and other human beings and to some degree we await the
response of these communities to our own invitation. We seek to
establish interpersonal relationships that become the grounding for
a more profound healing, and these can only be based on our
interpersonal relation with Jesus.

November's Offer: Social Awareness and Destiny Intersect

As leafless November arrives, we look to the promised goal of
our mission, namely the New Heaven and New Earth. We are created
for God and destined to return to the Triune Majesty, Pure Love,
the Omega Point of our life, Christ himself. However, we keep our
feet on the ground, for an urgency grows for us to extend
neighborhood from locality to all people on the planet. Dreams and
visions are welcomed and are achievable. Our awareness grows: we
can heal Earth if we have faith, and it takes sacramental life to
help keep us open to spiritual growth. Our model of "home" is the
prime analog of what our destiny is to be, for we move from a small
intimate family of kin to a broader family of the people of God.
To actualize that global movement requires "homework," that
involves, study, planning, cooperating, mustering resources and
engaging in the nitty-gritty of building the new home. But a
vision of home with a commitment to work hard is not enough, for
that may involve us only at a local level. We move to a global
vision of all people having the basic needs of food, housing,
recreation, education, environmental protection, and home care.
We grow in teleological and social consciousness so that through
our fidelity fruit may result. Things can and will go wrong;
opportunities can be lost; affluence can deaden our companions.
The risk of losing the opportunity to succeed makes us more
determined to hasten the day of the coming of the Lord. We do not
know the results of our shorter-term actions, for only God knows
these and their relationship to the final end.

December's Vision: We Hasten the Day of the Lord

In experiencing God's Presence in our midst, we move from
ecological HERE to a consecrated one that points to a proper end of
time, perceived NOW through the eyes of faith, and that can only be
achieved through a cooperative effort of a consecrated WE. We are
beginning to perceive with greater clarity the continence of Christ
shining forth in all Creation, and this become a motivating force
in our quest. Furthermore, our senses are more perceptive -- a
true mark of an authentic eco-spirituality that is grounded in
Earth. We discover through the God within that we are catalysts of
change when properly placed, and that catalytic action involves
hastening and accelerating the healing process towards which we are
called. When all elements of our individual and social awareness
harmonize, we understand the direction of our healing with greater
clarity. The mystery of divine purpose (Ephesians 1:9a), which was
hidden, now emerges gradually in space and time and within a
believing community. But we cannot contain this Mystery in some
selfish manner; we must share it with others just as God
communicates Godself to us.


C. ACTIONS

1. Examples of Stewardship

God grant me the serenity to accept things I cannot change,
the courage to change things I can, and the wisdom to know the
difference. (Serenity Prayer)

When we use resources we ought to do so efficiently. But we
must also be non-violent and accompany our actions with a sense of
humor. While this is a tall order, since our resources and time
are limited, we are confident that the collective creativity of all
concerned people will create ways of acting as catalysts in the
world in which we live. Thus we work on two fronts: active and
participative contributions, to influence and accelerate social
change; passive ways, to make the present conditions unsuitable
for continued unjust commercial enterprises.

Example of active enhancement: producer/marketing
cooperatives. People who have contacts with the more predominant
consumer culture should stress the need to buy products directly
from quality producers, craftspersons and artists in developing
lands. These producers are often at the mercy of commercial
interests, who buy at very low prices and receive profits at the
expense of the struggling original producers. Thus producer/
marketing cooperatives have been set up through church and other
non-profit organizations that omit the middle agent. While
consumption is used in many ways, we recall that all consume in
some degree; enlightened consumers can focus their buying power to
help furnish a living income for the basic producers -- not middle
merchants. Today, cooperatives can work with producers of
everything from coffee to nuts, from pottery to baskets. A wider
portion of the income from the sales can be returned to the
producer/craftperson/artist.

Example of passive resistance: debunk commercials. Many
advertisements are meant to appeal to the allurements of consumers
in a rather crass manner: feed your appetites by buying more,
discarding the unfashionable, and returning to the market for what
appears new and better. Attacking the basic content of these
commercials could be a form of guerrilla activity against corrupt
and unprincipled commercial interests. In fact, belittling
advertisements can become fun and games with young people getting
into the act in a major way. People of all ages can begin to laugh
at and ridicule the commercials that promote fashionable dress,
prescription medicines (why should they be advertised to the
general public?), unneeded cosmetics, unhealthy junk food,
dangerous motorized recreational vehicles, expensive appliances and
media gadgets, and a host of other items. This debunking process
exposes the ephemeral value of many consumer products, their over-
priced status, and their so-called need. If well done, the
debunking can become truly countercultural, resulting in a better
understanding of the nature of planned obsolescence and the defects
of materialistic capitalism.

2. Final Prayer

Oh Triune God, while weary from travel, we are excited about
what lies ahead of us as healers of this Earth. You encourage us
to surrender our independence to your grace and mercy. We throw
off the baggage of material allurements and distracting ideas. We
affirm your Presence, as the Day of the Lord approaches. We
realize that the work requires all people of good will and that
social injustice holds back the movement to the end to which we
hasten. Help us to join with our sisters and brothers in our
journeying together to your eternal Mystery. Do not let the
distracting afternoon sun get in our eyes, but keep us clear
visioned, for we are moths drawn to you, pure eternal Light.

Take, Lord, and receive all my liberty, my memory, my
understanding, and my entire will, all that I have and possess.
You have given all to me. To you, O Lord, I return it. Dispose of
it wholly according to your will. Give me your love and your
grace, for this is enough for us. St. Ignatius

3. Attaining Love of God

With me in them and you in me, may they be so completely one
that the world will realize that it was you who sent me and that
I have loved them as much as you have loved me. (John 17:23)

In the "Contemplation to Attain Love of God" Saint Ignatius
calls attention to two points: that love ought to manifest itself
in deeds rather than words; and that love consists of mutual
sharing of goods. For example, the lover gives and shares
possessions with the beloved. Healers of Earth are people who are
doers and what is emerging is that it takes all we have to perform
the mission before us. Love is present through deed and love is to
be shared.

God is Love -- To "attain" is to gain something with an
effort, to reach or achieve a goal. Our goal is God, who is Love,
and this goal is attained through our openness to the gifts God
gives. God's love is shown concretely in the coming of Jesus who
God shares with us. Jesus loves us and smothers us with the Divine
Love; and he leads the way for our journey of growing in love. God
loves us through the eternal Word, through loving deed in the
Spirit's coming and Presence, and finally in these last of times
through our own existence -- a bestowal of freedom, a risk in
letting us be open in choosing our path.

Reciprocity -- All love works two ways; between lover and
beloved. What do we do to return this divine gift of love? By
mere presence, plants and animals give praise in their limited
manner. We do more; we can freely return that love or refuse it.
If smothered in love and open to growth, we are moved to
reciprocate through deeds done for, with, and among others. Our
deeds express God's love; the more the Word of God impels us to
action and that God works in us, the more we manifest the Incarnate
Word through our actions. We become other christs in the process
of healing what has been damaged and what needs to be healed. We
become aware of God's Presence; we are conscious of the shortness
of time to act; we work together to determine where to serve best
through companionship with others. God's love for us was revealed
when God sent into the world his only Son so that we could have
life through him. (I John 4:9)

Radical sharing. What little we have to give back for the
gifts given to us. We are instruments, crude and chipped as they
are, in the hands of the Almighty. Opening even our
instrumentality to the molding of God's grace allows our healing to
be ever more meaningful, for in seeking to heal we are healed.
Love perfectly given and Love openly received is Love that can be
more perfectly shared, for God is Love. So much depends on our
openness. We show our gratitude and love of God through extending
love to neighbor -- our fellow human beings, our fellow creatures,
and Earth herself. This communion of love extends beyond this very
Earth to the Communion of Saints and the Suffering who await the
union that is to come. Openness is thus a radical sharing of all
we can give to all who can receive; we start by breaking out of our
self-centeredness and move to an ever-wider community of beings.

Total experience of love -- We do not seek removal from the
world (John 17:15), but to be an example of the union of God's
Divine Presence and a troubled world in need of love. We become a
loving person as members of the Divine Family and as related to the
world all around. By working with others in community, we seek to
incorporate all the spiritual characteristics introduced in this
journey of faith: a sense of mystery and the glory of creation; a
suffering world in need of redemption; a person who is healer,
teacher, and prophet, all as perfect ecological model; a unity of
social and eco-justice; a profound spiritual empowerment of the
Resurrection at the moment of realizing our powerlessness;
appropriate technology as the poor's instrument of change; a
balanced personality among individuals working for common goals;
inspiration leading to the reality of a growing enthusiasm; formal
consecration that receives divine nourishment, forgiveness and
radical sharing with our neighbor; an emerging social and
teleological awareness; and a Divine Presence that allows us both
to be directed and to hasten the Day of the Lord.

Earth healers are Christ's friends, temples of the Holy
Spirit, cooperators with the Creator in the work of the New
Creation. The undifferentiated Mystery, first seen in a child's
toddling, now returns to the travel-worn who can still heal through
the experience of life's journey. Healers hopefully emerge as
mystical, compassionate, prophetic, justice-oriented, spiritually
empowered, practical, balanced, inspired, nourished, merciful,
expectant, patient and yet restless people. Christ comes on his
own; he becomes like us so we can become like him. Healers aspire
to his infinite love.


SUMMARY: EARTHHEALING IS TRINITARIAN

I have tried to assert that one's particular eco-spiritual
journey is relative to one's place and time. I have not winced
from seeing that my faith has much to say as to what I conceive
Earthhealing to be. Some may find this too localized (restricted
to space in Appalachia), confining (limited to current conditions
in time), and sectarian (focused on my Christian calling). I
emphatically disagree. Every eco-spirituality, if authentic, must
be localized, aware of limitation and cognizant of the biases from
which one operates. Fear of criticism should not make us take a
generalized or secularized approach. In fact, by starting with
where and how we are, we have the freedom to burrow into deeper
levels of eco-spirituality. We use our senses to see ultimate
goals, hear our vocational call, smell the odor of consecration,
taste the nourishment of the Lord, and feel the vibrations of the
Coming of the Lord. And this creates rich variety.

Trinity at work -- We seek to reveal the mystery of the
Trinity in all of our activities, aware that each act when
perfectly performed is a sign of the Triune God and brings healing
to this wounded Earth. All our actions, whether done pro-actively
or as a passive offering, help reveal God's creation, show the
redemptive act of love, and lead to a communion of all within the
family of beings. The unity of three persons in the Trinity is the
core vision that allows us to engage in a Divine Family enterprise.
This family is local and this family is global, and we all are
called to offer a hand in homemaking.

Revealing the Greater Glory of God -- May the mystery of the
Trinity enter the marrow of our bones; may God work through us;
may each of us show a different aspect of that jewel of faith, and
may we work together for a common goal. The more intense is our
recognition of being caught up in the Divine Act, the more we
imitate the God who invites us into the Triune family. When we
respond to the creative/redemptive/ and resurrectional nature of
our calling, we profess our belief in the Trinity with compassion
and evangelistic fervor. We become catalytic light that does not
stay hidden, but breaks out like the new dawn. This ray of light
warms others to help heal this broken world. The Triune God likes
to work amid human weakness, and we do not disappoint.

A deeper understanding of Giver, Gift and Giving helps us to
seek, find and share with all creation. In doing so we, as poor,
give courage to others so that all can come together and share the
resources of this Earth. The more we grasp our own part in the
Divine Plan, the better we are able to participate in the New
Creation. This is not solely a human activity, nor is it a divine
process minus our activity. God shares with us in a Christ-
centered process that embraces the divine and the human and we, who
are destined for life everlasting, have a part to play. Only God
can be our Center and Eternal Destiny -- but that Center has chosen
to dwell among and within us -- if we but open ourselves. In so
doing, we can truly become co-healers of this troubled Earth.