VISIT OUR MASSES and HOMILIES ONLINE! CLICK BELOW TO WATCH
St. Elizabeth of Ravenna Catholic Church
---
Making This a Successful Year
        In the wake of America's most serious health crisis, we can still look ahead to the vaccination program that is well underway;  we have to turn our focus to the longer-range and more catastrophic problem of climate change and its aftereffects.  The new Administration in Washington, soon be to operating, is committed to joining the 2015 Paris Climate Change Accord and collaborate with the world community ASAP.  As a concerned citizenry we have the potential to do marvels -- and yet we are too realistic to expect too much too soon.  However, time is of the essence.
        The first reason for hesitancy is that this pandemic, while hopefully slowing down by late winter, may teach us some lessons in collaborative planetary goals.  Vaccinations must be global in scope.  Certainly there will be more deaths of some quite close to us, accompanied by much sorrow by loved ones and friends.  By presidential mandate, we will be wearing masks for the 100 days starting January 20th; such a span includes half of spring and the first part of the Easter season.  And these existing precautions will most likely consume the rest of the 2020-21 school year.  However, expect the tulips to bring us hope.
        The second reason to hesitate is the results of the election on January 5th in Georgia.  A single win for the Democrats is not sufficient for them to control the Senate; on the other hand, a double win against two incumbents in a red state is hard to envision.  Thus, continued control by the Republicans will make any dramatic legislative changes virtually impossible.  Even so, we see high possibilities, since President-elect Biden has proven in the past to be quite able to compromise and work well with those across the aisle.  Likewise his climate czar, John Kerry, will work hard to get some climate legislation and regulations, and opposition will hopefully not be too intense.
        Still existing dark clouds should not permanently shut out the light of a new beginning.  Through his executive powers, President Biden will change and correct the executive-induced anti-environmental practices of the past four years.  With John Kerry's efforts we will again enter the community of 200 nations committed to a better environment.  This will involve guarantees of maximum support through financial assistance to poorer nations, which were victims of pollution by richer and more wasteful consuming nations.  Current failure to join and support the Accord has been what some termed "a crime against humanity," and worthy of impeachment.
        Renewing our economy will not be an easy matter with ten million laid-off workers currently among the unemployed roles.  With bipartisan support, we can foresee an infrastructure program repairing roads, airports and bridges and giving attention to expanding renewable energy projects.  Conservatives wildly exaggerate the cost of a "Green New Deal" as proposed by House and Senate progressives. 
        Efforts are not starting from scratch.   For the last few years, climate change issues have been given popular and widespread support at grassroots levels.  In fact, over 4,000 projects are in operation by "We Are Still In" folks at many levels of state, county, city, university, business, civic and religious circles.  Furthermore, many of these jurisdictions are committed to no-carbon systems by 2030, 2040, and 2050.  As of now, groups in states with 213 million people are working on carbon dioxide reductions, but without national leadership the nation has fallen 10% behind anticipated reductions to reach 2015 original U.S. cumulative goals.  There is much catching-up on the part of all states.

        A climate change program name change that would have no direct linkage to FDR's "New Deal" would be more agreeable to many parties, especially moderate traditional Democrats, but something like "Earth Deal" would be more precise and accurate, and yet would require considerable effort to publicize; that name would still not gain acceptance by the deniers who are under the thumb of Big Fossil Energy.  A third alternative is to take more of the components of climate change enhancement and simply insert them into a general bi-partisan infrastructure program -- and hope for the best.
        No matter who wins the Georgia senate elections, it is still more practical to continue to support the "Green New Deal."  The challenge is to develop an educational program that will make divided citizens aware of the necessity to act in ways similar to other progressive nations.  The 27 European Union nations are all committed to a non-carbon economy and some are even ahead of schedule; some 11 of the G20 nations are so committed.  As a surging driving force, young people throughout the world are showing deep concern about the environment, even while such a united movement is unfairly painted as "Socialistic" here at home.  Opposition to the new Administration's efforts is expected no matter which party controls the Senate.  While our window of opportunity shortens, still the clarity of urgent need expands and incorporates more of the Independents and moderate Democratic Party folks, and with time the thinking Republican wing as well.
        Our argument this month is for heavy focus on this climate change issue and to make it a primary concern of our social justice efforts.  We do not deny other issues, but realize that the consequences of deemphasis on climate would have catastrophic effects for hundreds of millions of people throughout the world.  The degree of urgency and our Earth Healing focus of the past makes this imperative, with hopes that readers will do something both individually and collectively.  Let's continue to call for simpler lifestyles by every individual citizen in this land; we can all contribute by curbing consumption and responding to effective energy conservation practices.  We need to spread the word to loved ones and neighbors that we can make a difference.  Yes, amid some hesitancy let us move forward to making this a primary global, national, and local issue as well as an eco-spiritual one. 
---

A nearly-frozen Kentucky creek.
(*photo credit)
January 1, 2021      Giving Global Peace a Chance 
        The modified refrain from a vintage 1969 song hums in the background of our war-tired world.  Peace calls out to be heard, and yet it seems unattainable.  However, our world longs for peace at the start of 2021, and what seems impossible could be attained with the right willingness and with divine grace -- for peace is a gift as well as a blessing.  Excessive military readiness saps our precious resources that could go for essentials of life.  On this Day of Peace when we celebrate a holyday, we recommit ourselves to peace; we pray that we become worthy peacemakers and work to ban non-military ownership of automatic weapons in our country.
          Rejoining the Paris Climate Change Accord.  The U.S. failure in the past Administration is a crime against humanity that could be remedied through our participation as is morally a global duty -- and a major step in bringing peace to a troubled world.
Middle East peace efforts. Why continue the Afghanistan military action that has become the longest (though undeclared) war in American history and is verging on being one of the costliest as well.  It is time to break away and let these countries handle their affairs.  Why do we tolerate continued settlement building in the West Bank while calling for Israeli and Palestinians to get together?  Is it like asking two unequal people to come together voluntarily, as though both are equally able to make such decisions?

          African assistance.  A multitude of Africans suffer from the vast inequalities of our world -- lack of food, health, housing and jobs.  A "Global Marshall Plan" geared toward that continent could overcome the differences among nations and assist small farmers, focus on employment infrastructure construction, and on health and education improvement.  Africa needs roads, railroads, seaports, airports, clinics, schools and virtually every physical facility for a better quality of life.
          Human rights championing -- A fourth global area is that of minorities in such places as Tibet, among Coptic Christians in Egypt, and tribes in the republic of South Sudan.  It is right that our State Department continues to make demands for the religious and cultural rights of minority peoples throughout the world.
          Nuclear weapons banning -- Calling for the ban on nuclear weapons and also on the "peacetime use of the atom," for electricity generation could go a long way to removing a potential danger from the face of the Earth.  Concrete steps need to be taken between the U.S. and Russia to ensure proper controls of the two vast quantities of nuclear weapons.  Effort to reduce and control all other nuclear bomb holders is equally in order.

          Prayer: Lord, inspire us to be primary peacemakers in this year.  Help us see that inadvertent promotion of a military/ industrial complex threatens world peace.

Dried teasel growing near old, abandoned home site.
(*photo credit)
January 2, 2021         Predicting 30 Trends
Perhaps the village drunk is as good at predicting the course of 2021 as is the Nobel price economist.  They both get about fifty percent within a margin of error.  Realizing this makes me hesitate to engage in predicting.  However the practice holds out the hope that the unpredictable will mean better times.  So reasoning that way, here are my 2021 environmentally-related predictions (not including the politics of the U.S. or global economic conditions):
* No comprehensive climate change treaty will be signed.
* Global carbon dioxide emissions will show a slight decline.
* Wind will be the leading energy source in expansions.
* Natural gas will continue to be a major global energy fuel.     
* Nuclear power as part of total energy mix will decline.
* Global coal fuel used will continue a 1.5% decline of total
powerplant fuel.
* Oil surpluses continue and prices at the pump decline.
* Wind will continue strong off-shore development.
* Shale formation fuel sources will prove promising.
* Biofuels from food crops will show a slight decline.
* Solar energy price per watt will dramatically decline.
* World food prices will rise, especially among staples.
* World hunger will continue at a worrisome level with a billion people going to bed hungry each night.
* Over one million (especially infants) will die from hunger.
* Food wastes exceeding global hunger needs will continue.
* Oceans will rise and glaciers shrink.
* Polar ice cap will continue to decline in summer and trade route through Northwest Passage will gain several days.
* Whales will continue to be harvested for "research" purposes and excessive sharks continue to be fished for shark fins.
* Renewables will replace coal as the principal powerplant fuel of choice.
* Polar bears will suffer continued declines.
* Asian middle class will expand by five to ten million.
* Electronic books will beat paper ones in numbers produced.
* Reforestation will gain momentum in parts of the world.
* Annual storms and severe weather will exceed 21st century average in frequency.
* Meat and animal products consumption will reach high mark even while substitute products advance in popularity.    
* Anthropogenic global warmer deniers will decline in number.
* The U.S. will join the 2015 Paris Climate Change Accord.
* Global Broadband access will continue to rise.
* School shootings will reach highs while automatic weapons continue to be owned by ordinary American citizens.
* Tropical forests will continue to decline -- though I hope I am wrong.
Note: Final tabulations will not be completed until well into 2022 and thus the results will not be known until then.
          Prayer: Lord, give us this day a sense of what is coming, and the energy to help shape our future with a sense of hope.

Enjoying a Kentucky winter sunset.
(*photo credit)
January 3, 2021       Reviewing the Sense of Privilege
        The feast of Epiphany is when we celebrate the privilege of having the Lord and Messiah spiritually among us bringing about the mystical Body of Christ.  This is a joy worth celebrating. 
        Letting go of what we held as infants and children and teenagers and middle aged is all part of life.  Often what is given up is the privilege of the younger or more immature lifestyle for something of greater responsibility for and to others.  Privileges of status, or perks, or foods, or treatment are relinquished for a greater good.  In essence, we can understand this in unselfish ways of acting as individuals, but does this not also apply to groups of people and even nations and cultures?  Does maturation involve abandoning privileges by individuals at various levels?
          Material privilege.  The greatest form of exceptionalism that is wrecking our world, robbing our resources, and heightening pollution levels is that of indiscriminate use of resources.  If one has the power of the dollar to buy whatever one likes (it is never satisfying), then acquire all the more and more of the "playthings of life."  The next innovative device must be acquired to keep up with the neighbor.  Such selfish practices feed on a consumer culture that grows to the profit of a few and dreams of the have-nots.  Material privilege is the goal of many immature and greedy people seeking to imitate richer greedy folks. 

          Servicing privilege.  The challenge is to show that it is a privilege to give and not just to receive.  From Jesus we learn that the privilege of service done in love is a godly act that makes us deeply happy in this life and in an eternity as well.  Thus, those who have little and yet willing to give refute the prevailing attitude in our consumer culture: "the more materials the better."  On the national level, a quest for less material benefits could divert attention to people with essential needs.  Fair taxes on the wealthy opens the door to accessible financial resources for expanded global health care.  A new development is to focus consumption patterns on satisfying the essential world needs, a major undertaking with promising potential benefits. 
        Sharing privilege.  A peacetime dividend, a feedback loop of benefits will result through radical sharing.  The act of being willing to relinquish is to trigger a contagion of good, but a people committed to less materialism must lead the way or else it will never be done.  Those who see the privilege of relinquishment of material things can see the benefits that could accrue on a national and global level, and that these actually work to the betterment of a world in turmoil.  Yes, spiritual benefits can be global: this breaks the chain of disparity of resources.   This is a call to believers in every land to bring the gift of Jesus' love to a struggling world, and in so sharing allow solidarity to grow.
          Prayer: Lord, make us wise in giving our treasured gifts to the helpless babes of this world so all can live together in peace.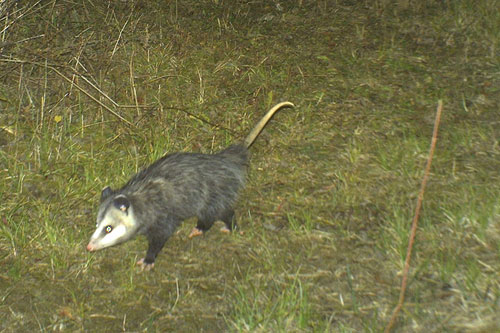 On the move. Opossum, Didelphis marsupialis.
(*photo credit)
January 4, 2021  Facing Indebtedness: Burden Future Generations?
        A few years back an Appalachian activist decided to start up a non-profit organization.  It seemed a spur of the moment decision and so I asked him how he intended to fund the new group.  He said, "I have a credit card."  Unfortunately, he was anticipating that some time in the nebulous future a benevolent donor would rescue the group from its debt.  It was incomprehensible -- and so the life of that organization was very brief to say the least.
        At the time this essay was updated the Federal government approved and got a presidential signature on a 1.3 trillion spending bill while the nation had no surplus cash due to under-taxed billionaires and others.  Really!  Isn't this a failure to see the future for what it will be?  Expecting a future sugar daddy to pay for present extravagance is irresponsible.  Unfortunately too many incur debts that lead to bankruptcy.  The credit-card-now-and-pay-later mentality is not something limited to individuals in our society; it is a culture of entire communities or nations, and there is little that restrains such behavior except limits on getting into deeper debt for lack of being able to raise credit.
        Few regard deliberate indebtedness as wrongdoing, much less criminal action.  Of course, much depends on the manner in which personal debts were incurred, for often they result from health problems or unexpected accidents.  However, sometimes the "good name" of the person's credit-worthiness leads t o debt overload.  Another area is in educational debts -- that does not guarantee a good enough job to repay debts in reasonable time.  Forgiveness of such debts ought to have higher priority than bailing out banks.  Sometimes debts are business investments with debtor expecting to repay the lending agency in due time. 
        What about spending beyond one's means through sheer failure to plan for the future?  "Let the descendants take care of it for I will be gone before the bill comes due."  In some way, this is what governmental debts are all about.  A crisis will occur, but that is beyond one's lifetime -- and for the selfish who cares?  In such instances debt is a denial of responsibility for the future -- even a future when those saddled with debt will curse the ones who made it in the first place. 
        For us fiscal conservatives  the deepening national debt in good times is irresponsible; it is simply putting off for others what must be considered today's heartaches, difficulties, and duties.  Love demands respect for those living and those to come, whether neighbors here and now or future people out there and then.  However, we know that some debts are not going to be repaid and so the consequences of a default loom beyond the horizon and is an excuse for a fresh start.  Bankruptcy, if managed, initiates a radically new beginning!  But why the debts in the first place?

          Prayer: Lord, give us a sense of responsibility and a resolve to leave the world in a better condition than how we found it.

Winter blues. St. Ignace, MI.
(*photo credit)
January 5, 2021                Asking Honestly Whether Academic Life Is Worth It
        Modern academic institutions are too high priced, too numerous, and too impractical.  Are they worth it when a three trillion dollar indebtedness hangs over those educated since the turn of the century?  Many are convinced that they must go to college because all their friends do -- and yet are totally unprepared for higher education right now.  In this rarified atmosphere they talk themselves into thinking they can quickly eliminate the debt that piles up on them with a good paying job.  Is college life worth it for many?  Aren't there scattered entrepreneurs and executives who did not finish college?  The subtle message is clear to and from institutional champions: "Whatever you say, the more formal education the better."
        Many academics risk their occupation if they are on the front lines of change.  The funders of expensive institutions do not like activists in the midst of the hallowed walls upsetting a rather stable establishment.  Granted, teachers do not like students diverting time from precious studies, and administrations expect the same from teachers.  I asked one administrator to support one of my causes, and he said his school would not dare allow him to do public interest work.  Such is traditional academic life!
        This raises the question of high costs of education and the massive funds needed for top research, extensive athletic programs, high-priced coaches, beautiful campus buildings, and all the paraphernalia associated with roaring arenas and noble prize winning centers of learning.  Are students and beleaguered parents caught in this academic hype by forking out thirty to fifty thousand dollars a year for what could be learned by attending lectures on the Internet or for free?  Perhaps all learning ought to be freely given and received?  Isn't the time right for a truly "free university" without credentials and recognized degrees?  
        A highly mobilized public relations department in every academic institution tells of the glory of that place; the agency explains why funds paid for tuition and lodging in swank places are all worthy of student indebtedness.  However, a negative side exists: the ivy walls are barriers to radically challenge an overpriced system.  Unfortunately, as in this very society, the debits far outdistance the credits and will only be paid on the backs of the current and future generation.  Yes, credits do include some forms of innovation, but many occur apart from the academic hype in simple garages (yes, Steve Jobs) and hidden research facilities often cloaked in trade secrecy. 
        We frankly need to rethink the formal higher education system in the light of Internet accessibility to free educational opportunities for many in the future.  It's time to start. 
          Prayer: Lord, help us to keep from pretending, and to radically rethink the formal education system.  It is time to make all education free for those who wish to learn.

Hardly a cloud in view.
(*photo credit)
January 6, 2021  Questioning American Sense of Greatness
        Hubris blinds a person -- and perhaps a nation as well.  Even if the United States was the 20th century superpower, must this continue?  Is this land to be greatest in what?  Car numbers? Size of housing per person?  Length of super highway systems?  In compiling this listing we find that in everything from power plants to electronic devices the U.S. is being challenged as number one in material production and consumption.  China with its fourfold larger population is running ahead of the U.S. in many consumer areas. Surely greatness is based on more than material items and resource use.  But even in public transportation infrastructure to health care others nations seem to approach being Uno Numero. 
        Traditional national greatness is more a perception of exceptionalism from which the justification of privilege of one type or another emerges.  Perceived greatness was a lesson we learned from those colonial-minded European ancestors who came to our shores over the last half a millennia.  It has a tinge of being chosen for a special mission; it included a justification of placing others in the status of servitude or even slavery; it has involved power and control based on a military scattered in a host of global land and sea bases.  It even includes the impunity to enter another's sovereign space and assassinate someone who was marked as "a terrorist."  Greatness and privilege often goes hand-in-hand, and raised the ire of others, which privilege ignore.
        Some of keeping or reestablishing greatness as called for during the past four years is worth reviewing carefully, for it is not patriotic but somewhat arrogant and selfish.  Is our perceived greatness and its preservation based on hidden insecurity? Rather, true greatness could perhaps rest in another measure, namely, to be the first to share resources with the underprivileged of the world.  A spiritual form of greatness has been absent from much of the national recommitment to our global civic duties.  Isn't it time that we talk about sharing resources with the needy, and that the greatest security demands less inequality and more sharing the essentials of life?  A willingness to bring this about may be steps to true greatness.
        Looked at in a historical perspective, isn't one nation per century enough for the limelight?  Wasn't one American 20th century enough for a time?  However, we need not abandon the global scene.  Rather let us be the first to redefine "greatness" in spiritual terms, something that even secularists in emerging nations overlook.  Let's be first to feed adequately all people, give health opportunities to all, liberate prisoners, and share resources with the disadvantaged. 
          Prayer: Lord, give us new insight to see that if we are to be great, let it be in service for others; help us to expand freedom and equality, and thus be faithful to our founding ideals.

Sour pickles, in the works.
(*photo by Shannon Henry. Creative Commons.)
January 7, 2021  Welcoming the Sour-Pickle People
        One observer asked me, "Are you really so short of new topics that you resort to sour pickles?"  How about raw sauerkraut, pickled pigs feet dashed with horseradish, old-time damson plums, or cheaper red wine?  I am always tempted to divert environmental attention to the fact some savor sourness while other don't. 
        Lovers of sourness refuse to be marginalized even while in the minority; we don't require counseling by those with sweet teeth.  Once one of my relatives confided half in secret that her youngster loved sour things and puts pickles in her ice cream.  In reply I confided that I also on occasions cover ice cream with slices of sour pickles.  Generally speaking (though not always), those favoring sour foods have less of an obesity problem; of course when she favors pickles for dessert, she must be prepared for ribbing by those with culture-driven culinary sweet things.
        Yes, I began this by eating a sour pickle from my collection that I would share with others, except most wince at the sour taste, and ask for a dose of honey or molasses.  A minority of undetermined size favor sour pickles, and the sourer the better.  Forget the "sweet and sour" sugar additions.  Favor straight vinegar -- a godsend for the world of sourness, but be careful, for too many sour things undiluted could wear away the enamel from your teeth and solely sour things may upset the digestive system. 
          Attention vinegar lovers!  Moderation in everything is utterly important, even those tempted to swig unadulterated apple cider vinegar.  Please, cut all drinks with water, even non-intoxicating ones.  However, continue to look for a multitude of ways of making the vinegar more enjoyable with a host of herbs that you or friends grow -- and to list all that could be used (it would take the remainder of the page).  In fact, just about any edible herb or herb combination could be added to make a fine, special tasting vinegar that can be used in soups, salads, meat and fish stews, and other dishes.  Promote vinegars as a new enterprise worthy of economic embellishment in an age seeking new food tastes. 
        For information, there is a book I have shared that lists one thousand uses of vinegar, some dealing with non-edible or culinary cleaning, deodorizing and other useful applications.  Just focusing on medicinal topics, some swear by use of frequent and even daily intake of up to a glass of vinegar for a variety of ailments.  I do not recommend overuse and prefer to allow readers to discover the limits of their vinegar intake.  I am convinced that increased vinegar use is a good thing with many hidden benefits.  Most likely one can build a taste for various vinegar-and-oil salad dressings and teach others the same.

Prayer: Lord, allow your creativity to rub off on us.  Acidity has its place in the universe in so many ways from fermentation to photosynthesis, so help us all to appreciate it all the more.
---
Focusing on the Green New Deal
        A suggested follow-up of Teddy Roosevelt's "Square Deal" and FDR's "New Deal" has been the "New Green Deal;" this has brought opposition from various circles, especially due to wild financial estimates made by conservative critics (in the trillions of dollars).   Certainly this is scary, even when we remember that the 651 American billionaires have collective assets of four trillion dollars; furthermore, American private and public indebtedness runs also in the tens of trillions -- a more popular term defined as thousands of thousands (a millions) of thousands (a billion) of thousands of dollars (a trillion).
        Some have considered a new name for the Green New Deal such as "EARTH DEAL," or that the curbing program be a subsumed portion of general bipartisan infrastructure legislation.  A new name would take considerable effort to publicize and promote; a component of the infrastructure legislation would submerge energy awareness under a building program.  Climate change programs need to stand out by themselves, because their educational components must be emphasized.   While a simple two-word independent title that tells the story, namely Earth Deal, could catch wider general support than the "Green New Deal," it still would have its critics.  As a component of by-partisan infrastructure enhancement program it could be submerged in legislation that will ultimately cost trillions of dollars; climate change demands more than traditional upgrading of airports, parks, roads, and bridges. It must stand on its own two feet and demand public and private partnerships.

        A word is in order for not considering other social justice priority issues, for the new Administration is caught by a variety of neglected social and economic issues: immigration, food security, foreign relations and single-payer health care.  Certainly each of these deserve attention, along with many other issues, during the new Administration's first one hundred days -- and various social justice advocates will be vocal and effective. However, I have talked energy types and applications for over fifty years.  The book "99 Ways to a Simple Lifestyle was begun forty-eight years ago this month and made its own small contribution to what would become the elements of the Green New Deal (though that name surfaced far more recently).
        Global climate change problems stare us in the face in a special way.  Failure to address them will affect the lives of hundreds of millions of especially poor folks in the next generations living around 2100.  These folks will experience rising oceans, shortages of potable water from glacier melts, increasing wild forest fires and more numerous hurricanes and other extreme weather events and conditions; add to this a compounding concern as more and more Arctic permafrost melts and releases immense amounts of methane, a highly potent greenhouse gas -- thus expanding still further our current climate problems.  Rising global temperatures will result unless dramatic effects are promoted at a global level immediately.  There's no time to spare!  Recall that U.S. failure for the past four years has done its damage; the nation includes too much blame and is also too influential to be left out.
        Thus, severe effects on future generations, catastrophic damage to the Earth, and limited time to make changes make climate change the issue worthy of special focus, even while other social injustices must be addressed as well.  Environmental protection and promotion have been discussed to some degree over the past fifty years; still, they have never received strong endorsement by affluent Americans who are highly at fault for damage done to Earth through environmental pollution and over-use of resources.   These people, burdened by actual misdeeds, defend the consumer-driven culture.  The materialistic outlook is promoted by Big Energy: oil, coal and gas merchants of doubt; they pretend that the climate issue is not conclusive and demands further debate.
        We must not allow our efforts to be drawn to a host of other issues that may elicit personal concerns.  We advance not only the urgency of the climate issue, but emphasize that we can individually and collectively do something about it -- especially through lifestyle changes plus governmental regulations.  Egotists do not like either, for the first demands that they realize change in their self-satisfied life and the second demands more taxes from someone; too often in the past the "someone" is the little fellow while the billionaires get away with low tax rates.
        Focusing does not necessarily mean forsaking other social justice demands; citizens can handle a number at one time.  What is possible is that climate change could be held at a high level of awareness through persistent daily news coverage, formal discussion, interaction at the international level, and regulation such as required recycling that touches all individual citizens. These have mistakenly considered billionaire privileges extend to ordinary tasks and duties to which they ought to be exempted.  
        The climate change issue is both global and universal, touching the lifestyle of each and every one of us in unexpected ways.  Through discussion and comparison of results, we have become more aware of hidden ways we have caused past damage (e.g., energy waste, unnecessary road trips and overuse of electronics).  The resolution is more than voluntary; it can be required of everyone as part of citizenship.  We must take this issue as it affects us personally, not in a nebulous manner.  That is why this focus has a higher priority because it demands distasteful effort by all.
        Finally, this is a spiritual issue; the spiritual content involves our own growth in unselfish caring for our neighbors, who will be hurt by climate change consequences.  Furthermore, it gives us a realistic view of our past misdeeds and future changes.  Actually, it has solid theological and Scriptural grounds in love for God and neighbor.   We must as individuals, community, church and nation focus on climate change and keep our eyes on the subject throughout this decade -- starting now.
---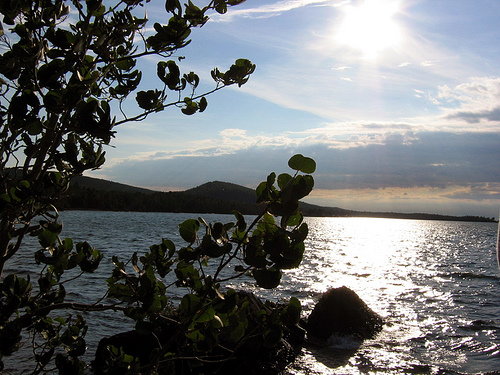 Choppy waters of Norway Lake, Kenton, MI.
(*photo credit)
January 8, 2021  Monitoring Elected Leadership
                  
        We are preparing for a fresh Administration; as citizens our duties go beyond voting and include being watchful of actions of our newly elected leaders.  What do we expect of officials?  George Washington was regarded as a leader from the beginning of his generalship in 1776.  On the other hand, Abraham Lincoln, though ultimately a leader, was reviled throughout much of his tenure in office.  In a democracy certain qualities are desirable:
 
        1. Enthusiasm means the God within.  If the elected official is inspiring, then enthusiasm can grow and become contagious.  However, some are influenced by people others distain -- and that is quite prevalent in today's partisan-divided nation.
        2. Commitment means that elected officials have specific agendas and, if they change, they ought to do so on principle; they should not look over their shoulders at pollster numbers, but choose to be persons of integrity and moral honesty.
        3. Realism is expressed in manner of response to questions and ways of presenting a cause.  Those who promise to do better than someone else may or may not, and we have to be discerning when it is difficult to predict what future leadership will demand.
        4. Sincerity is a quality that is overlooked because we are so fooled by surface glamour and glib conversation.  At least it is good to watch the personal response during conversations and at times of crisis.  In the unexpected moments of governance we can expect sincerity to shine through.
        5. Respect is a hidden virtue that goes against the grain of a self-promoter, who is tempted to demote others in order to raise oneself.  However, successful leaders respect the dignity of others; this is done through a basic diplomacy that is able to bind people together for common goals and a sense of purpose.
        6. Radicalism means getting to the roots of problems.  Beware of glib speakers or those who say the expected thing.  Do they show deep enough knowledge of general history and world affairs as well as of local issues?
        7. Motivation is that hidden aspect that is so hard to interpret.  Come to know the financial resources and the friends of the one elected, for these give hints of what is the motivation behind certain viewpoints of friends and advisors. 
        8. Openness to change when new ideas are called forth due to the urgency of the times; much depends on how this openness is expressed through words and body language.  For this and all, pray that leaders will fulfill their difficult leadership tasks.
          Prayer: Lord, open our minds and hearts to monitor those elected, and we pray that they succeed.

An unusual mailbox.
(*photo credit)

January 9, 2021     Supporting the U.S.Postal Service
        We post a letter and send it great distances.  We take for granted this service along with the regularity of the postman or woman.  In rural areas of our country we find this service is of great and often unspoken value; many postal deliverers serve as a civic connection, a buddy system for isolated elders and a pre-alert for the immobilized.  The one who discovers mail piling up generally notifies authorities to investigate a dwelling -- and this is a valuable service that breaks excessive isolation.    
        Reduced mail volume places our Postal service in danger of defaulting, since it runs as a semi-private entity with strong governmental requirements and corporate demands.  Efforts are being made to keep the Service solvent and functioning in this age of electronic mail and reduced hand-written letters and greetings.  Proposals for solvency have included issuing postage stamps (first class is now 55 cents); the U.S. Postal Service realizes that stamp collectors add tens of millions of dollars to the coffers buying colorful commemorative stamps.  Will commemorating living people with stamps cause controversy?  Further attention has been given to limiting service by cutting Saturday delivery. Furthermore, cutting down the number of post offices, even though many of these are social centers for certain communities will take a toll.  Relocating offices to business establishments as practiced in Europe with great maintenance savings is one option.
        "Snail mail," as it is pejoratively known, has certainly taken a major hit in the past few decades through the emergence of electronic mail, cell phone, Facebook, and Twitter.  Social connections avoid the Postal Service.  Certainly the desire to be connected has many benefits.  However, failure to immediately respond the same day is regarded by some as virtually rude or inconsiderate -- or implying that the person is so deathly sick that 911 must be summoned.  As one who is cell phoneless, I regard instant response as a burden even when obliging quickly by email. 
        The often overlooked benefits of posted letters is that these are concrete records; they are more private and confidential than emails; they are written with forethought and omit rapid and often inconsiderate responses; and they allow for fuller reflection on contents.  A card or simple letter of greeting, celebration, or condolence means so much to many, and especially to those who find computer communication more difficult with older age and illness.  The theft of personal information on the Internet becomes a matter of concern that the dependable (but not perfect) Postal Service can boast of safeguarding to some degree.  The further advantage of a satisfying service occupation for tens of thousands of our citizens must be regarded as a benefit in seeking meaningful employment.  Let's hope we continue having a viable U.S. Postal Service.
          Prayer: Lord, allow us to see benefits of on-going thoughtful communication, and to use ways to make our bonding ever stronger.

Planted narcissus blubs bloom in winter.
(*photo credit)

January 10, 2021   Observing Jesus' and Our Baptism 
        I formed you and set you as a covenant of the people.   (Isaiah 42: 1-7)
        Isaiah speaks of the Servant of Yahweh, and that voice of so long before was applied to Jesus and his public manifestation, the second Epiphany or manifestation of the Christ.  Jesus is committed to a life of saving the people through love and mercy, upsetting an established order, announcing justice for all, being a light to the nations, and a liberator of captives.  This is a call to abandon the old order and to take on a new one.  Jesus' baptism is the affirming event which initiates the process.
        Simon Peter comes to a realization about his own ministry as a continuation of the ministry of Jesus, now being further extended to all God‑fearing nations and peoples.  God shows no partiality, for whoever fears God and acts uprightly is acceptable to the Almighty.  During this month of vocation we return to our original calling, our moment of listening to God and being willing now to enhance our journey of faith.  Peter is called again to look more deeply into his own ways of seeing things and understanding his own service.  Let's observe closely Jesus' call to ministry, when the Spirit came down upon him in the form of a dove and the voice came from the clouds giving a divine stamp of approval.  Peter speaks in the name of all of us in the Church in saying that our mission is linked to that of the profound call of Jesus Christ to begin a process of liberation of the entire world.  Peter advances the liberating process, and we believers proclaim an "Amen."
        The divine voice from heaven is one of approval, "This is my beloved Son.  My favor rests on him." Jesus goes into the wilderness to be baptized by John, and thus the wilderness is the place for radical change and profound insight to bring justice to the world amid expected opposition.  We welcome the invitation by Jesus to enter into the ministry of changing our troubled world.
        Jesus is truly priest, prophet and king within his call to public ministry.  We enter the spiritual wilderness to associate ourselves with him, to be led by the Spirit; we pray to obtain insight into what we are to do to save a threatened planet and an Earth riddled division into haves and the have-nots.  Our brothers and sisters expect our compassion and kindness; they need nourishing food, proper livelihood, necessary health benefits, accessible schooling; prisoners need to be liberated and returned to a rightful place in society.  The climate change must be curbed so that planetary catastrophe will not occur soon after we are gone.  Results are not automatic or through a grand miracle.  As members of the Body of Christ we are called to participate -- and must be energized through reception of the sacraments.  With God's help we can succeed.
          Prayer: Oh God, your spirit was seen as a dove, revealing Jesus as your servant and anointing him to bring Good News to the poor.  Help us to carry out that task with him.

The Canadian Rockies.
(*photo credit)

January 11, 2021      Knowing That We Are Old When...              
Those on the obits' list are younger than me,
the tools we used on the farm are now in museums,
I can't tell whether past memories are real or dreams,
I hear strange voices and can't hear familiar ones,
I find a gray-haired matron holding the door for me,
my peer pressure ceases because peers are deceased,
I forget whether I took my pills today,
I can't read my own handwriting, nor can anyone else,
my stories are fewer and often repeated,
I lose my sense of taste, smell and hearing -- and still 
thank God to be alive with relatively good health,
I rearrange my funeral suggestions one more time,
I forget close relatives' names and whether they're kin,
I begin to dread ever more frequent birthdays,
I think I did it yesterday and it was a year ago,
I still remember someone (ole Joe Davis) who was born (1854)
before the start of the Civil War,
I find few others who also experienced the Great Depression,
I can't stand to wait in a line for anything,
I must check for everything before leaving (even trousers),
I am told to drive less and only in daylight,
I hate the change of time each March and November (why not
one or the other?),
I go to sleep earlier all the time,
and I realize that all of the above applies to me.
          Prayer: Lord, allow us to accept our aging as part of our journey of faith; give us the inclination to seek to find rest in you -- in the ever nearer future.

American pastureland.
(*photo credit)

January 12, 2021   Being Present in Times of Troubles
          Linda is a kind soul who doctors a multitude of pets and livestock in our county -- and above a busy day runs a retirement facility for equine members.  She mentioned that she spent the night as one of her donkeys was dying.  In amazement I asked whether she is present for all dying animals and she said "yes;" a humble compassionate presence for dying people -- and animals.  Awareness of people dying and suffering in neglect catches our attention.  Many are wrapped in loneliness and cry out for companionship, at least in the darker moments of life when compassion is called for.  Is there power in presence and especially in times of critical events or intense suffering, or the moment of dying?  It is good to pray, reflect and to see that God is near. 
        Presence to individual humans in time of need is an expression of concern and love.  Reducing suffering is not always possible, and so we seek to simply be present.  Being present make us aware of all around us: people, culture, social structural and political structure, its environment with its flora and fauna, and its climate and all good things so related.  My environment differs from that of people in other places, and that enters my emotional life, outlook, and even the way I praise and thank God for the gifts I receive.  All creation has a special meaning for me that is unique in many ways.  We must appropriate our place; we do not expect outside gurus to define environment for us.  We discover that our environment has a local flavor demanding that we act in this place at this precious moment.  Here we find our meaning and discover shortcomings; here we truly live for others.
        The basis with good local citizenship is that we learn to share resources, and not use them in a selfish manner, for such is disruptive of the local environment.  Generally, the tyranny of personal greed leads to excessive consumption or a lack of sustainability in such matters.  Our responsible local actions must be those of a wise steward, for these gifts are present to us.  We treat these gifts with respect and kindness lest we damage our community through disruptive behavior.  Awareness of our strengths and weaknesses makes us desire to live within our means. 
        Discovering local and distant environmental damage is shocking to us.  First, at the local level, and then progressively beyond, we discover the troubles of this world.  Many do not act locally and either try to impose outside ways of thinking or take themselves outside and away from the needs of the local scene and become superficial about present needs.  Being truly local means being good community people, who believe in conservation of resources and be present where we can.  As the primitive people who ask forgiveness and express gratitude to the hunted animal that will furnish them meat and livelihood, and so we find our place.
          Prayer: Lord, give us a first degree of humility that allows us to know and respect all creation, to see how we have damaged it through misdeeds, and to resolve to start a healing process. 

Cave Run Lake, KY.
(*photo credit)

January 13, 2021    Acting Now to Heal Our Wounded Earth

          Believers in the future know we must act now in order to save our threatened Earth from an impending catastrophe.  God is all-present and we are empowered to proclaim this Divine Presence through our godly deeds when we cooperate with others of good will.  Individually we are with the Lord and collectively within the Body of Christ.  As Teresa of Avila says, we are the hands, feet and eyes of Christ.  We share eternally in future everlasting life within the Divine Family; our awareness of the divine and human mission grows as we mature in faith.  Thus, God as mystery becomes ever more present as we sense our limited powers to achieve success.  Through the Eucharist we grow in this awareness of Presence -- and thus we work in godly fashion.   God Presence emerges through our individual and collective fiat (let it be), and our awareness of current and future needy grows through practice.

          Within the urgency of mission we suffer anguish and pray more sincerely Come Lord Jesus (Revelations 22:20).  We focus on where we are in place and time, for awareness is a key to our successful ministry for others.  We open the door to collaboration with people of good will who may or may not understand our singular spiritual calling.  If we are moved to collaborate and bring about a righteous future, so in that spiritual calling is our willingness to go out to all people of good will and work together with them -- even if differences exist and must be tolerated.

          Awareness through the "signs of our times" to act is now is part of total presence of space and time; this involves a down-to-earth approach that makes us not live in an idyllic past or in a dreamy future -- but today.  In fact, the present moment is a balance of a past history of personal and community experience that comes to meet a future of hope beyond the distant horizon.  Our current awareness of past misdeeds and future hopes help create a realistic balance that makes us more effective agents of change.  Total focus on local action is not sufficient, for environmental air and water pollutants know not national boundaries.  Misdeeds affect a wounded world; so do healing deeds tend to become global.
        Urgency hangs over us; time is of the essence and we are limited in resources.  This moment becomes the time to "strike while the iron is hot," "to make hay while the sun shines."  We have been blessed with time as a gift as much as material things, and it must be used properly.  This triggers our reaching out to all people of good will: those who are technical experts, conservationists who do not waste, farmers who are in tune with soil and growing seasons, those who treat animals with respect, those who suffer patiently, and even those who are ex-addicts.  All must be invited to address this urgency.

          Prayer: Lord, give us a second degree of humility that is aware of urgent times to act and yet we cannot do it without your divine assistance and the help of all people of good will.

Winter morning fog.
(*photo credit)

January 14, 2021  Appealing to All Citizens to be Earthhealers  
          The current environmental crisis is so severe that we are all called to become healers of our troubled Earth.  This appeal reaches beyond leaders to all concerned citizens, for we all consume resources to some degree.  Many of the more politically savvy do not want to bite the wealthy hand that feeds their programs and pet projects.  Whether singularly or in groups we must drive the moneychangers from the temple commons for resources are meant "for all the People."  Current fossil fuel interests perpetrate values that are unsustainable and ultimately anti-environmental.  We must promote ways to curb extravagance. 
          Discern how to act globally.  Unless we imperfect people acknowledge our inadequacy before God, rampant materialism will continue, and Earth will be critically damaged, possibly beyond short-term resuscitation due to severe climate change.  However, only by realizing the powerlessness inherent in addiction can we seek solidarity that reaches beyond to divinity.  Our actions begin at home certainly and with urgency, for we all consume resources; however, our conservationist actions go out in concentric circles to ever broader local, regional, national and global audiences -- a ripple effect.  Acting at broader levels demands the contributions of technical experts and all consumers in the public interest. 
          Working together in solidarity is needed to renew our wounded Earth.  While individual efforts are limited, groups working together in solidarity can answer the call to action: the hungry and homeless tell what are essentials; farmers and workers manifest the virtue of hard work; shut-ins and prisoners show the power of prayer and patience; the unemployed witness to the need to gain a livelihood and with government as a means of last resort; the ill and those living near toxic waste emitters testify to the urgency of change; experts work as cooperative partners; and ex-addicts can show us how to address and overcome substance addictions.  

Our collaborative efforts must include the following components:
          * Respect for all creation, especially our local environmental actions that inspire us to use only what is essential and to reduce resource waste as much as possible;
          * Champion replacement of fossil fuels with solar, wind and other renewable energy source;
          * Acknowledgement of the suffering of which we are partly to blame, and cooperative efforts at rendering such sufferings as having ultimate meaning and benefit; and
          * Reaching out with all others because of our limited abilities to answer and renew our Earth by singular efforts.
          Prayer: Lord, help us to a deep degree of humility to be in community with all the poor, to do more than see the damage, and seek to work towards perfect ordering of all things.  Help us to be identified with the poor in begging for your continued guidance.
---
Basic Components of a Green New Deal

        During this month we are focusing on discussing components of a "Green New Deal" and overcoming any myths that might hamper its popularity.  In fact, all the legitimate components have Federal historic precedence in our own country and that of other progressive western democracies.  The three topics to be discussed today include furnishing climate change information, endorsing renewable energy applications, and publicizing and championing energy efficiency.  Four more will be discussed next week.

        1. Furnish climate change information.  The entire story of detecting and predicting climate change due to increase in the production of greenhouse gases needs to be retold in scientific and historic detail at all levels of formal and popular education.  Yes, the story is frightening, but the purpose must be to make the population truly aware of what is to come through solid educational procedures at all levels from grade school to adults.

        * Develop formal education tracks for each grade in school so that youth come to understand both our past environmental damaging practices and our future improvements that will mitigate damage and move to zero carbon through renewable energy practices.
        * Compose billboard messages and have government grants for purchase of ad space at different seasons of the year.  Couple this with messages of energy conservation on radio and television as well as social media on Facebook and other outlets. 
        * Run a daily climate info series equivalent to the daily stock averages showing levels of carbon dioxide at various points throughout the world.  Over time, this make more people aware of greenhouse gas generation at various times of the year and where the carbon dioxide levels wax and wane.
        * Publicize predictable effects in the event that global climate temperatures reaches rises of 1.5, 2.0, 2.5 and 3.0 degrees Celsius.  The public needs constant notification of what could come if other actions are not undertaken at this time, for it is not too late, but on verge of being so. The window of opportunity narrows.

        2. Endorse renewable energy applications.  Coupled with the basic climate change information is an up-to-date report on expanding renewable energy applications and predictions about near term advances.
        * Domestic solar roof arrays.  Low- or no-interest loans should be available for fitting either new or retrofitted homes with solar roof or side panels.  Promising new roofing materials can be integrated with solar energy production and tax right-offs upon initial installation and retrofitting.
        * Off-shore wind farms.  Advance of these farms off the coast of highly populated Northeast, Gulf Coast and the Far West depends on investment funds.  Government loans could be considered where progress is hindered by lack of funding. 
        * Geothermal energy.  Low-interest loans should be available for drilling geothermal energy wells that are costly with uncertain outcomes.  Geothermal could have major impacts, have continued generation capacity and low cost in many areas of the West.
        * Hydropower.  This was the first source of electricity generation and could still be a major contributor, especially by retrofitting existing river dams with small hydro generation units.  However, building new dams is not good environmental practice.
        * Grid expansion.  The market is now making wind and solar cost competitive with cheap natural gas for electricity generation. Efforts to allow for reduced rates and improved grid systems could be forthcoming.  Novel approaches for local grids are now springing up and worth further research. 
        * New renewable energy sources.  Transfer former fossil fuel subsidies to research for renewable energy areas that are not yet fully developed, such as tidal energy and a hydrogen economy.
        3. Promote electric vehicles. Promote electric cars with parking under solar arrays in business establishments and promoting domestic solar arrays at homes for charging when vehicles are at home during daylight hours.
        * Deductions for e-vehicles.  It is highly advisory that electric vehicles get added incentives, even in the form of a national program to speed the popularity of longer ranging e-vehicles and recharging stations.
        * Promote domestic lithium production.   This is a key ingredient in storage battery composition and critical lithium supplies can be obtained in our country and from Western Hemisphere sources such as Bolivia and Peru. 
        * Business solar parking.  Many vehicles could be recharged during the work week by use of parking with solar arrays overhead that could furnish the cheap fuel for the commuters.  Most open air vehicle parking could be retrofitted with overhead solar arrays.

        These are part of an expanding climate change program, which requires support from a broad range of citizens, some of whom are currently resisting climate issues.  The new Administration is right now reversing a series of anti-environmental presidential executive decisions over the 2017-2020 period.  These actions cannot come too soon, but the Green New Deal calls for more loans and regulations mentioned in this and the coming week.  We cannot forget that everyone should be doing simplified procedures that reduce energy use during this critical time of transition to renewables. 

        One final note: it is assumed that the new Administration will move quickly to defund fossil fuel applications and tax write-offs.  Granted, the coal industry has increased bankruptcies due to lower natural gas and renewable energy prices.  However, all tax breaks or hidden subsidies given to fossil fuels should be removed, even though we are committed to fund the costly ex-coal miners Black Lung Program.  Fossil investments are in decline, but that is no excuse to give fossil fuels any special treatment.  We will explore climate change curbing specifics next week.
---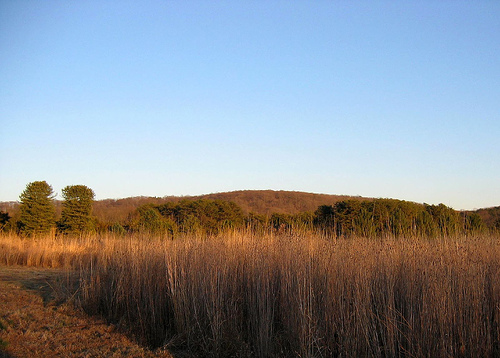 Bernheim Aboretum and Research Forest.
(*photo credit)
January 15, 2021   Revealing Racism and Public Racial Pride
        Martin Luther King, Jr's Birthday is an opportune time for us to review our lives and sweep out the hidden cobwebs of racism that may linger.  Some in a fit of self-righteousness will say they are totally non-racist.  So be it!  Most of us have some streak of racism that we do not readily admit, but could emerge on some unexpected occasions or in a fit of being provoked by some event or person.  Our past still haunts us and must be confronted.
          A segregated racial experience.  My early Second World War years were spent in a segregated Border South, and we rode a "lily white" (really orange) school bus bypassing little black friends; these had to wait for a station wagon to take them to a one-room school (the injustice burned me up then).  In those 1940's the word "mister" was only used in our community for white people; when elderly Afro-Americans died in this land of gentility, their obituary stated as title "uncle" or "aunt."  Separation was the tradition and few wanted to challenge it -- though we did break loose and share meals with our Afro-American neighbors.  On looking back, my personal experiences with these folks were always positive and we learned much from their presence -- though they certainly must have suffered in that stratified society.
          Lingering racist traces.  Unfortunately, the bad elements of the past are difficult to purge.  We can still hear latent racism: in politics; in speaking of or to other people, even the tone in phone conversations; in jokes and light-hearted remarks; and in a host of other times and places.  I may be tempted to repeat one but think it best to let it die unsaid. 
          A revised racial experience.  To celebrate this day we have to do more than self-examination.  It is unrealistic to seek to be racially blind.  I struggle to overcome the vestiges of past privilege, even though being from lower-income farming people my task has not been that challenging.  How about celebrating race in the African- American (or Latino or Native American) pride motif?  How about emphasizing our positive racially diverse heritages? 
* cultural meals from grits to collard greens;
* songs and music from jazz to blues;
* prayers of petition and praise in many ways;
* storytelling according to rich African traditions;
* lighthearted humor in the manner of greeting;
* learning to handle grief in departure of loved ones; and
* faith in a better future even with overhanging clouds.

         I am going to make a gesture by having collard greens from my winterized garden today; I'll cook them the way Hattie Simpson made them when she assisted with our family in times of need.  
          Prayer: Lord, refashion our memory in such ways that good racial thoughts predominate and bad ones are purged away; help us be truly free of racial bias of any sort.

Coating of ice on branches.
(*photo credit)
January 16, 2021  Questioning Whether Israel Is a Spoiled Brat
        The title is not the invention of this author but the public statement made a decade ago by the prime minister of Turkey; this was made after Israel's naval forces stopped a Turkish ship attempting to carry relief supplies to people in the cut-off Gaza strip.  However, "brathood" does raise questions that need addressing.  First, the title is offensive and pejorative; it causes offense in Israel and among that nation's supporters in the United States and maybe elsewhere.  However, such dramatic terminology can be a wake-up call to people who are privileged to get what they want through patronage of a mighty protector like the United States -- a case in point, especially during the last four years.  Relations with others in the Middle East has been mixed by favoritism and strong antagonism to some like Iran.
        Recall that no effort has been made by the U.S. government to stop continued construction in West Bank areas that were an ever shrinking segment of what was to be Palestine -- a process of segmentation so great that the separate state is nearly impossible at this time.  Israel continues to expropriate such lands and to segregate the various citizen groups to a heightened degree.  By allowing this process to continue without objection has meant that the U.S. encourages what is strictly forbidden by United Nations mandate.  Favoritism by a financially and militarily all-powerful U.S. exceeds the limits of a "special" relationship that protects the vital interests of allied nations.  Weak children need protection if bullies attack them on the way to or from school; however, children who damage property on the way to or from school may feel privileged if permitted to do so, but neighbors may soon call them "brats."  Does Israel deserve such a designation?
        The title may be more directed at the spoiler than the one spoiled.  Granted, some in Israel believe they have a right to take over the West Bank with little or no provision for the peace and security of the current inhabitants.  This more fundamentalistic view of occupation for convoluted reasons may be championed by fundamentalist American Christian Evangelicals.  Allowing actions that hurt others is not good; why ought we to appease vocal elements in either Israel or in our country when the nation perpetuates misdeeds to unfortunate neighbors? 
        It is not good for the cause of Middle East peace and some reconsideration of Israel's special relationship is truly in order.  The responsibilities of Israel to its neighbors are as important as its right to security.  Threat of removal of financial ties is a possibility under a new Administration.  No more funds, if you act improperly.  Friendship sometimes makes demands on all parties and especially to establish Middle East peace.

          Prayer: Lord, help us to heal our wounded Earth by talking of rights and responsibilities on the part of all parties.  You made Israel a privileged and chosen people -- and their mission continues, but our relationship is subject to review.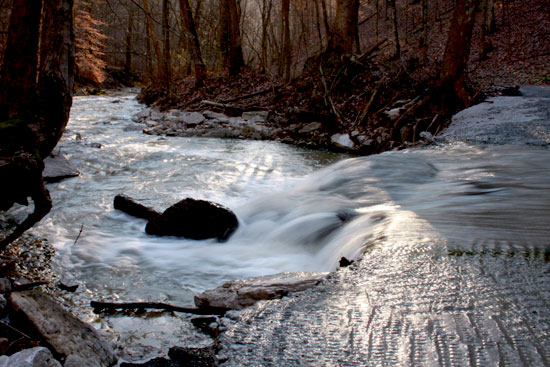 A rural Kentucky stream. Anderson Co., KY.
(*photo credit)
January 17, 2021   Speak, Lord, Your Servant is Listening        
        Samuel's response to the call of the Lord (I Samuel 3) at the direction of Eli is meant for us as well.  We are to be always in a listening mode to divine calls.  This passage is a favorite during the January days when vocations to all ways of life, but especially to the priesthood and consecrated life, are highlighted.  It is as though the call of a haunting hoot owl or lone coyote is the divine message in the night to Samuel and to all of us.  Young Samuel was not familiar with God's call, and ancient Eli had to direct him to be in a listening mode after the first, and the second, and then the third call.  Note: Samuel's rapid response to the caller even though he does not know the source.  With Experience we come to hear and distinguish the divine calling.
          Detecting the source.  Many times in the confused world in which we live, we do not know the source of a perceived message.  Perhaps we get an initial phone call but not the total content of the message.  In this age of Internet, social networking, and constant bombardment of information, we are alerted to robo calls soon enough, but often find genuine ones harder to detect.  Amid the many contacts God speaks to each of us -- when we care to listen, are we able to fully attribute the message?
          Listening to the message.  Again we are truly like Samuel, for we hear but do not recognize the source.  We are uniquely called by God, but that can be somewhat frightened if we choose to be left totally unassisted.  We seek companionship and encouragement from others around us.  "Am I so important that God really calls me?"  "Lord, you want me to do this?"  If we are familiar or are willing to become familiar with God, the content will unfold in prayerful conversation over time.  The help of spiritual companions makes the journey of faith easier. 
          Finding the message's refinement.  Does God ever stop calling or is this something akin to Francis Thompson's "The Hound of Heaven."  Do we run away and busy ourselves with enticements of sorts?  Are we willing to see that with our changing conditions and maturation, the calls are actually somewhat different?  Persistence in prayer and listening is at the foundation of our journey of Faith.  Through prayer we tune in and listen more earnestly.  At times in some people's lives pronounced calls for abrupt change of direction occur, but that is not everyone's experience.  God's ways are not our ways, but they are caring and compassionate.

          Letting go is a call.  Refinement of the call means that we must have an open mind, a time of reflection so that we are prepared for what comes beyond the bend in our path of faith.  God calls us to let go of our old self and people and ways so dear to us.  Part of our spiritual maturing process is to be prepared for the unexpected in each age -- and this makes life interesting.

          Prayer: Lord, help me to continue to listen to your voice, and to never tire in attempting to follow the call whatever it is.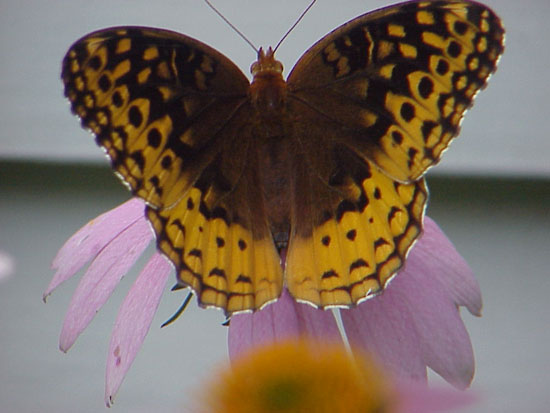 Work in progress as butterfly visits flower.
(*photo by Sally Ramsdell)
January 18, 2021  Snowbirding: A Green Option?
        We may look out the window in a northern residence and wish we could be in Florida to avoid the icy conditions just beyond the glass.  Birds may fly south; migrant workers may follow the harvesting periods; others simply stay at home with a fleeting dream of fleeing to a better climate.  But some may give this wintry escape ample thought, for it takes heat to warm a house in winter and cooling to make one comfortable in summer.  Aren't the migrating birds adhering to an environmental or green mentality of avoiding cold or excessive heat?  Should aging humans do the same?
        Circumstances vary with individuals.  Access to two dwellings (one in the North and one in the South) is simply not affordable for many.  If this option is within one's means, should not the amount of heat demanded by the dweller for comfort in winter be considered?  Or should those who need 75 degree Fahrenheit room temperatures during winter simply dress warmer and live more healthy lives?  Do not far more die in summer from overheat than in winter from cold?  Don't insulation and warm clothes and bedding make a difference -- and allow winter weather to be tolerated?  Additional points worth a January reflection and questioning are:
     Visitors for a short time: People who can get away from winter to Florida and have relatives or friends there are fortunate.  That means cutting down Northern domestic heating to a minimum temperature needed to keep water pipes from freezing.  Depending on length of visit, fuel for travel may equal the domestic space fuel savings.  Shouldn't we factor benefits of a rejuvenated spirit?
          Northerners with Florida connections: Amazingly, large numbers have relatives in the South who even want those who suffer from winters to migrate and live with (or near) them during severe winter months.  Where living congenially with extended families is possible, closing down a winter house can be a green option, especially if one calculates winter heating expenses.

          People with two residences: This is problematic because house maintenance costs are generally greater than heat saved in winter or cool air saved through residing in the North in summer.  Greenness depends on the size of residences.  Certainly, a summer small cabin when closed in winter requires low maintenance. 
         Floridian escapees in summer: This migration in the other direction (along with the semi-tropical birds coming north) may involve greenness, if the migrants have access to a small summer cabin that requires little or no extra cooling.  The space savings may exceed fuel costs of getting from place to place, especially if one travels by public means; private means are more costly.
          Prayer: Lord, give us the stamina to endure winters, and if this proves too hard, allow us the chance to travel to welcoming warmer places and join with people who reside in more comfortable places at the particular season.

Peanut butter, celery, and raisins - "ants on a log" - a treat!
(*photo by Brian Talbot, Creative Commons)
January 19, 2021  Promoting Peanuts: Ecologically Green Food
         Goodness how delicious, eating goober peas.  Traditional Southern Folk Song
          Peanut, "groundnut," or "goober peas" have a long food and culinary history originating in South America, spreading out to Central America, and then to the world, especially Asia and Africa.  Amazingly, this proves to be a truly green food in many ways:
          Soil improvement -- The leguminous peanut plant (Arachis hypogaea) bears its fruit underground and not on nut trees.  Peanut production was promoted in our own South after the Civil War because cotton fields were prone to become nitrogen depleted (and thus replenished by peanut crops).  Today, the peanut is regarded as a major U.S. and foreign crop, including in sub-Saharan Africa. 
          High quality food -- The lowly peanut is high in protein as well as calories and loaded with antioxidants and other supplements -- this is ideal as prepared quick foods for hungry children.

          Popularity -- In America, few food items are more popular than the peanut and its prepared produce "peanut butter," which when mixed with jelly becomes a favorite children's treat.  For food- conscious families, peanuts are relatively cheap due to high global production volume (29 million metric tons per year).  
          Versatility -- A national policy of peanut use developed in the early twentieth century.  George Washington Carver, a famous black American researcher, is credited to have invented some 300 uses of peanuts -- though not peanut butter.  American stores sell many brands of peanut-containing candy bars and snack foods, peanuts in cakes, cookies, peanut milk, and peanut oil, as well as fried and boiled varieties of peanut specialties.
          Adaptability -- Peanut and other components of trail mixes are perfect for hiking and exploration because high nutrition calories and protein are packed into quickly edible (no fuel needed for cooking) materials.  Don't forget that bears know a good thing too and backpacks with peanuts must be stored beyond bear reach.
          Economy -- Prices of peanuts are rising but still far below the prices of other nut products. I regard the peanut as a major food portion of my diet and include snacks virtually every day that contain peanut butter and pickles, bananas, etc.  
          Not Perfect -- While peanuts are popular, still 1-2% of people have some allergic reactions to them, and a small portion of these can suffer life-threatening anaphylactic shock from eating trace amounts and even processed foods made from peanut-contaminated equipment.  Worried parents demand peanut labeling in such items as ice cream; they strive to get peanuts banned from school menus and airline snacks.  Many but not all peanut allergies can be treated.
          Prayer: Lord, teach us to know good foods and to help promote these in a cost-conscious, hungry, and food insecure world.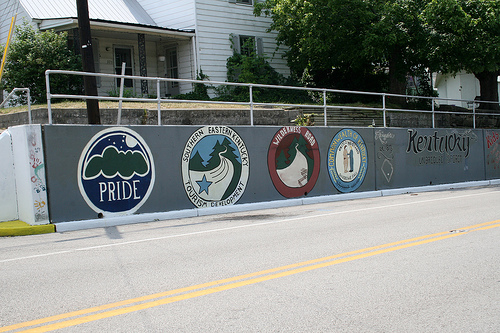 Public mural, Livingston, KY.
(*photo credit)
January 20, 2021   Earthhealing's Ten Eco-balances
        The admonition for doctors to heal themselves extends to all of us who seek to be healers of this wounded world.  We can only help reestablish eco-balance if we harmonize our own lives:

         * Action and Reflection -- We work and we pause to reflect, and we need a balance of both, so we can live in harmony with our neighbors and with ourselves.
        * Prayer and Work -- We can hardly expect God to do miracles apart from our efforts, for such is presumptuous.  Godly work includes using our hands and feet and brains and tongues. 
        * Private and Public Prayer --  While praying in private in a room or the great outdoors has its choice time and place, so does prayer with others in church, thus showing that our own salvation is a believing community endeavor.
        * Anger and Mercy -- The interior balance of being merciful to all others and yet being angry about actions that hurt others must be part of a personal AND public ecological stance; this is in imitation of Jesus' own public life.

         * Exercise and Rest -- We are busy people and we need to relieve the normal stresses of an active life, but that means we get necessary physical exercise AND necessary sleep and rest.
        * Personal and Community Care -- We should not isolate ourselves, but rather make local interest and activity part of a healthy environment.  We must always reach out to those in need.
* Local and Global Action -- Through faith we believe that what we do locally, but in solidarity with others in the world, makes our actions global in scope (First Law of Eco-dynamics).
        * Positive Activity and Suffering -- People are united in faith and compassion with all who are willing to work and to suffer together in whatever state they find themselves.  No suffering is lost (Second Law of Eco-dynamics).
        * Acceptance and Confrontation -- If and when we are looked down upon personally we may have to accept it.  However, the oppressed of the world demand our support and resulting confrontation in solidarity with all people of good will contributing their talents (Third Law of Eco-dynamics).
        * Mortal and Eternal Life -- Every effort to repair our current world order must be balanced by the need to help with the establishment of a future New Heaven and New Earth -- action by which we help hasten the day of the Lord's coming (II Peter). 
          Prayer: Lord, please correct our many imbalances so we can become effective healers of our wounded Earth.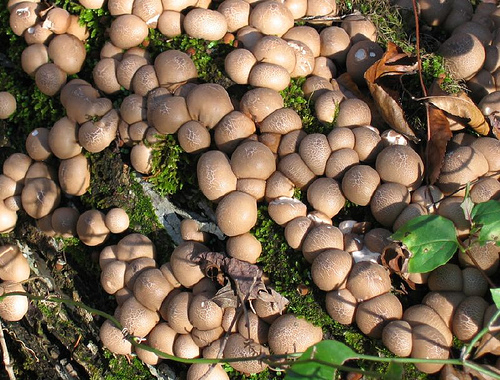 Lycoperdon pyriforme on fallen log.
(*photo credit)
January 21, 2021  Using More Public Transportation
        At various times we must travel (to or for work, vacation, great events, or for educational purposes) and going from Point A to Point B becomes an ecological issue.  Are fuel resources conserved in the manner of the choice?  Is a public airplane ride even a saving if the carrier is not at capacity?  Is the public train or subway even accessible or convenient for the rider?  Is it quite difficult due to age or lack of mobility to take public transportation?  Are we generally speaking of those who have clear choices and want private means out of sheer convenience?   

         For those in non-congested areas with access to a private vehicle, the stress is often on independence, convenience, time saves, and other amenities, for the private car means so much to busy people.  Generally, the public sector looms as just that -- a public mingling with crowds (when the solitary aspects of one's personal vehicle runs deep with auto operators).  Again, even partial travel by public means may involve private vehicles to reach public departure or from destination points.  Often time and resources are saved by doing the entire trip by private means. 
        The specific rural travel has difficulties not experienced in urban life with subways or airlines relatively close at hand.  I am seventy-five miles from a regular commercial airport and over one hundred from international airports, with their considerable surface congestion and parking problems.  Here the mixed public/private considerations take on greater importance along with extended travel time of departure, processing, waiting, arrival, and final destination considerations.  Passenger trains were quick inexpensive travel modes our parents used in early 20th century, but now virtually non-existent in rural America (though hopes spring eternal).  Buses are more abundant, but not frequent and walking or biking are prohibitive beyond local areas.
        The question is more than academic: it involves time, energy, talent in some private travel for distant trips.  Some of us carpool with those going to the same end point; more of us can conduct business via phone, email, postal letter, or even teleconferencing.  Much can be done from a distance without the physical travel, but personal face-to-face contact is uniquely valuable when someone needs encouragement, compassion, or when an initial gathering allows the participants to experience another's presence even on business occasions.  Thus consideration for "necessary" trips is more basic than private versus public choices.
        Longer-term future travel is also our concern.  In America we need public transportation systems now commonplace in Europe and in Asia.  Building these infrastructures takes public funding and a will to travel more ecologically.  An emphasis on public travel deserves tax-payer support in times for curbing climate change.
          Prayer: Lord, we are on our journey of faith; help us to think as poor people when we plan and make our travels in life.